Be our lighthouse -Mary's Medi Fund
$8,471
of $14,164 goal
Raised by
83
people in 37 months
Like a fisherman fighting in a perfect storm, though it is like going through hell, the tiniest light from a lighthouse will give us courage to hang on longer.  Be our lighthouse.
---------------
Mary is my mum.
I am raising funds for my mum who has Motor Neurone Disease, to get a
Tobii eye gaze device
 so that she can communicate her thoughts to my dad and I and others that care for her, and a
synchronous lung ventilator
 so she can breath more freely and which could possibly extend her life.  I hope this campaign can raise sufficient funds in the next month for these assistive and life support devices. 
It has been seven years since the diagnosis.
According to Motor Neurone Disease Association, apart from Professor Stephen Hawking, 50 per cent of the MND sufferers die within 14 months of diagnosis and the remainder within five years.
Day after day, year after year, mum got over the cursed five year limit, and is now approaching the eighth year in the storm of MND.  In the last seven years, the controlable muscle that mum has is now becoming less and less usable.  All she can do now is blink her eyes, or slowly shake her head, to respond to others which shows she still has a conscious mind.  
With dad being the sole 24/7 carer, dad is like an overworked machine, an overloaded machine that could crash anytime, and never come back up running again.
-----------------
Just like the lights from the lighthouse which reach the ships far far away, every part of your donation will make a difference on mum's health condition.  To fight this perfect storm, we need courage, we need support, and we need your help.  Plese support our fundraising project, and be our lighthouse.
+ Read More
Update 1
34 months ago
Share
Hi all,

The last two months have been amazing! We would like to thank all of you who donated or shared the fund raising project for my mum Mary. On the day the campaign page was shared, I feel like a drought farmer looking at the sky, and at that moment, a rain drop touched my face, and quicker than words can tell, the rain has come, drops by drops, drops become lines. I was so touched and grateful for your generosity.

The lights shined from you has reached the one in need. As soon as the funds donated were enough to buy one machine, we asked mum which one she wanted first. Mum picked the communication device, as she hasn't been able to communicate her wish with us for years. Since there is no reseller in China, we bought the machine from Sweden, it then got shipped to Adelaide, then on forwarded to my place in Newcastle. I managed to fine-tune the device from English into Chinese, then I had my partner Anna (who is a registered nurse) take the ready to go device to mum in China.

After 12 hours of air and land travel, the device was delivered on mum's birthday. Mum was really excited about this special birthday present. By using the device, mum wrote a thank you note to all of you. I took a screenshot of what she wrote in Chinese, and I translated her words into English as below:

Thanks Massimo

"Thank you letter:

Dear friends:

Greetings! I am Massimo's mum, I can communicate with you and my family today, were all for your helps and kind hearts, which let me see the hope, and give me the confidence to live on! I am very grateful for your donations! My family and I expressed our sincere appreciation that you gave me such an advance communication device!

I previously had a happy family and a very good job, and I have to leave my favourite job due to my illnesses. I still have a good husband and a good son, they never give up on me, and my husband care for day and night. I am very grateful! I would also like to thank my relatives and my good friends who ever concerned about me! Lastly I would like to thank the managements and colleagues from Guangzhou Aircraft Maintenance Engineering Co Ltd, for their caring and help which make me very moved! Thank you all!

Finally, I'd like to invite you travel to China, China is a very vibrant country, it has a rich variety of food, beautiful scenery, warm hospitality of the people, and a shopping paradise known as Hong Kong. Goodbye!
I wish you good health and happiness!

Liu Liyin (Mary)"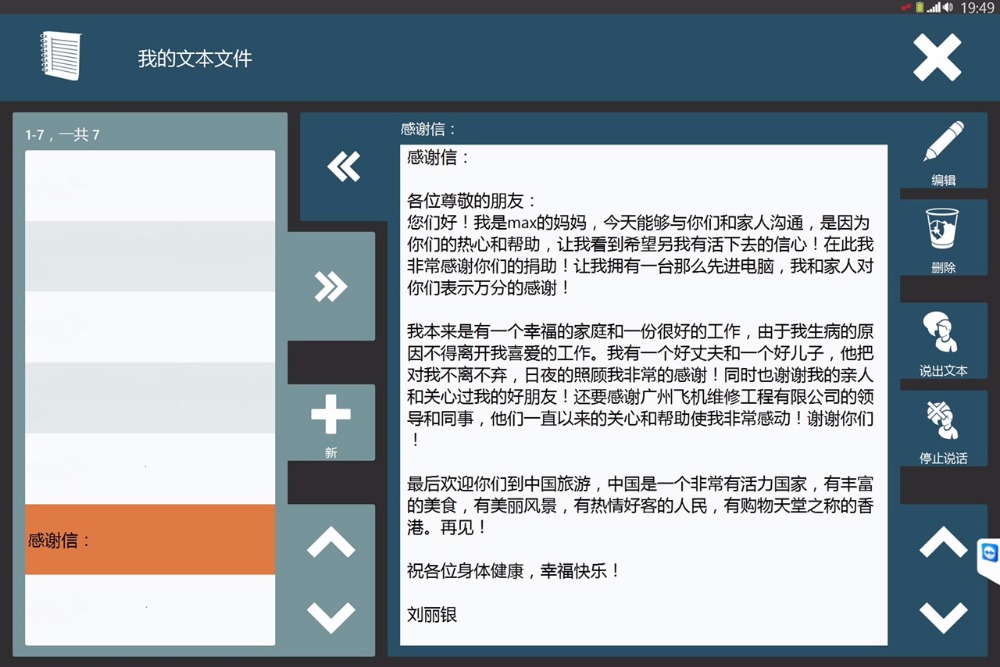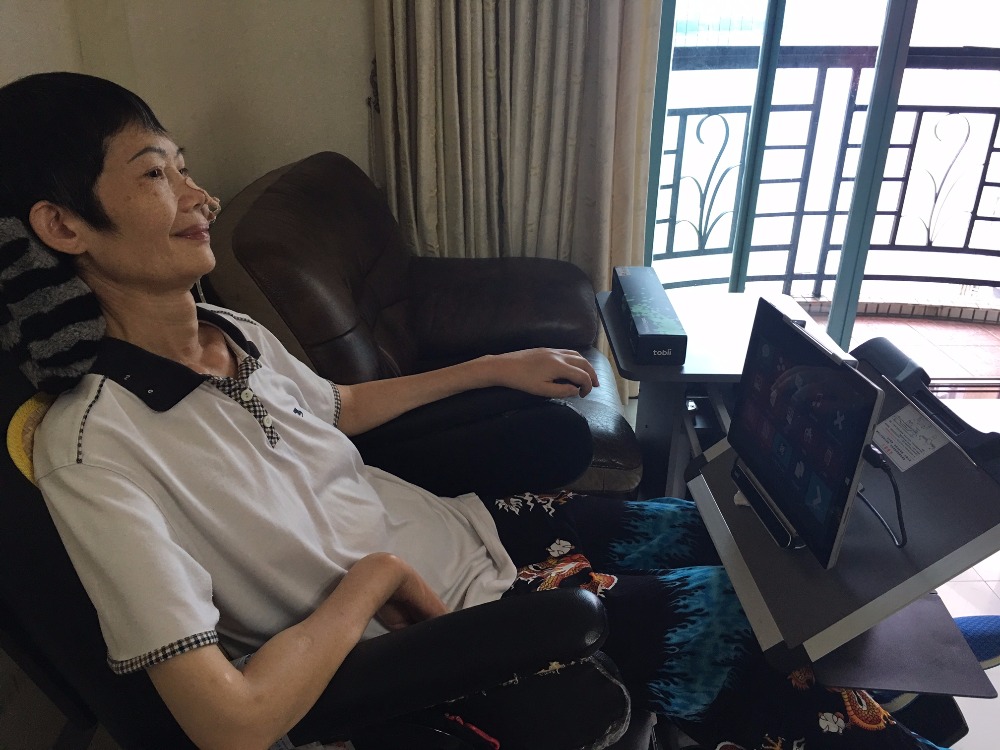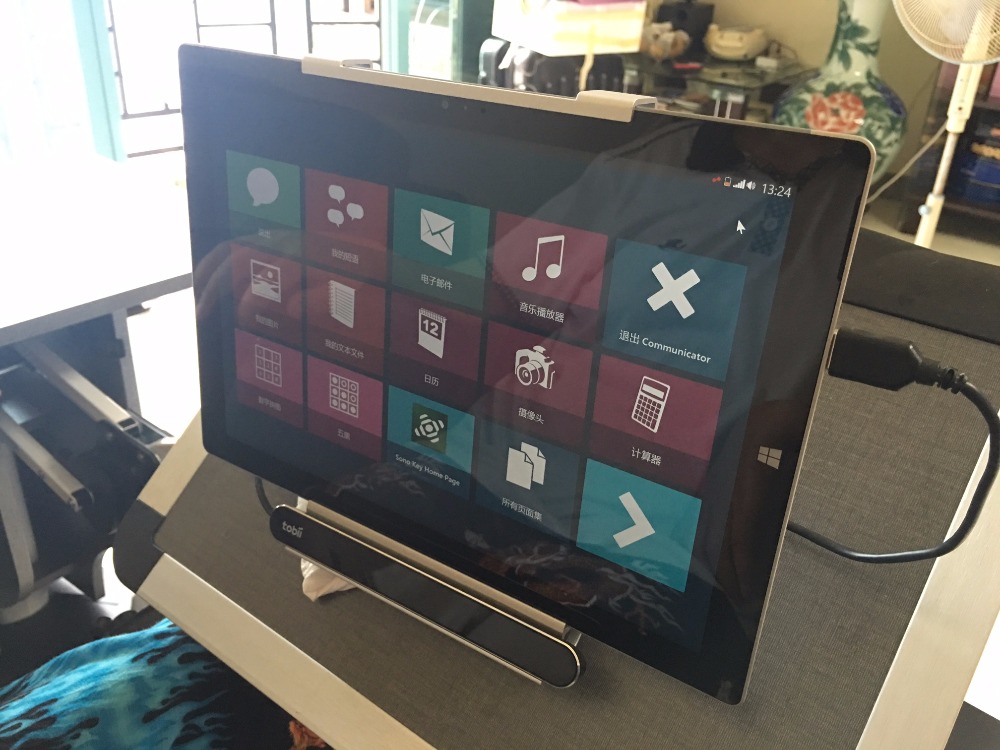 + Read More