Send BURNT to Stop the Pipeline!
$1,690
of $1,500 goal
Raised by
27
people in 28 months
Since 2002 the band 
BURNT
 has been combining 
Reggae
, 
Dub
, 
Ska
, 
World
, 
Hip Hop
 and 
Punk
 music with environmentally and socially conscious lyrics.
We have been invited to perform on
Saturday October 22nd
 at
Sacred Stone Camp in North Dakota to support the Standing Rock Native Americans in their fight to stop the Dakota Access Pipeline
. We are
volunteering
our time and performance to raise awareness about 
the movement to stop Dakota Access pipeline
. 
This campaign for funds is
solely for our travel costs
. Any amount raised beyond expenses will be
donated
to the No DAPL cause.
More info about the struggle:
The North Dakota Access Pipeline, at a cost of $3.8 billion, would carry about 500,000 barrels of crude per day from North Dakota's Bakken oilfield to Illinois. Of great concern to many is the plan to drill and build the pipeline under the Missouri River. It is proposed to cross near Lake Oahe, just upstream of the source of drinking water for the Standing Rock Sioux tribal reservation.
In April members from the American Standing Rock Sioux set up a protest camp (Sacred Stone Camp) near the proposed construction site, near Cannonball, North Dakota. The camp has grown to over 3000, and now represents over 100 indigenous North American tribes.
The Standing Rock Sioux tribe filed a lawsuit that challenges the Army Corps of Engineers' decision to issue permits for the pipeline, arguing that it violates the National Historic Preservation Act. The tribe feels it was not properly consulted before the route was drafted, and requested that an independent archaeologist review their claims that the pipeline would be built on a sacred site.
On Saturday, September 3rd, only hours after lawyers representing the Standing Rock Sioux Tribe filed evidence in federal court documenting how some of the Dakota Access pipeline's proposed route would go through a sacred burial site, the company unexpectedly began working on that very site. As bulldozers cleared earth, hundreds of Native Americans from many different tribes rushed onto the construction site to protect the sacred site. In response, the company's security forces attacked the Native Americans with dogs and pepper spray. A pregnant woman and small child were mauled and hospitalized.
No charges have been filed yet against security who attacked protesters with dogs and pepper spray when they resisted the construction on a sacred tribal burial site. North Dakota police helicopters flew overhead but didn't intervene during the attacks. State response has included road blockades with military checkpoints, constant helicopter and drone surveillance, and the removal of state owned water tanks and trailers.
On Friday, September 9th, the district court ruled against the Standing Rock Sioux tribe's claim. 15 minutes later the White House intervened in a joint statement with the Department of the Interior, Department of Justice and the Army Corp of Engineers, calling for a review of permits to drill under the lake and requesting a voluntary suspension of work in the immediate area.
On September 19th, the Federal Appeals court officially halted construction within 20 miles of either side of Lake Oahe, along the Missouri River. The D.C. Circuit Court of Appeals says this ruling will give the court more time to rule on the Standing Rock Sioux Tribe's request for an emergency injunction against construction over concerns it could destroy sacred sites and burial grounds. The emergency injunction was filed by the tribe after a lower court rejected a request for an injunction the previous Friday. This latest ruling now makes mandatory the Obama administration's request that Dakota Access voluntarily cease construction along that same 40-mile stretch.
In a separate legal development, a federal judge in Bismarck has dropped temporary restraining orders against Standing Rock Sioux Chairman David Archambault II and other tribal leaders. The restraining orders were part of a SLAPP suit—a strategic lawsuit against public participation—filed by Dakota Access against leaders of the tribe in August over their participation in protests.
+ Read More
Update 2
28 months ago
Share
Wow!! We made it!! Thank you so much to everyone for supporting our music and activism!
We are humbled and grateful for this opportunity to raise awareness about the effort to stop construction of the Dakota Access Pipeline, which is threatening the water supply for thousands of indigenous Sioux people.
We urge you all to continue to share our campaign to increase awareness about the festival and cause. As a reminder, any funds raised beyond our travel expenses will be donated to the NoDAPL movement. We also encourage you to sign this petition:
https://www.change.org/p/jo-ellen-darcy-stop-the-dakota-access-pipeline
Thanks again! We will keep you updated on our experience!
MoreLove,
BURNT
www.burntmusic.com
+ Read More
Update 1
28 months ago
Share
Family and Friends!

Thank you for all your donations and shares! We're so grateful for the opportunity to represent you all at the Standing Rock Free Festival on 10/22! It's soon! We are currently making travel plans and will keep you all updated. Looking forward to documenting our experience and sharing with you all. Please continue to help spread the word about our trip... good music for a great cause!

Big Love,

BURNT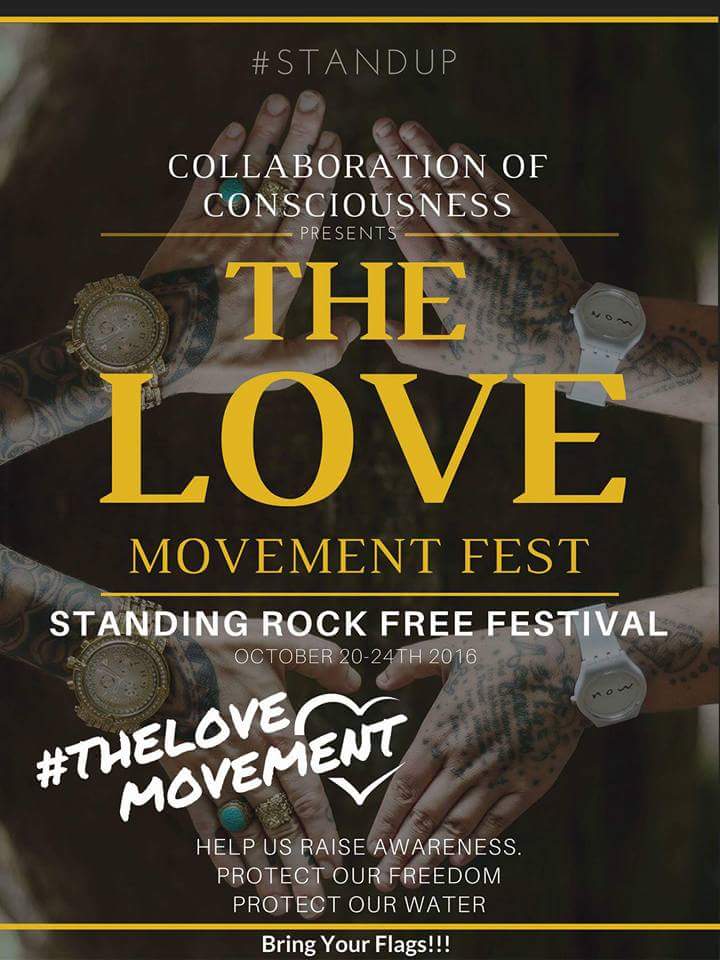 + Read More
Read a Previous Update
Be the first to leave a comment on this campaign.