A Future for Nepal
€3,285
of €10,000 goal
Raised by
51
people in 40 months
Wednesday 14th March Charity Valley Rally, organised by Europaen Snow Sport, Zermatt.

Meet at 9.30am at Papperla pub in Zermatt.  Fancy dress is optional, but it certainly helps add extra points, and what do points make?????.....lots of fabulous prizes to be won.  Enquiries to Alastair (see poster below)
Last year we raised enough money to fund a water tank for a remote village, provide a shower block and change of clothes for the same village, hygiene kits for 200 children, and emergency aid for flood victims.
All
money goes to the people that need it, and we make follow up checks to see that it is spent appropriately.

Breaking news: August 2017
Emergency help for flood victims

NGO Heartbeat has mobilised to bring aid to 270 families in Gaur, Rautahat, which is one of the areas worst effected by the floods.  5000kg of rice was distributed.  Your contribution goes towards packs for each family, which include Hygiene kits, 25kg rice, cooking oil, salt, soy beans 1kg and a 2m2 insulated waterproof mat.  Also 300 mosquito nets have been distributed
These women walked for miles and queued in the rain to get their hygiene kits and rice for their families.


May/June 2017
Chepang Village

Teaming up with the Kathmandu based NGO Heartbeat, we brought hygiene kits, colouring pens and paints, toys and baby clothes and a new library to 120 children in the Chepang village, a day's journey from Kathmandu. The Chepang live in the jungle hills, 7 hours walk from the nearest road.  Until recently, they were not used to seeing anyone but members of their own villages, and so they are shy of 'foreigners'.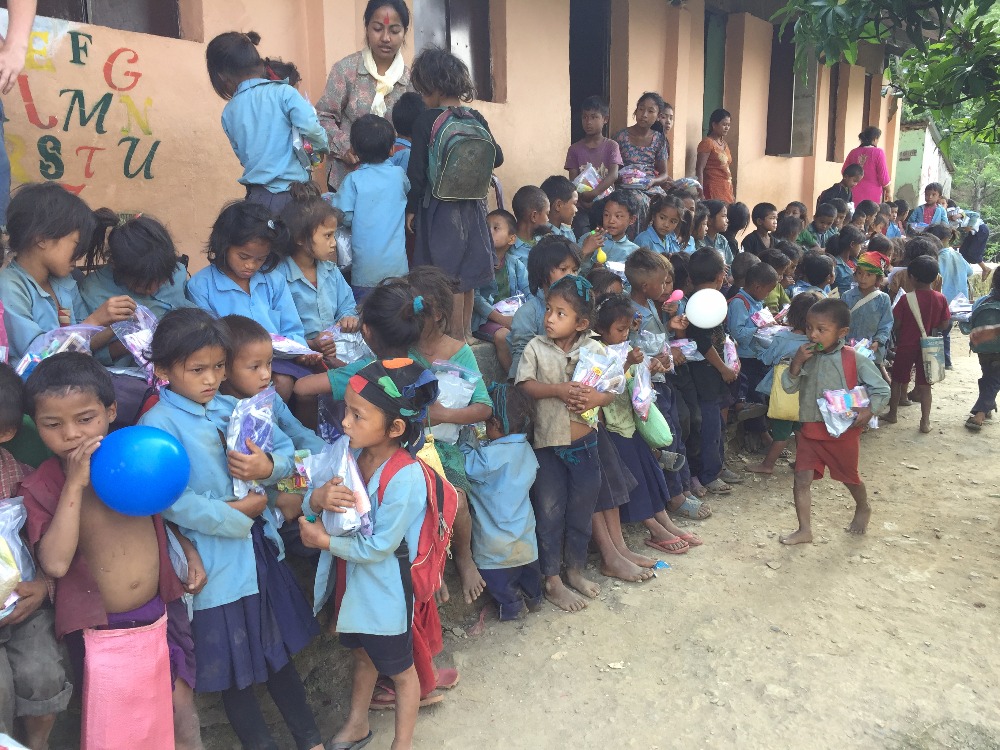 We distributed hygiene kits, but realised, that with only one water tap for the whole area, the kits would not be very useful.  With the money you raised, we have been able to go back to the village with an additional water tank, a shower block and washing facilities.  Washing anywhere other than in the river 30 minutes below was a totally new concept, and quickly became a great game!
2 classes from Zermatt junior school drew pictures to help show the chepang children how to brush their teeth and wash their hands.
Once a year, the government gives every school child one set of school uniform.  In many poorer areas, this school uniform is the only clothing the children have. With the showers and water tank, your donation also helped to pay for a new set of clothes (T Shirt and trousers) for each child, and a sink next to the shower block to wash their dirty clothes in on shower day!
The T Shirt has the Nepali alphabet on, so no excuse not to know your ABCs.
With hygiene now part of the curriculum, and a greater number of children attending school due to the improved facilities, a new teacher has been employed funded partly by you, and partly by the NGO Heartbeat.
Tupche School for the Blind
We had SO many childrens toys donated in Zermatt, and we took them not only to the Chepang village, but to the Tpche school for the blind.  I picked out all the toys that rattles, dinged, pinged, scrumpled and clanged, and we also got some super soft teddy bears, which went down very well.
Most of these childrens have no parents, so they live in the school.  They grow up learning to read Braille, and to type it too.
There is only one machine at the school, and they have to take it in turns.
Sundaradevi School
2016 new school building project completed.  2017 hygiene kits distributed and a library.
When we visited Sundaradevi school in May 2016, the children were learning out of a one room UNICEF temporary tent.  They were under-nutritioned, with torn and ragged uniform, in some cases dirty and dishevelled. They were very shy of outsiders, and school attendance was poor, and erratic.
Now, the transformation is incredible.  The school building is finished, the children are precocious, very lively, excited about learning, wanting to show us what they do in their classes, and show off the English they are so proud to have learnt.
The girls have ribbons in their hair, and the boys are proud of their clean and tidy uniforms.  In one year, the level of understanding of the importance of hygiene, and the dedication to getting an education has exploded upwards.  It was incredible to see the real and beneficial change that a new school building can make to these 65 children.  Thank you for donating!
The completion of the new school building brought additional benefits.  The publicity generated caused a spot light to be brought to bear on the school and the area, which means that funding has been pouring in.  Another school building is now under construction, an additional teacher has been added to the staff, two computers were donated, educational materials, and solar panels.
Heartbeat Dream Centre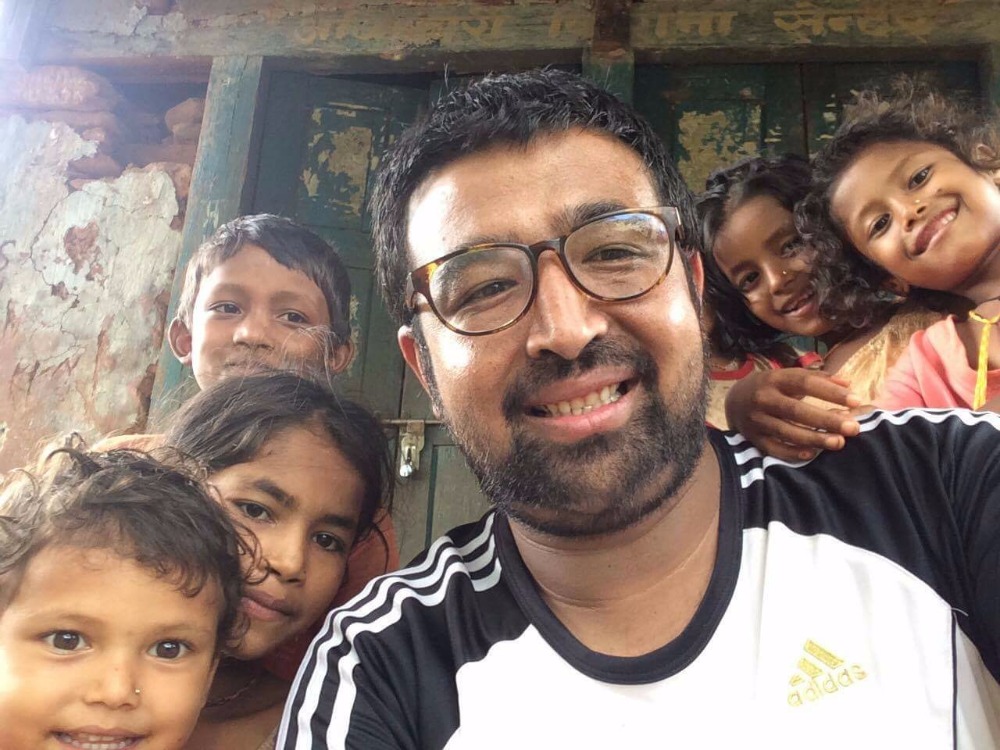 The NGO Heartbeat was initially set up to help homeless children on the streets of Kathmandu.  While it is still a very small charity, since the earthquake in 2015 it's scope has widened to help children in poor, out of the way villages aswell.  Whilst he was working with the street children, Heartbeat's founder, Juju Kaji Maharjan, realised that many of these children had run away from their homes and families in these out of the way villages, in search of a better life in Kathmandu, which they did not find.  Juju believes strongly that to educate society's poorer children will empower them to help them make better choices about their own futures.
The Heartbeat Dream Centre is a refuge for homeless children, and children whose parents, or in many cases, parent, cannot care for them before and after school.  It is a place where they can come to do their homework, learn computing - the centre has two computers, and be fed.  It is an essential part of these children's lives, to keep them, especially the young girls, off the streets and out of harm's way.
The centre has a garden that the children look after where they grow their own fruit and vegetables.  The children themselves help pack supplies and aid when the NGO has a field trip to help other children outside of Kathmandu.  The older children look after the younger ones, helping with hygiene, discipline and wiping tears. They also clean the centre, make tea and help cook in return for the refuge it provides them.
Heartbeat supports as much as possible of their aid work with their own tea and coffee shop.  All the tea and coffee is grown by small producers in rural areas, far off the beaten track.  The farms are organic and self sufficient.  The shop is run by one full time staff member, who had previously found it difficult to find work because she is deaf.  Heartbeat gave her a chance, and she is running the shop and cafe happily. The rest of the staff are volunteers.
Heartbeat also have a recycling project.  Some of the older children who have grown up on the streets can find work collecting and recycling rubbish, and selling it on.  There is a reycling collection point at the Dream Centre to support these homeless children.
Lucky!
Because of the long term nature of this project, myself and Mark McKillop will fund it alone.
Lucky started school in Namche in April 2017. Unfortunately he became ill, and his father had to fetch him and bring him home.  Once at home, he got better immediately.  The cycle continued, and he has now been diagnosed with acute homesickness!!!
The principle of Home Away From Home, where they look after the children who board in Namche, thinks Lucky was too young to start this year (when we went to visit, he was definitely the smallest child!), so we will try again next year.
The rest of the story (backwards!)
Teaming up with Sven Ramsauer, we will be going out to Nepal in May 2017 to follow up the Sundaradevi school building project and to visit Lucky at his new school.
We will start new projects of bringing hygiene kits and education (in conjunction with Zermatt primary school children) to the Sundaradevi school, as well as to an orphanage for blind children, and another, larger school all in Chepang in Nuakwot province.
One year on, we have raised over 3000€.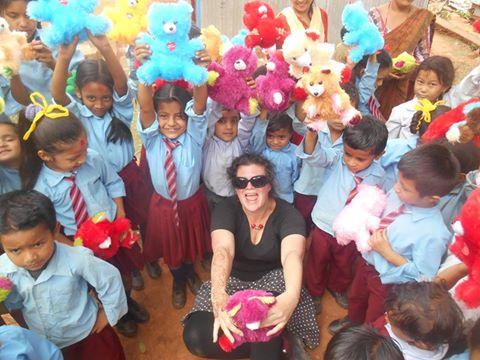 This money has gone towards kickstarting the rebuilding of the Sundaradevi school before the Monsoon arrives: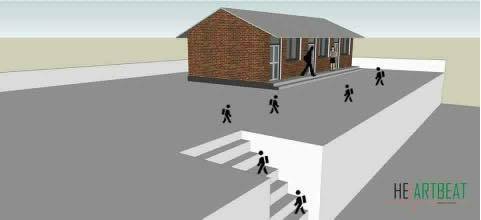 Together with the Kathmandu based NGO Heartbeat, we visted the destroyed school and the temporary shelter they are learning in now.  Thanks to your donations, building materials have been delivered and work has started already.  Having access to a proper education in this extremely poor agricultural area helps to teach the children and their communities of the dangers of human trafficking and makes them aware of the disadvantages of running away from home to live on the streets of Kathmandu.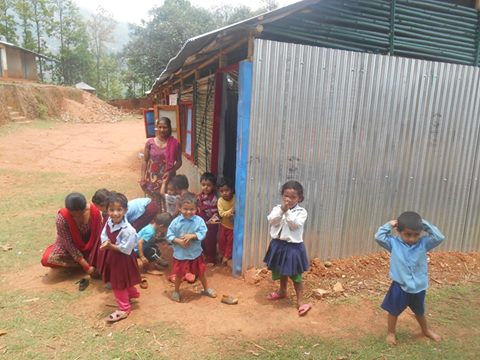 At the moment the children are taught in a temporary shelter donated by UNICEF, but this will be deluged when the monsoon comes.  Work has already started to replace the destroyed buildings on high ground (top left)
Your contributions have helped transform this: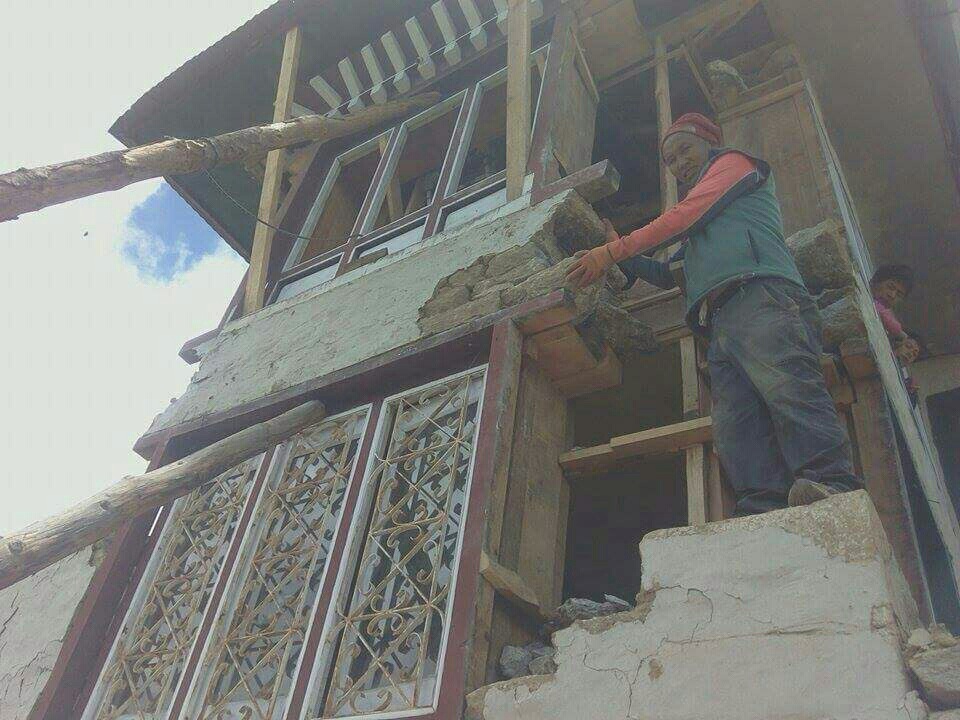 and this: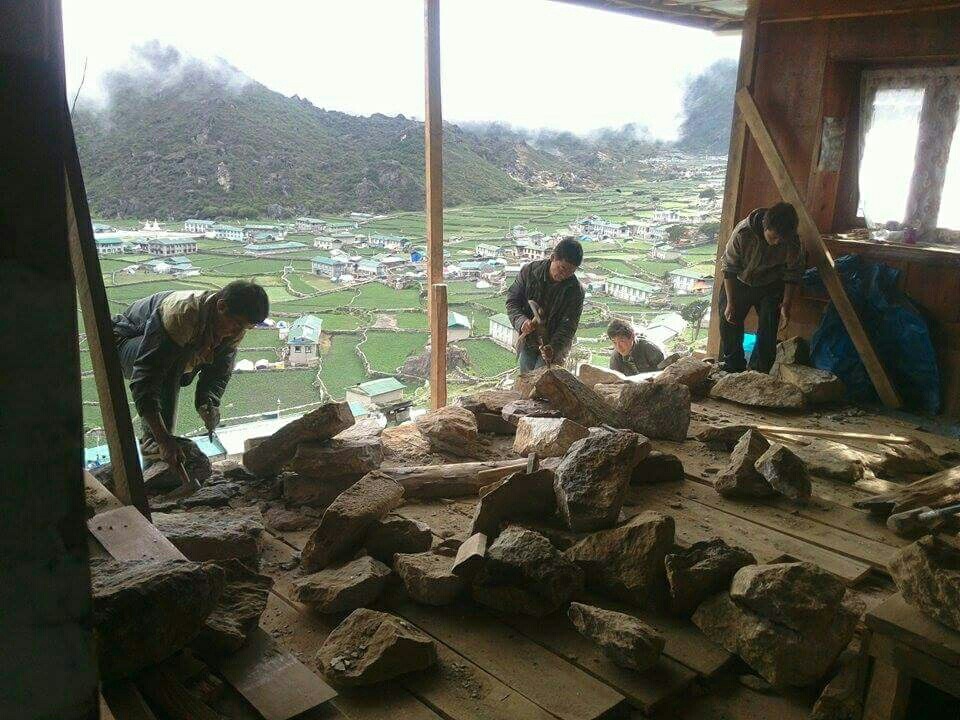 to this: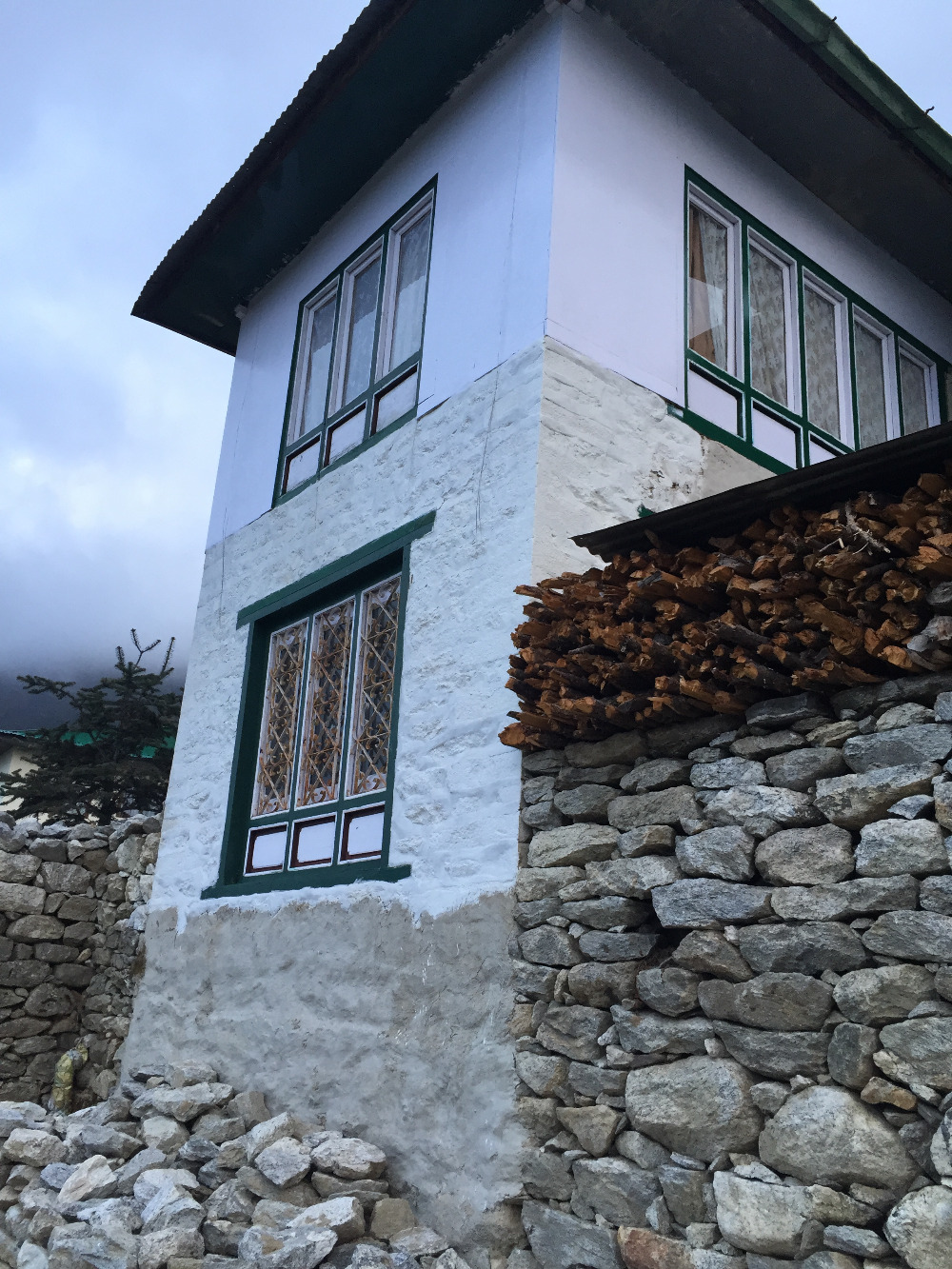 During the earthquake, the main cause of injury was falling heavy building material. In the Sagamatha national park, the Everest region of the Khumbu valley, where it is not allowed to cut down wood for any purpose (not for building, not even for fire wood), and there are no roads, so building materials, such as cement, are to heavy to transport by foot, the only  thing available was stone.  Now sheets of ply board and metal, for stronger and lighter buildings, can be brought up to Syanboche airstrip by helicopter, and they are light enough for one porter to bring 5 sheets on their backs from there to the harder to reach villages.  The wood and metal is relatively cheap, and even though it is a terribly hard life, the porters that transport it can earn good money:
Three porters got new boots: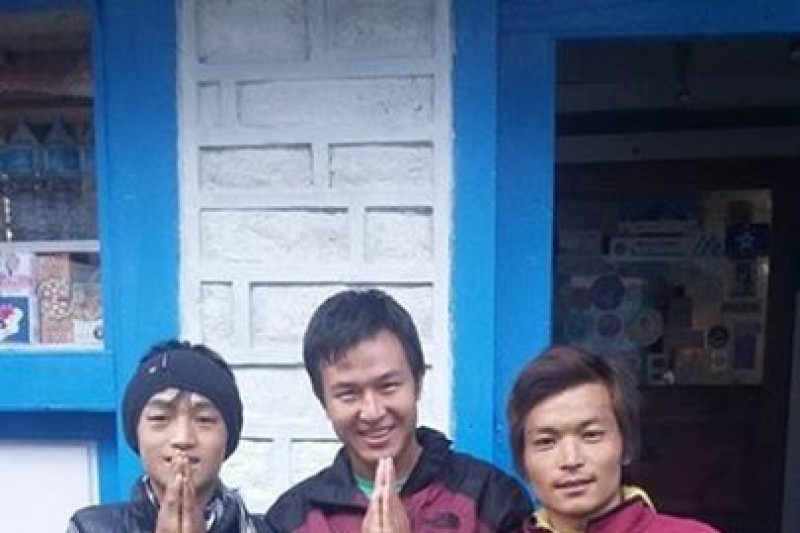 Lucky is going to school: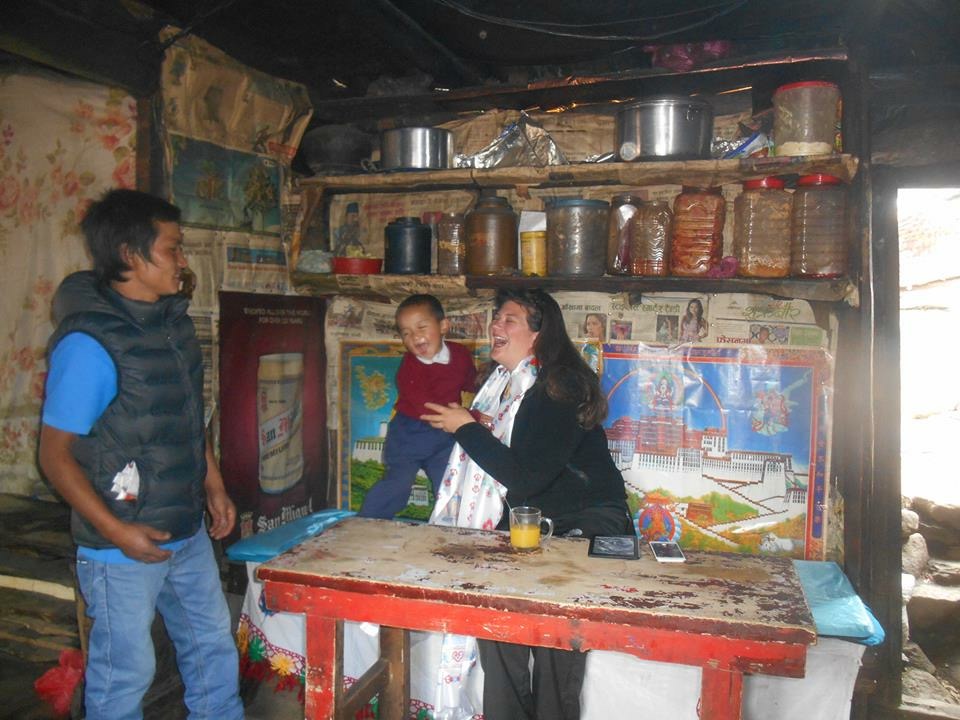 Lucky will be 5 and ready to start school in March.  Your continuing donations will ensure he can attend the Namche school (one day walk away), where he will board with 90 other children who live too far away to be able to walk everyday.  We hope to be able to sponsor other porters' children in the future.
On the way to visiting Lucky and the people of Khumbu who you have helped, I spotted a few children:
It took less than 3 seconds for 20 more to turn up once I started handing out toys!!!!
Thanks to your support, we distributed teddy bears not only to Sundaradevi school children, but to another school in Kathmandu, a shelter for street children, and the children in the camps for the homeless in Kathmandu.  So easy to bring a smile to their faces!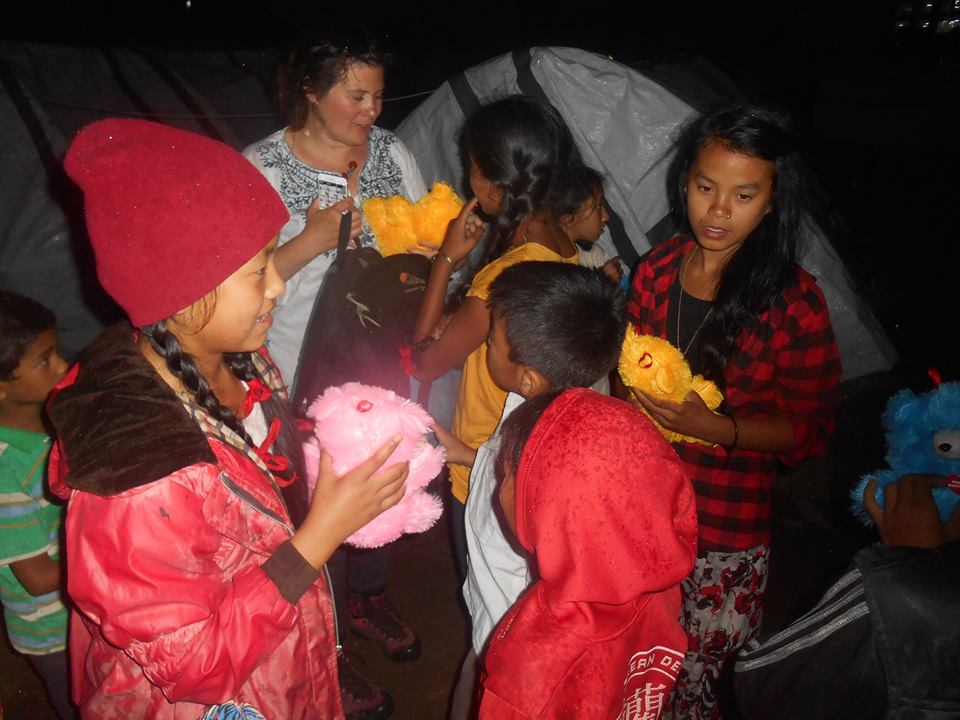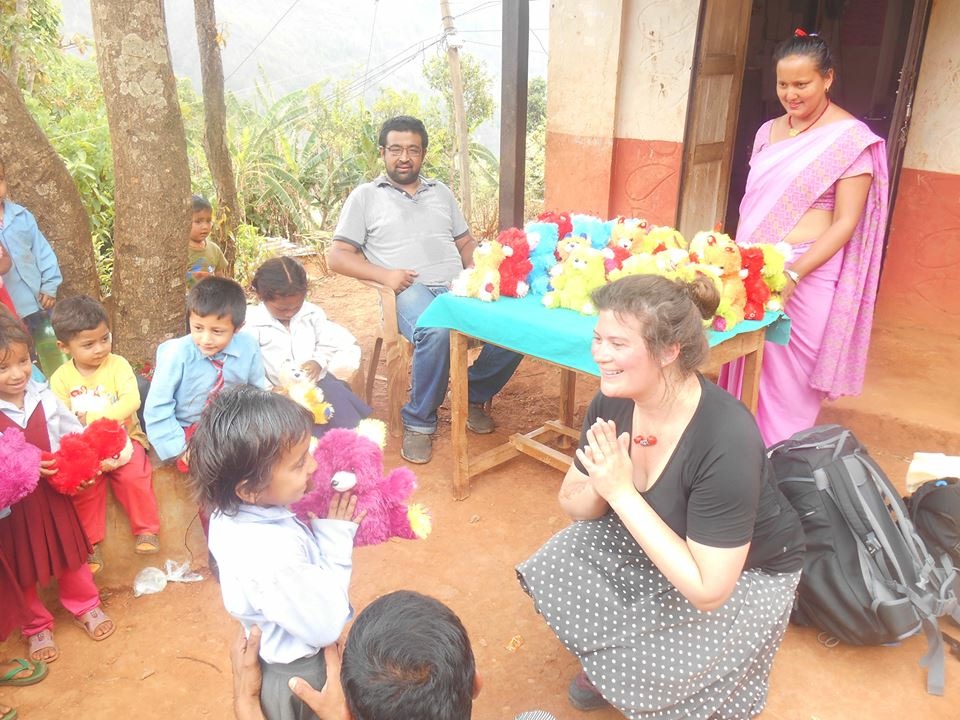 Thank you to those who have contributed clothes and toys.  Six familes received warm winter jackets, trousers, fleeces and other items as well as hygiene products.  Many children on the trekking path between Lukla and Khumjung are now playing with slinkys, colouring pens and pads, coloured batons and bouncy balls.
Khunde Hospital received a donation from us as well.  My return visit showed me just how much good work the hospital does.  In the main, supported by The Sir Edmund Hillary Foundation of Canada, and the Himalayan Trust of New Zealand, the hospital covers a wide area, with two doctors (at the moment one fantastic Sherpa doctor, trained in Canada is on his own, but a second will join him soon), 8 health workers (midwife, paramedics, health assistants, laboratory technicians), and three health assistants in the three outreach clinics (Monjo is closed at the moment due to one health assistant retiring)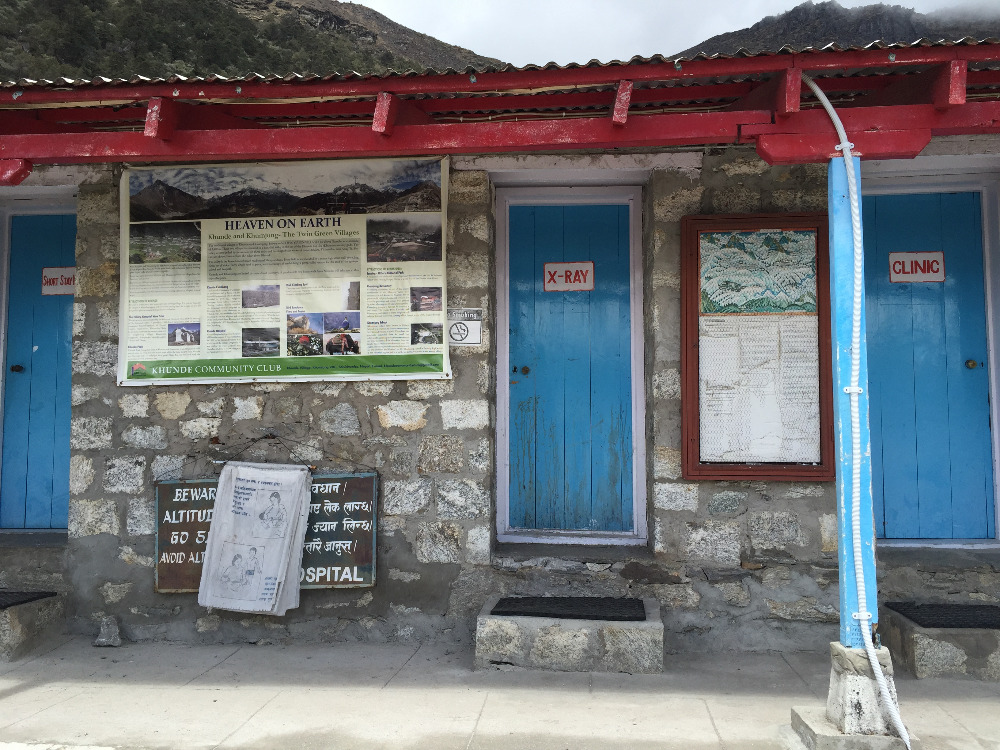 On speaking to the doctor, I realised what an important part of the widely scattered community this hospital is.  It provides affordable emergency care, maternity care, vaccinations, health checks, contraception and laboratory analisys.  Better than in Kathmandu by far.  The doctor in charge is an inspiration!
Future projects:
We will continue to help Sundaradevi school, and we are monitoring the works very closely.  Heartbeat are doing their own fund raising work, and we hope they can make it with local contributions, but we are on hand to contribute more should it be necessary.
The Lucky Child School Project:  School fees, accommodation, food, school uniform, school books, other clothes and shoes cost 1,500USD per year per child to send them to Namche school.  Lucky will be our first sponsored child, and we hope to raise enough year after year to be able to send other porters' children to this school, where the children study in English as much as Nepali.
When we were in the homeless camps in Bauda,  Kathmandu, I met Sostika.  Sostika is 13 years old. She lives in a makeshift tent cobbled together by people made homeless by the earthquake. She looks after her 11 year old sister, Ritima, and her one year old cousin, Ritika. Her mother lives one day away in their village and she has no father. She goes to school 6 days a week, and on her day off sells little embroidered bags that she makes on an old Singer hand propelled sewing machine in the dim evening light.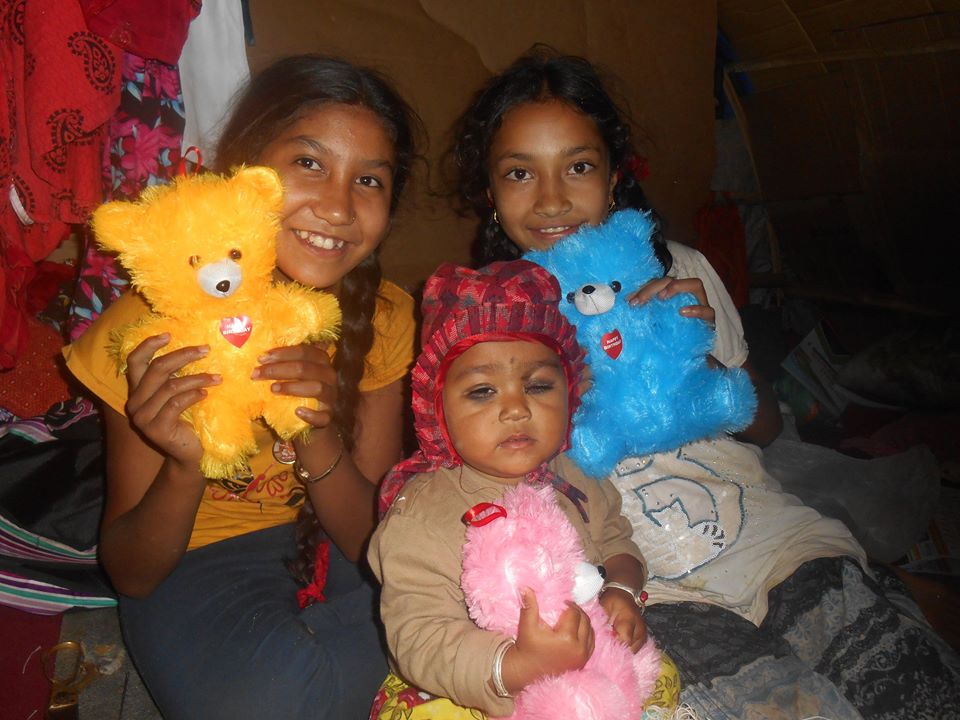 Local sensitivities were such that we could not return to the camp to see her again, but I want to help this very brave girl. Perhaps you can suggest what we can do for her?.............
Anyway, thank you for reading, and thank you for your donations.  The project has expanded somewhat, especially with regards to the area of Nepal we are covering, but it has become more focused, with certain projects identified, and real help given.  You can be proud that the money you have donated has gone to genuine deserving cases, and been spent only on aid.
.....the original story follows.....
.......On the 25th April 2015, around 11am local time, Nepal was struck by a devastating earthquake.
I was there, I felt it, and I shared in the subsequent devastating misery the people of Nepal are experiencing.
I was one of the lucky ones.  Not just because I survived, whilst others didn't, but because I could come home, and leave behind the struggle to find shelter from the monsoons, food and clean water that the Nepalese are experiencing every day.
Sharing in the terror, the heart break, the devastation and constant aftershocks which are still going on today, as well as being privileged to get to know the Nepalese families who helped us along the way, has made me determined to give something back and help the Nepalese I left behind in the Khumbu valley, in Khumjung, Phakding and Lukla, as well as our friends in Kathmandu.
So many charities and funds have sprung up in the wake of the disaster, and it doesn't matter really where you give your money, but please do donate to Nepal.  Even just a few dollars.  They need our help more than ever.
I am setting up this fund specifically to help the people and families who helped me during the earthquakes.  People with their own worries and problems helped me and looked after me with infinite kindness when I was sick, carried our heavy bags and guided us back to Lukla airport, argued, cajoled and persuaded the airport authorities to let us on a flight, put us up in their own houses when hotels and hostels were unsafe....the kindness of these people is incredible.  They had very little before: now they are destitute, and many of them are living outside in cold and wet weather, with difficult access to food supplies.
The money I raise will go directly to these families to help them rebuild, pay porters to bring supplies and food over the ruined paths. and to help their neighbours too in rebuilding their communities.  I would also like to donate to the Himalayan Trust to rebuild Khunde hospital, where I was treated after the first earthquake, and which collapsed completely in the second earthquake on 12th May 2015, leaving Khumjung and Khunde without medical care.
Sherpa Ang Tshering and family looked after me for nearly a week after the first earthquake.  Since the second earthquake, the house that had deep cracks when I left, is now too unsafe to enter.  His mother in law passed away, and their only cow was injured by falling bricks.  The path to Khumjung is partly destroyed and dangerous, and he write me that the porters refuse to journey there, leaving them without food supplies.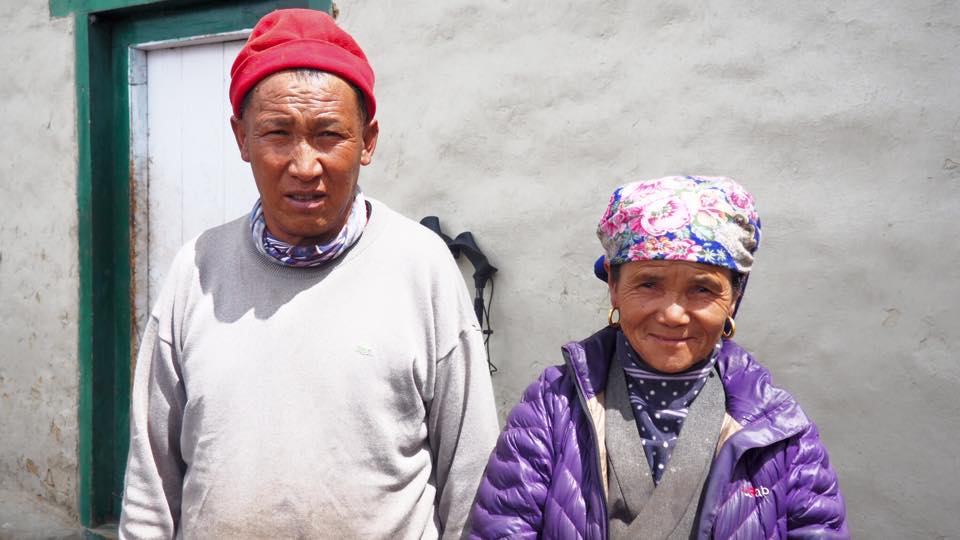 Homraj lives in Phakding with his wife, his live wire of a son, 3 year old Lucky Suman, and a large extended family. His house is a tiny wooden structure with cracks you can see through, insulated by newspaper.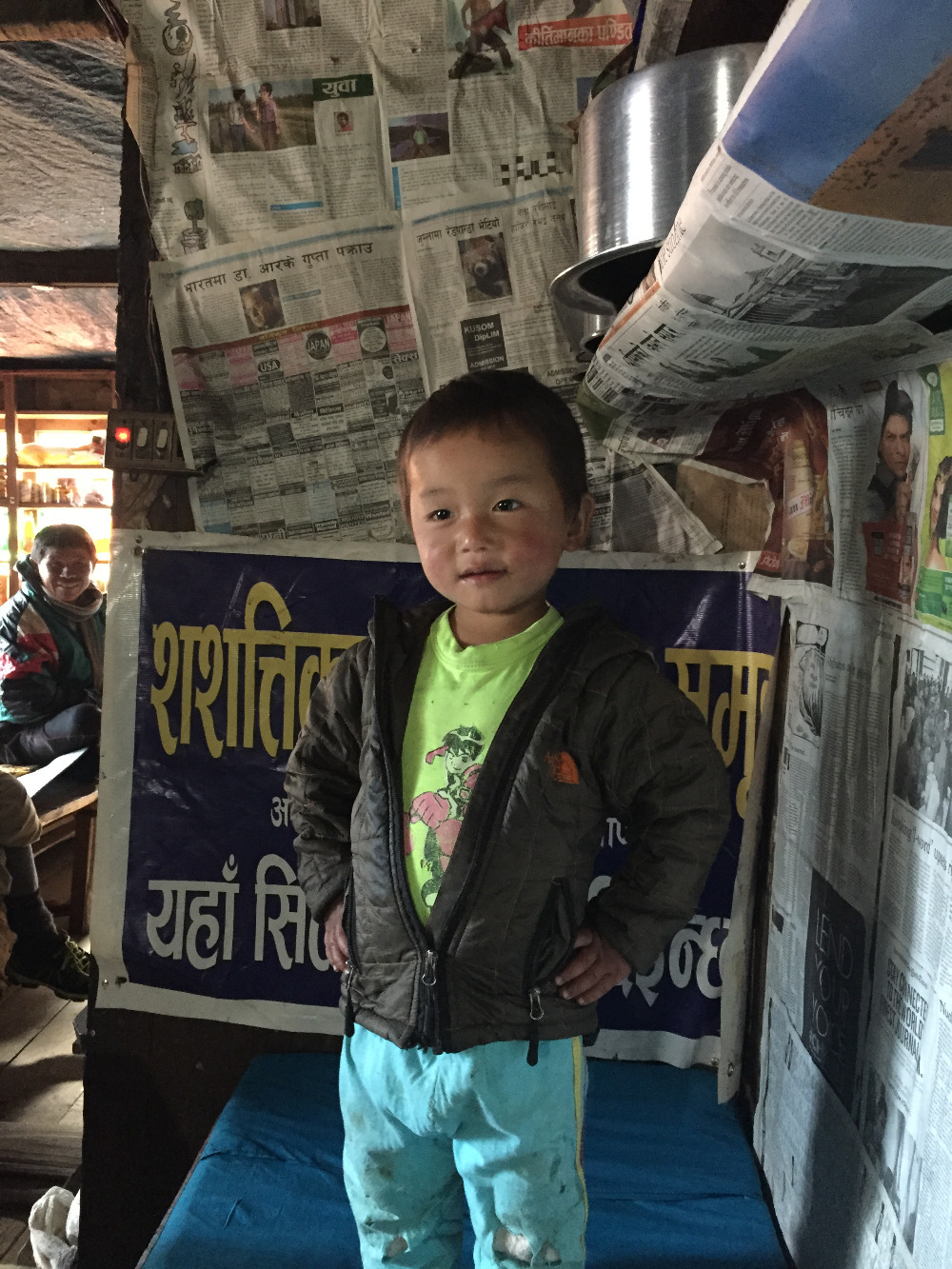 Suman is an 18 year old porter, married with a 7 month old daughter.  Since the earthquake, the tourists are no longer coming, so there is no work.
One of our guides Bibek, and our porters Bivek, Bigas, Bishal, Amik and Mon Ku Mari are all suffering from lack of shelter, food and no possibility of work.
Mahendra Simkhada, our guide has family in the Ghorka region that was hit hard too.  His home in Kathmandu is unsafe to enter, but he has been helping to coordinate the aid effort and bringing aid himself to his village in Ghorka.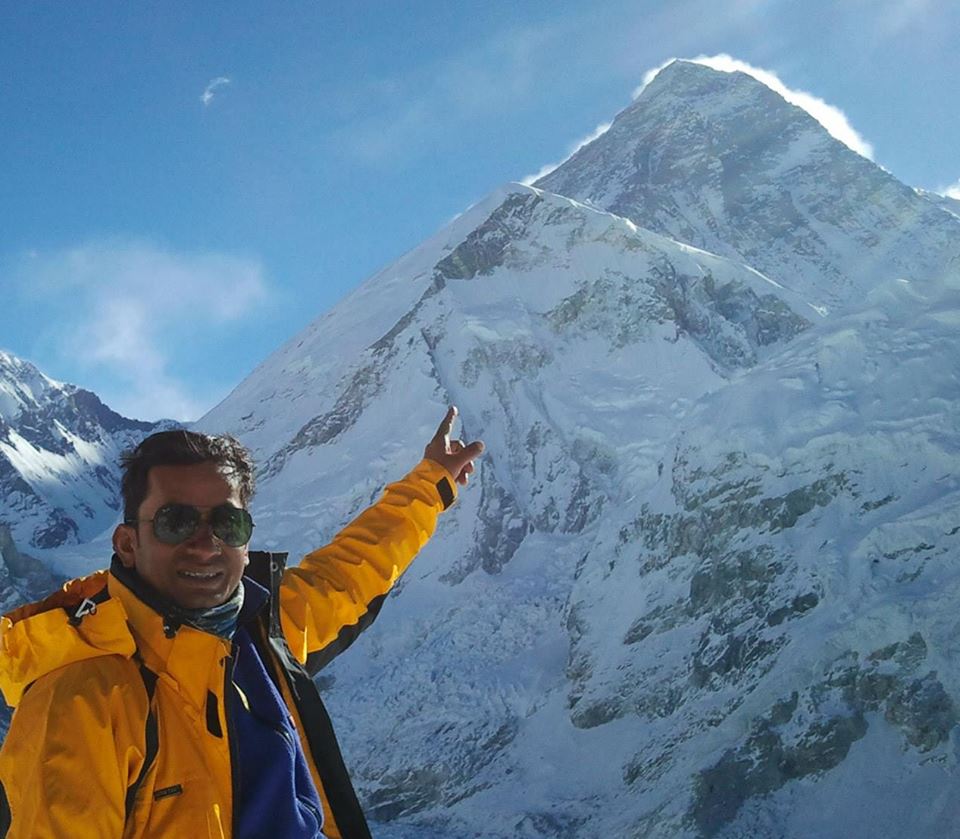 Rajan Simkhada, owner of Earthbound Expeditions, is based in Kathmandu and has set up his own charity that has already brought shelter, food and relief to many remote villages, with the hope of constructing earthquke resistant housing in the future.
If you feel strongly where your donation should go, please let me know in your comment section, or email me.  YOU choose who you think could benefit the most, whether it is Ang Tshering, the porters, or to rebuild the hospital at Khunde via the Himalayan trust.  I will make sure it gets to where YOU think it should.
Namaste
+ Read More
Be the first to leave a comment on this campaign.