Emergency Medical Care for Amadeus
$16,835
of $40,000 goal
Raised by
213
people in 26 months
(My brother created this GoFundMe, and we are incredibly appreciative for him doing so. To eliminate any confusion, all of my brother's text will be of a normal font, all of mine will be bold.)
Hello and thank you for taking a moment to read Ami's story thus far. This special little boy has been such a blessing to this family and has made such an impact to all of us, that's why it is so important to make sure we are doing all we can for him.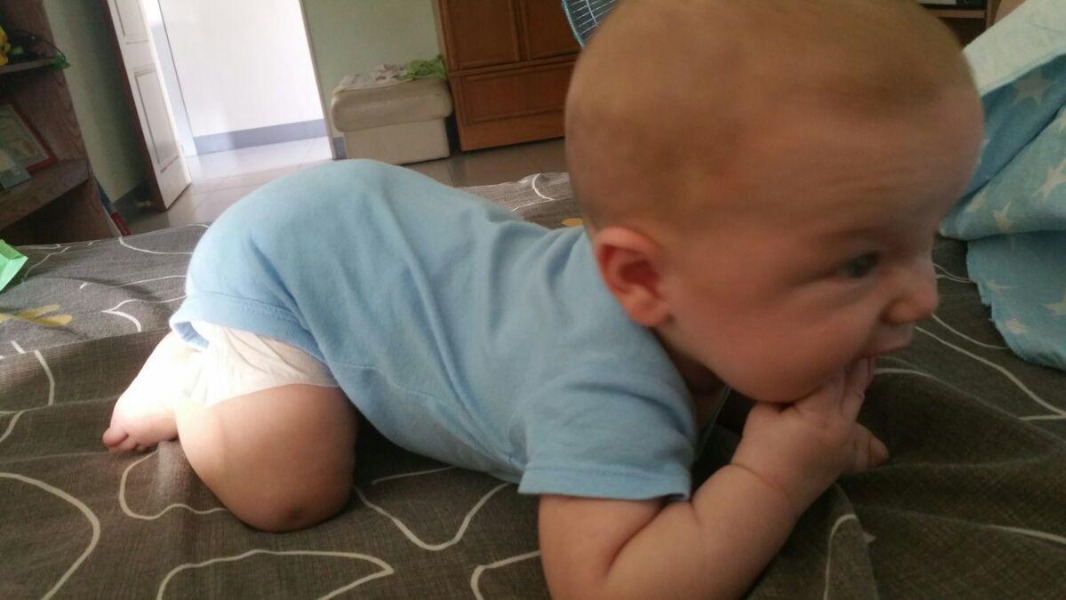 Amadeus Kai was born March 3rd, 2016 to a loving parents Veronica & Brandon; this being their first child, they expected to have all of the normal first-time-parent joys and sorrows. They had hoped to have a healthy and happy baby with whom they could share their love and their experience of living abroad in Southeast Asia by way of Taiwan. This was already a once in a lifetime experience for them, moving to Taiwan to teach English, but now to have their first child born in this country was going to help them make memories for a lifetime. Things were going great for this new family in their new city until the night of July 18th, 2016 when what seemed like a typical newborn sickness turned into a nightmare for this family. Amadeus had just been put to bed for the night, but instead of sleeping soundly Ami was in the middle of what looked like a seizure. Thanks to the efforts of his father and a good samaritan they were able to get him to the hospital for help.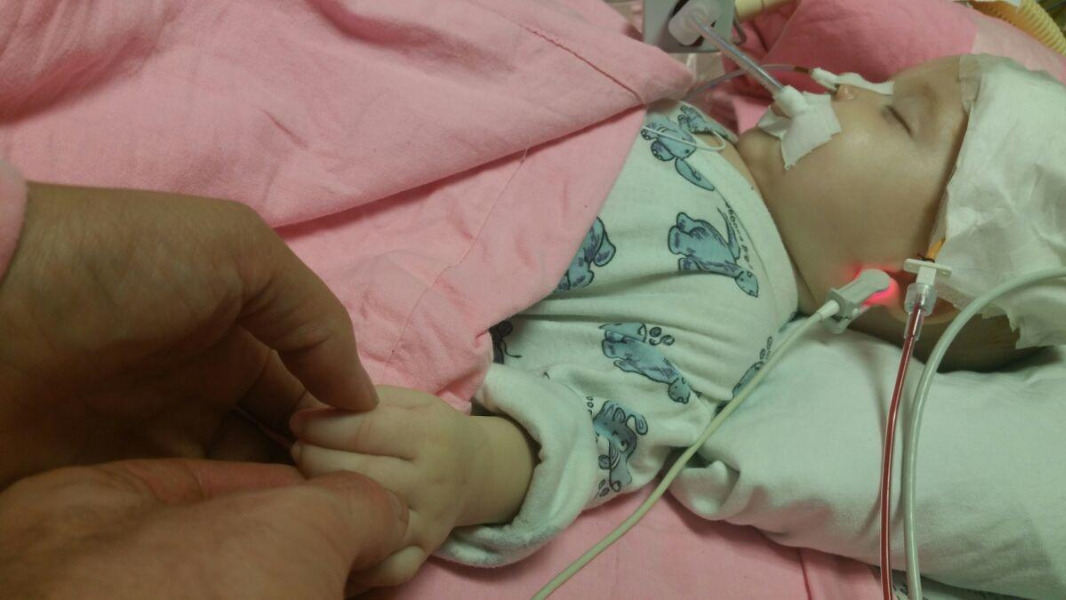 Upon arriving at the hospital it was clear that Amadeus was not doing well and he needed immediate medical attention. Amadeus was burning up with fever and still seizing which prompted the doctors to put him into a hypothermic induced coma to help bring his body core temperature down and give Ami a chance to start to healing. Unfortunately the fever and seizure were so severe it caused his brain to be deprived of oxygen for quite some time and may have even caused brain damage. Because of the severity of the fever it is the more immediate threat and the main focus of the medical staff; the potential brain damage will eventually be reviewed once Ami is out of his hypothermic coma. To complicate matters more, the severity of the seizure caused cerebral hemorrhaging in the optical regions of Ami's brain; doctors had to operate immediately to stop the bleeding and hopefully save his eyesight. The surgery to stop the hemorrhaging was successful but it is not known yet if they were able to save Ami's sight since he is still in hypothermic coma. Pending any additional medical complications they are planning on keeping Ami in hypothermic coma for about a week.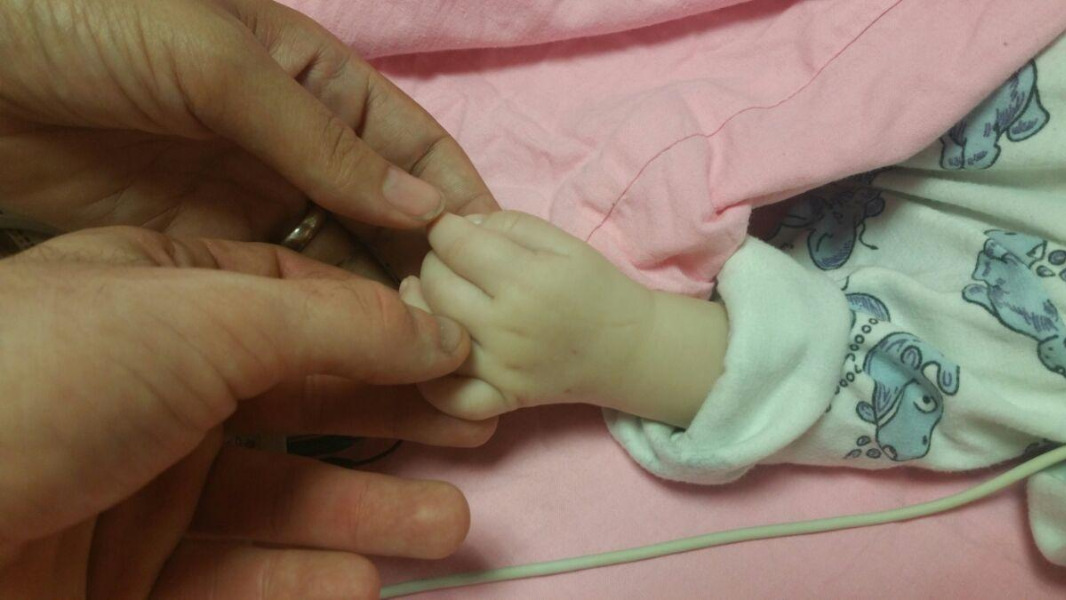 There are still many unknowns for Amadeus and his future. He is facing many potentially life-long disorders such as blindness or suffer from brain damage; either of these are going to require a huge amount of time, patience and effort to learn to live with them and will impact him for the rest of his life. Amadeus is still in hypothermic coma remember and there is a chance he may not wake up due to the amount of brain hemorrhaging or damage caused by fever and seizure. Even though he is only 4 months old, Amadeus has to overcome some extremely difficult situations; situations that will require a great deal of care and investment from his family.  
Because of how the healthcare system in Taiwan works, Amadeus is not able to qualify for state-sponsored insurance till he is 6 months old since he parents are not Taiwanese citizens. This means that his care is going to be prohibitively expensive which is why we have set an initial goal of $40,000 USD to help cover immediate medical expenses and a medical flight back home. Our hopes are that with this money they can get Amadeus through till he is healthy enough to be transported and then to bring him back to the United States for further care.
We are hoping that by hearing his story there are others out there that are willing to help Amadeus through this difficult and frightening time. This money will mean that he can be brought home and be closer to all of his family who can help bear some of the burden that his parents are facing by themselves up to this point. Amadeus has brought so much happiness and joy to our family and we want to be able to bring him home so that all of us can participate in his recovery.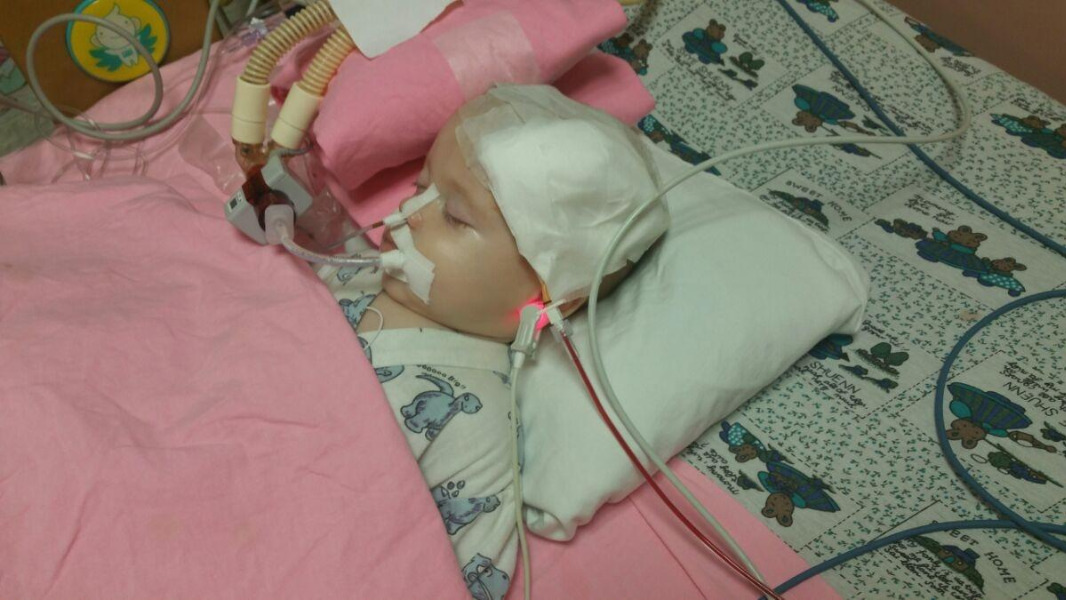 Thank you
Father's name: Brandon ShinaultMother's name: Veronica ShinaultOur son's name: Amadeus Emerson Kai Shinault's

Hospital: Kaohsiung Chang Gung Memorial Hospital, Pediatric ICU
Ami's Condition: Fever induced seizure, causing a lack of oxygen to brain, currently unconscious -If you would like to get to know little Ami, you may find this letter of interest. Written by his father, directed to his- son:  https://www.facebook.com/notes/brandon-shinault/i-love-you-little-mister/1243679202310944 To contact us, Ami's parents, please select either link below to our Facebook pages.Veronica (Mother)  https://www.facebook.com/imfallnup21?fref=ts 
Brandon (Father)  https://www.facebook.com/SuperVintageCinema 

-----Update #1-----

We just got back from our visit with Ami. He was moving so much! His little feet tickle easy now, his hands squeeze harder, he's even starting to look mad when I tickle his ears again. This is good news. And all thanks to the fact, that he has been taken out of his hypothermic state, though still on sedatives. We are far away from being able to determine where we stand, but wiggling and wriggling is never bad.

Thank you all for your love and support. We need it.

-----Update #2-----

Yesterday was not so good. Let me just list to you, the concerns made clear by Ami's doctors.

1. He cannot urinate on his own. He only does so, when his bladder is full, and urine is pushed out.

2. His blood pressure is extremely high, as they slowly remove the factors that kept him in a coma.

3. When attempting to remove the ventilator, so Ami could breathe on his own, the doctors found his breathing was too irregular to do so, that he wouldn't yet be able to live without aid.

4. His feet and legs do not move much. They show little signs of sporadic movement.

We left yesterday, being told basically, to expect nothing good, and that these are signs of severe brain damage.

We, needless to say, had a terrible day yesterday. Thank you all for your support, love and donations.

You have raised almost $12,000 for Ami's care, which is simply incredible. However, we received the first weeks bill yesterday- nearly $6,000. We have no clue how long Ami will stay in the hospital, so we ask that you keep him in your hearts, and prayers.

We started a YouTube channel for baby Ami. To report his conditions, to show you the little mister you are taking care of, and for ourselves- in case the worst happens, we will have even more footage of him, than before.

Subscribe to his channel here: https://www.youtube.com/channel/UC5UwGeTubkzjnl4c9eNy_pw

Thank you all again.

-----Update #3-----

Ami's MRI report has come back to us.

The brain suffered substantial damage because of a severe lack of oxygen. He is in incredible danger of never waking up again.

Because of Hillary Fielding's recommendations, we have requested for Ami to be tested for a metabolism disorder. This may have caused the seizure. We are grateful for her reaching out to us, and giving us a lead. He is to have blood, urine and genetic tests done, in order to find an answer.

On Monday, Ami will get his EEG. Essentially, the last test. One which will tell us more about his future, and his possibilities. We will finally get an answer, or some form of an answer.

This has been the hardest time in either of our lives. Yet, we agree, we were, and forever will be blessed, with Ami's life. If the worst happens, we still had his companionship for over four months. He has changed our lives forever, and made so many perfect memories. Many times I sat and wondered, looking at my family, "Could this be any better?"

We have been moved deeply to find such support. Not just from our friends and family back home (and complete strangers), but also in the expat community, and the Taiwanese citizens themselves. People from around the world, from Europe and Africa, Asia and America, have come together, to get get Ami through all of this.

If nothing else, that alone has been miraculous, and we cannot begin to express our gratitude to all of you.

We are moving forward. We ask that you continue to share Ami's story, his fundraiser, his Facebook page, and his YouTube channel. We aren't done yet, and either is my little mister. We are still working to get his funds together for the future. We have a long way to go.

Facebook: https://www.facebook.com/AmiLovesLife/?fref=ts 

YouTube: https://www.youtube.com/channel/UC5UwGeTubkzjnl4c9eNy_pw

-----Update #4-----

Ami's EEG came back better than expected!

The doctors are still moving ahead and looking forward, so we are too. He has more brainwaves than previously thought, and even though this doesn't mean we have any solid outcome to look forward to yet, it does mean, there might still be a future.

There is talk of Ami coming home to us. Though he hasn't woken up yet, we could still give him home care. This won't be an option until some things take place. He has to breathe unassisted, his vitals have to stay stable and suggest long term stability, and he has to continue to improve.

We are inching towards a possible life with Ami, and though it is terrifying to not know one way or another, he isn't inching towards the dark. So we are incredibly happy, incredibly blessed, and incredibly hopeful.

In less important news, we are still close to drowning financially. The money you have given us will help so much, and is keeping us afloat as of now. But this is just the beginning. We have months ahead of us, and we need any help we can get. And if at some point Ami can get special care that might be costly, it would be good to know we can do anything for him, and provide him with the best, if possible.

We love you all, and thank you all for the support. You are making this nightmare survivable for us, and we couldn't do it without you.



+ Read More
Be the first to leave a comment on this campaign.