Kids + ASL + Zoo Animals = Fun!
$805
of $8,500 goal
Raised by
16
people in 43 months
CAMPAIGN FOR ASL ZOO ANIMAL LENTICULAR CARDS:
Thank you for taking the time to visit my campaign. My goal is to make learning ASL (American Sign Language) fun for all children, deaf and hearing. I designed a set of lenticular cards that will teach children the signs for 15  zoo animals.  I am looking to raise $8,500 to print 500 sets of ASL Zoo Animal cards. 
WHY LEARN ASL:
Learning ASL has many benefits, more than I can list here. Its good for the brain to be bilingual. You are learning not just another language but a language in a different modality - with your hands and face (instead of your mouth and ears). More and more elementary schools are offering ASL classes to children who can hear. It is also one of the fastest growing second language to learn at universities, colleges and high schools. It turns out students feel their chances  of meeting a deaf person in the U.S. is more likely than meeting someone who speaks French or German. YAY!  And, of course, I am 100% behind deaf children learning ASL. Last but not least, ASL is just simply fun to learn!
LENTICULAR GRAPHICS AND ASL:
Lenticular graphics is a unique printing process which allows you to see several images in a card by tilting the card back and forth. Because ASL is a three dimensional moving language, combining images of ASL with lenticular graphics creates a perfect medium to see how signs are made.  These cards provide a fun and interactive way to learn signs in ASL.  Just tilt and learn!
I have been designing lenticular graphic ASL greeting cards and baby sign flashcards for a while now. They have been very successful among the Deaf community,  interpreters, ASL students, parents and anyone interested in learning ASL. You can visit my website at sayitinsign.com to see more examples. It's a novel and fun way to see and experience ASL in a portable low-tech format. Most ASL cards have flat drawings with arrows to show you how and where the hands move. The lenticular ASL cards shows you more clearly how to make the sign. 
 A few years ago I designed a set of 15 ASL Zoo Animal cards. These are definitely my favorite of all the lenticular cards I design. I love animals and I had a blast designing them, taking photos of the children, making the animals move, the whole nine yards. I printed a few sets and they sold quickly. I was unable to reprint more sets due to my financial situation at the time. I haven't stopped thinking about that set of zoo cards. I want to bring them back. I know with your help I can do it.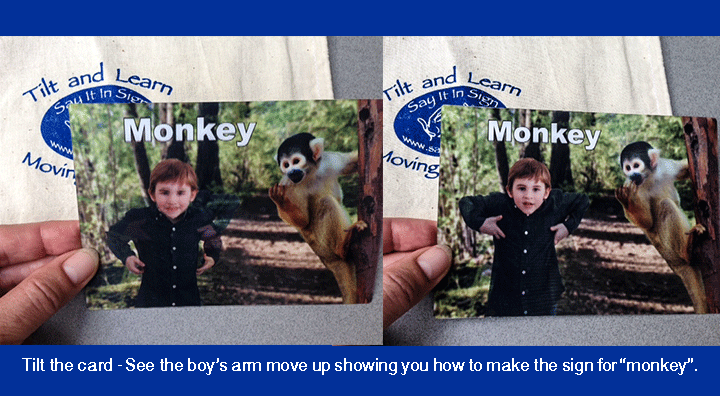 DESIGN PROCESS:
I started my design process by taking a lot of photographs of children signing various animals. I have received signed permission forms from all the parents to allow me to use their child's photos in the cards. All the children are either deaf or can hear and have deaf parents, just like me. I chose these children for their native abilities in signing ASL. 
Once all the photos are taken I go through all the images looking for the beginning location and ending location of each sign. I use a 2 flip process when designing for the lenticular graphics. Tilting the cards gives you the illusion of seeing the full movement of the sign. In reality you are seeing the beginning and ending location of the signs and your mind fills in the rest. 
The 15 animals are a bear, bird, deer, elephant, frog, giraffe, gorilla, hippopotamus, lion, monkey, rhinoceros, snake, tiger, turtle and zebra. In each card you will see a child in the foreground and the animal in the background. When you tilt the card you will see the child move showing you the sign for the animal. If you look closely you will also see the animal move. Flip over the card to read how to make the sign and read a fun fact about the animal.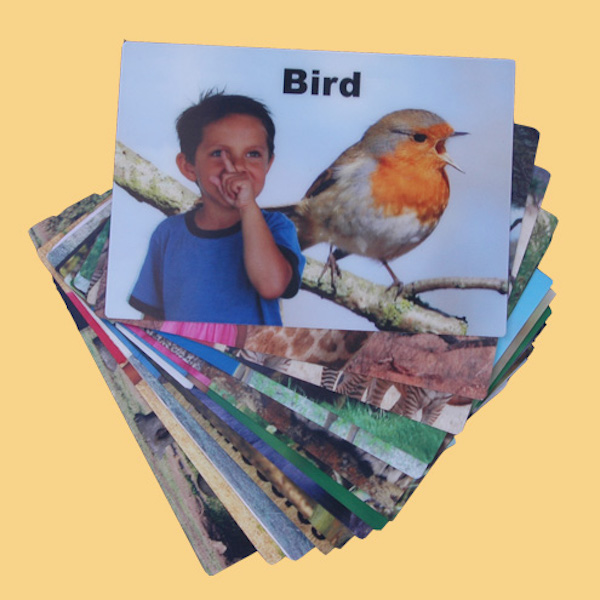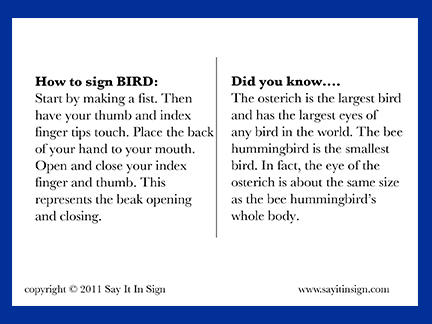 These cards are a great way to prep the children before heading off to the zoo. Bring the cards along to practice as you see each animal. They are perfect for any Pre-K to 2nd grade class.
HOW THE DONATIONS WILL BE SPENT:
Most of the donations will be used to print and ship the cards. Lenticular printing is a very expensive process. Most lenticular printers require a minimum of 500 to 1000 prints for each card. A set of 15 cards of 500 each easily brings the cost into the thousands of dollars.
I have found a printer in the United States who can print 500 cards at a reasonable price. I plan to order 500 cards for each of the 15 designs. A portion of the donations will be used to purchase custom printed muslin drawstring bag for each set of cards. Muslin is an inexpensive durable cotton fabric. The bag is reusable and its natural color fits with the zoo's natural feel and look. The rest of the donations will be used for marketing and operational expenses.
If I am able to negotiate a discount for this large order I would like to use the savings to print a set of ASL Farm Animal cards. This would be a great addition/complement to the zoo cards!   I already have some photographs of children signing farm animals, so I expect to be able to design and produce a set of ASL Farm Animal cards in the near future.
IF DONATIONS GO OVER $8500:
If my supporters/donors love this idea as much as I do, and I hope you do, I could go a couple of different directions with the rest of the donations. 
I could add the ASL Farm Animal cards like I mentioned above. I could also add a set of ASL Marine Animal cards. I would need to arrange for photo shoots for the marine animals and some more farm animals. This is doable but could take a while.
I would like to make these ASL Zoo cards into large posters and donate the posters to schools. I could design the posters to be large individual posters just like the cards or create a large safari scene and have all the animals and children in one large poster.
A third idea is to create lenticular ASL placemats of animals, food, colors - a number of different themes in a set of 4 placemats. While looking at the placements the children could just move their heads side to side to see the images move. The placemats would be the standard 11" x 17".
IF DONATIONS ARE UNDER $8500:
If I don't reach my goal I will use the donations to buy as many sets of the ASL Zoo cards as I can. The lenticular printing company I will be using will print smaller jobs. The down side is the price per card goes up substantially, but I will still be able to print a smaller number cards.
If I don't raise enough to make a minimum order with the printer for the cards then I will design a large safari poster and donate it.
WHERE THE CARDS WILL BE SOLD?
The cards will be sold on my website, sayitinsign.com and on my Etsy shop, etsy.com/shop/SayItInASL.  The profits from the sale of the zoo cards will go back into designing more lenticular ASL cards, posters and other products.
SO NOW THAT YOU BETTER UNDERSTAND THE VISION, HOW CAN YOU HELP?
-Contribute to this fundraising campaign.
-Share the link of this campaign with friends and family.
-"Like" Say It In Sign on social media
                          Facebook:
www.facebook.com/pages/SayItInSign/322789426160
                          Pinterest:
www.pinterest/com/sayitinsign
-Visit us and join our email newsletter at
www.sayitinsign.com
-Visit us on Etsy at
www.etsy.com/shop/SayItInASL
Thank you for your consideration and your support.
~ Mary
MEET MARY and CHARLIE:
        I'm a native user ASL and English. I can hear. Both of my parents and other family members are Deaf. I am a sign language interpreter in San Diego. I get my artistic talent from my  amazingly talented parents. Charlie is my lovable little dog. I bring him along whenever I can, even paddle boarding.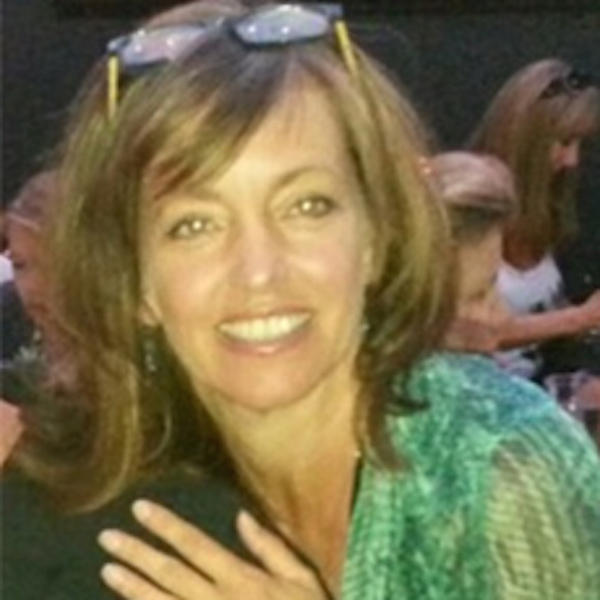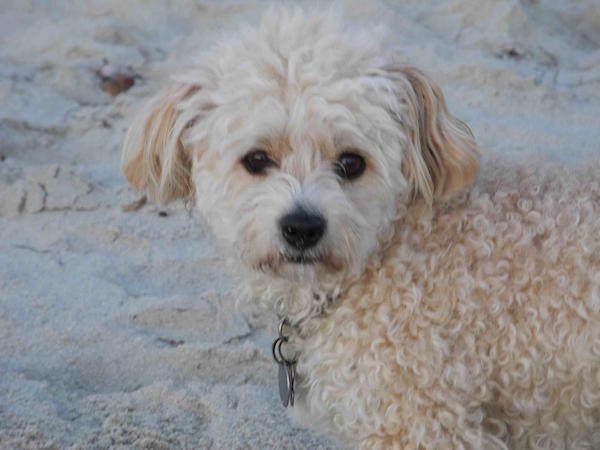 Any donation amount is very much appreciated.
If you donate an amount listed below a reward will be sent to you. Remember to send me your address.
REWARD LEVELS:
$10 - A virtual high five from me.
$20 - a virtual fist bump from me, a tail wag from Charlie AND a lenticular Thank You card. 
$35 - a virtual hug from me and Charlie AND 3 lenticular ASL cards.
$50 - One set of the "First Signs" flash cards and a set of the "More Signs" flashcards.
$75 - One set of the ASL Zoo cards and a set of the First Signs flashcards.
$100 or more - WOW! A big virtual thank you hug from me, a virtual face lick from Charlie,  a set of the ASL Zoo cards, a set of the "First Signs" flashcards and a set of the "More Signs" flashcards.
+ Read More
Be the first to leave a comment on this campaign.