Youth Center in Detroit, MI
$775
of $10,000 goal
Raised by
16
people in 33 months
My name is Ryan Clark.  My friend Ashley Lagos and her husband Robert relocated their family from Phoenix, AZ to Detroit, MI to start a youth center for impoverished teenagers.  
Their goal is to help youth gain marketable job skills in technical fields, resulting in the youth's ability to work right out of high school.  The classes will be free monetarily, but in order for the teens to take the classes they will have to donate a certain amount of time to community clean up,  character development classes, and professional mentorship programs.
Honestly, its ballsy for a middle class, multi-racial, family to move from a fairly affluent city like Phoenix to Detroit.  Detroit currently has a reputation of high crime and burnt out neighborhoods.  
I defnintely do not have the guts to go there myself, and that is why I decided to start this go-fund-me account on their behalf.  


They are saving their own money to buy a building for the center. There are hudreds of commercial buildings for sale in Detroit  for a ridiculously low prices. 
The money I am trying to raise for them will buy the building, pay for some of the electrical and plumbing updates, and cover other expenses they may have. Robert has licensed the organization as a non-profit. You can find it at www.mission15.us  


Ashley and Robert have already sacrificed alot moving. They completely uprooted their kids, bought a fixer upper in Detroit so they could elimitate the mortgage and have extra money for the youth center, and left their extended family and friends behind.  Not many of us would even CONSIDER doing this....  This gives me the opportunity to be a part of something great! Something that I would never have the guts to do myself.  It would mean a lot to me, to Ashley and Robert, and to the youth of Detroit, if you donated as well.
Thanks for your help! 
+ Read More
Update 1
31 months ago
Share
An update from Rob:

So...yesterday the wheels on our vehicle were stolen and my wife felt led to put a sign up displaying love and forgiveness for the people who did it. We believed God had a plan for using this situation for something bigger, and He is. A friend contacted Channel 7 here in Detroit and they are currently interviewing my wife! This is just a testament to the belief that God has everything in control and what the devil intended for evil God uses for good. Prayerfully this story will reach so many people and show an entire city God's mercy, love, and forgiveness. God is so good even in the midst of adversity!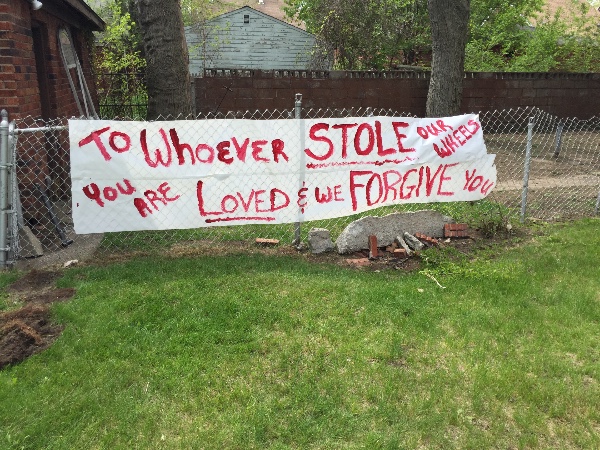 + Read More