Un Sony A6000 pour MTLM
480 €
of 700 € goal
Raised by
14
people in 15 months
*** english summary at the end ***

Le 2 octobre 2015, lors de notre voyage de retour de Budapest, la sacoche de mon appareil photo disparaissait dans un faux pli de l'espace-temps. Elle contenait 2 #minimtlm  et mon appareil photo Sony.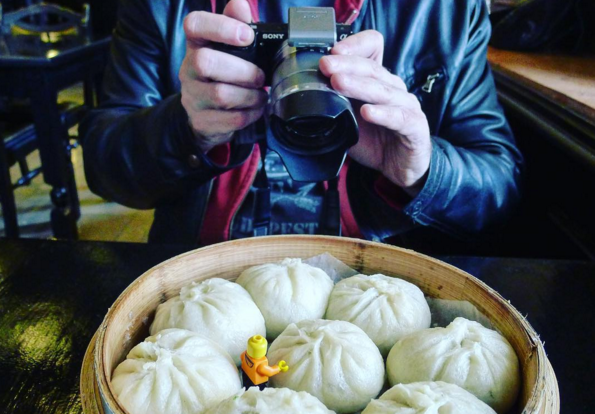 Le compte instagram @mtlm  perdait un avatar de son personnage fétiche et un de ses moyens de production. Heureusement, j'ai d'autres figurines et un iPhone, mais ce n'est pas tout à fait la même chose.
Quant à moi, en pleine reconversion professionnelle, je perdais un outil essentiel pour mes nouvelles activités, mon appareil photo, alors que des projets rémunérés commençaient à prendre forme.

Voilà pourquoi, aujourd'hui, je fais appel à toi, généreux donateur, pour me remettre sur des rails le plus rapidement possible. Aide-moi à disposer d'un nouvel appareil-photo Sony A6000  en janvier 2016.

Celui-ci me permettra de fournir des photos à mes clients pour leurs sites web, de réaliser des portraits sur commande et ... de continuer à raconter les aventures de #minimtlm dans un format glorieux.

Cher donateur, tu seras remercié avec mes talents artistiques naissants à la hauteur de ta générosité:
10€: une carte postale personnalisée de mon prochain voyage (Celle-que-j'aime et moi faisons environs 4 city trips européens/an, et éventuellement un gros voyage lorsque les sous le permettent).
20€: un tirage de photo tiré du compte de @mtlm (dont tu trouveras des exemples ici ) réalisé chez SocialPrintStudio, format "square" .
50€: un dessin réalisé sur iPad (comme celui-ci  ou celui-là) imprimé sur papier bristol A5.
80€: 6 portraits (les fichiers numériques, pas de tirage, réalisés pendant une séance de 2 heures avec toi dans un lieu accessible de ton choix, avec lumière naturelle, attention, je n'ai pas de possibilité de studio / pour des raisons pratiques, l'offre est limitée à la Belgique et à Paris (si tu es prêt à me loger dans le coin de Lausanne, on peut discuter)).

Moi-même et #minimtlm te remercions d'avance!

Remarques:

Le but est de collecter les fonds le plus rapidement possible et de profiter des promotions de fin d'année.

Si le total n'est pas atteint le 31/12, l'argent récolté servira à l'achat, mais plus tard, lorsque mes activités professionnelles me permettront de fournir le complément.

Et si le total est dépassé, je complèterai l'achat avec un téléobjectif.

Le modèle Sony A6000 a été choisi pour son excellent rapport qualité/prix (voir son Gold Award sur dpreview.com ) 

*** english summary ***
I lost my camera at the I was starting to use it to redefine my professional carreer. Help me replace it.

Rewards

10€: a personalized postcard sent from our next vacations.
20€: a print from the instagram @mtlm done by SocialPrintStudio, format "square" .
50€: an original drawing on iPad printed on bristol A5.
80€: 6 portraits (digital files, no printing, made during a 2 hour shooting session in natural light; limited to Belgium, Paris (France) and Lausanne)


+ Read More
Be the first to leave a comment on this campaign.