Pixie- Let's Get This Girl Home!
$1,050
of $1,000 goal
Raised by
35
people in 35 months
Pixie's life hasn't been easy. She spent four of her six years at Olympic Animal Sanctuary in Forks, WA. where she lived in a small, boarded up enclosure with only a slit to peek out. The rest of the time she was confined in a filthy crate filled with urine soaked straw.
That was Pixie's life for four long years. She wasn't fed often, and when she was, she was thrown an unrefrigerated turkey neck. Occasionally, she was given fresh water.
Exactly how Pixie first ended up in a busy shelter in Missouri is not real clear. What is known is that Pixie didn't like being kenneled and was said to have "barrier issues". She had a few other issues too so the shelter decided to place Pixie somewhere else, and that's how she ended up at OAS. Steve Markwell picked her up in December of 2009 after being paid a substantial sum of money by the shelter and transported her to Forks, WA. Pixie was one and a half years old when she left for OAS.
Everyone thought Pixie was going to a real sanctuary where she would get good care and training. They were told she would spend her days romping in the large fenced area with other dogs. Pixie was going to "live the good life".
However, photos from OAS tell a very different story. One photo of Pixie shows her penned in a wooden box type enclosure barely able to see out. Another shows her crammed in a dirty travel crate looking like she's begging for help. One more photo shows her with all her ribs showing and looking like she's foraging for food on the ground. A few others show an unhappy Pixie being used in photo ops with Steve Markwell.
Shelter staff found out the truth about OAS in July of 2013. They were shocked and heartbroken to find out what Pixie was living in, and they tried their best to get her back. At first, Markwell promised to release Pixie, but it wasn't long before their letters and emails went unanswered.
It seemed the door was closed, and Pixie would never get out of OAS.
Then in December 2013, Markwell loaded Pixie and 123 other dogs in the back of a semi and took off for Arizona. Upon arriving in Arizona, he signed the dogs over to Guardians of Rescue.
Reports from people on the ground in Arizona right after arriving, indicate that Pixie was really impacted by all that she went through. It seemed that Pixie had been pushed to the breaking point. She was scared, traumatized, and upset. Her trust in humans was broken.
With the care of Guardians of Rescue, Pixie has made a lot of progress since arriving in Arizona. She is learning to trust again and she has gained weight and looks healthy. She is even smiling again.
Even though Pixie's life has been hard, things are finally turning around for her.
An incredible rescue who specializes in caring for animals that have suffered abuse and neglect like Pixie has agreed to give Pixie a home for life. This is the perfect place for Pixie. She'll get the loving care and attention she so deserves. She'll have plenty of room to run and play and be a dog.
Plans have been made for one of the former shelter workers to fly to Nevada, rent a car, and drive Pixie back to Missouri. Robert Pregulum of Seattle DogSpot is covering the cost of Pixie's transport.
But before Pixie can leave Arizona for her forever home, there are just a few more things she needs. She needs a well-constructed fenced area and shed type structure built for her so she has a place to transition upon arrival. The shed will have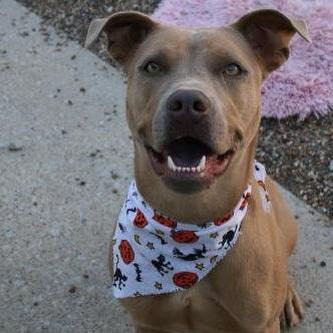 air conditioning for those hot summer days and heat for the cooler weather.
The fenced area won't be Pixie's permanent place. When she is ready, Pixie will be integrated in with the other dogs and be living in a home. Until then, she will have a nice secure area with shelter.
Pixie needs to feel comfortable and safe in her new place, and everything is being done to make sure that happens. This is the last thing that needs to happen to get Pixie home. This has been a long process and we're so close.
If you can help with this final step in getting Pixie home, it would be greatly appreciated.
Whether it's $1, $5, $10, or more, every dollar will help bring Pixie one step closer to getting home.
Thanks so much.
+ Read More