Animal Clinic/ Non-Profit
$8,090
of $10k goal
Raised by
94
people in 20 months
      My Name is Vivian Mauro and I am living in Abadiania, Goias in Brazil since November 2014. I take groups to see John of God for healing a few miles away. I am living in an agricultural community. They are not educated here about animals and they don't understand that animals have feelings.The situation with animals here is awful. Kind of like a living hell....
     I have rescued many animals here and have paid out of my own pocket. I live with 6 rescued dogs now. Where I live dogs are not taken care of. People love puppies however, most of then end up on the street and homeless. It's a poor community, so the last ones to get fed or care are their animals. I see so many homeless animals here. Animals are producing offspring every 6 months.Can you imagine being a pregnant dog in rainy season with no where to give birth or protect your puppies ? Or being a female in heat with no defense from the gangs of male dogs in hot pursuit ? This is the hard reality here.Overpopulation of homeless animals here.Folks here do not understand that they are part of the problem, not the solution by neutering their pets.
     When I walk my dogs I am in danger often because I face packs of wild dogs here. People have dogs chained up all day on short leashes and barking all night long. I have visited many neighbors to tell them that dogs need space and care. I have seen dying animals on the road that people ignore and rotting dead animals in boxes and burlap bags thrown into the fields. The smell of rotting flesh is awful.
    Went to City Hall to tell them that this needs to change... this horrible treatment of animals here. Have been to the Dept. of Education here and gone to 8 elementary schools with a local veterinarian talking to children in my broken Portuguese how to take care of animals and showing WSPCA  dvds on ' Animals Are My Friends'. The #1 question that the children asked was : " Do animals have feelings ?" This lack of awareness & compassion for animals is what needs to change here. Awareness in the mother of all transformation.
    When I walk my dogs ,kids follow me and ask  if my dogs bite. I tell them if they treat their animals well they will be good, but if they hit them, chain them up and don't take care of them they will have a bad dog. My goal is to educate the community about animal care and to neuter the cats & dogs to control the over population that end up homeless and without food or care.
    Many dogs have diseases that can be prevented with vaccines. Tick disease is rampant here. If a dog gets tvt, a venereal tumor which is cancer,  when that dog goes into heat it can infect an entire community. Distemper is common here and the effects of that disease are devastating. My neighbors dog has been pregnant 8 times in 6 years. She is a puppy machine. I offered to get her fixed, but they gave me a funny look. I want to help her and many other dogs get the care they need.
    City Hall agreed they have a problem. I am working with them now with a plan to form an animal clinic here. We are looking for a piece of land to build on, but City Hall said they cannot fund it with money. Because I am an American they want me to raise the money for this clinic.We are now on our final step to form our non- profit organization here. ASPAAB - Association To Protect Animals of Abadiania.The Mayor of Abadiania is looking at our proposal. We need funding to start. We will do castrations, vaccinations and adoptions. What we will need is veterinary equipment, computer, supplies, food, vaccines, medicine etc. We had our first Spay Day in March to castrate many animals for low cost in the community. Nine dogs are now safe from pregnancy.
     I also am helping people save Casa animals and export  (fly) animals out of Brazil. Five years ago I took my dog, Lucky ( who I rescued from the streets here) back to Buffalo, New York after he received a miracle healing of cancer from John of God.They wrote an article about him in the Buffalo News, "A Chance Meeting Turns Lucky's Life Around" on  March 24, 2011.
    Also I have seen much abuse here with animals. Last week we rescued a dog who had been tied to  a tree for many months with wire around it's neck and the dogs neck was raw & open from the wire. It was a 2 day operation involving the police to get this dog free and over to ASPAAN Anapolis ( Association to Protect Friends and Animals) the closest animal treatment center. We plan to follow the same model as ASPAAN in Anapolis for our clinic here in Abadiania . They have over 400 animals there. They are on Facebook.
     It's not easy living here, but I feel I am on a mission as an educator, advocate and protector of God's Creatures. There are many cultural things that I cannot change here, but the animals need us to  protect them and defend them .The animals and I are so grateful for your donation. When you rescue an animal, they spend the rest of their life saying "Thank You"!
Thank You  for helping us reach our goal !


+ Read More
Update 2
Posted by Vivian Mauro
6 months ago
Share
Animal Clinic/ Non-Profit has reached 52% of its goal. Thanks to PAULA, Gail and William and all those who have donated to help the homeless animals and saving God's special creatures at the Casa de Dom Inacio/ John of God healing center .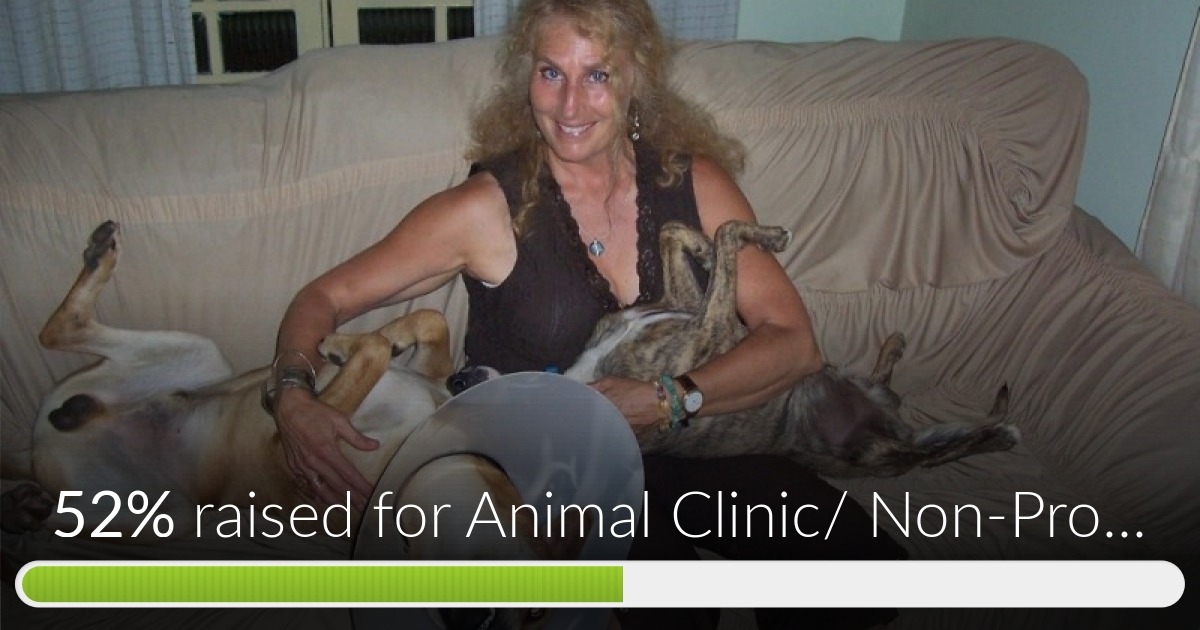 + Read More
Update 1
Posted by Vivian Mauro
6 months ago
Share
Hey Folks,
We have reached our half way mark ! Please share this with all your friends on Facebook , emails or twitter. Rainy season has started and we need to build to have a place to protect the Casa dogs.It's not easy to be a street dog in the rain, wet and hungry and no protection.Thank You Everyone for your continual support !
+ Read More
Read a Previous Update
Be the first to leave a comment on this campaign.