Help the Simms family
$

27,102
of $30k goal
Raised by
395
people in 34 months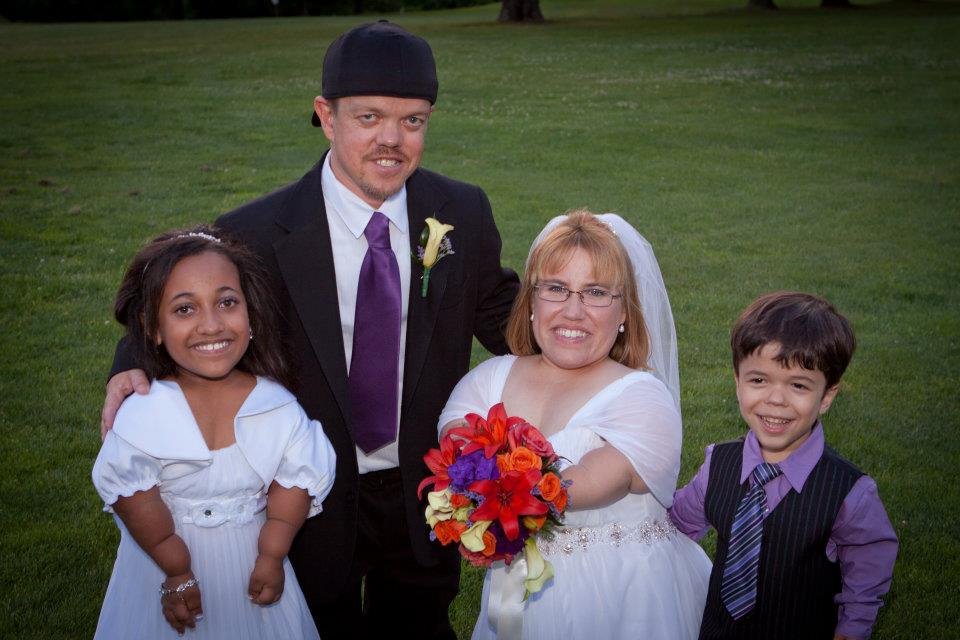 The Simms family lost their home and family pets on 03/24/14 in a tragic house fire in Sterling, VA.  Matt, Tina, and their 2 kids Raegan age 13 and Ryan age 7 are all Little People.  Also living in the home was Tina's mom Virgie.
Their home was modified to accommodate their short stature. So not only did they lose everything, they also lost a sense of their independence.
Also here is a list of their sizes for those who where inquiring about donating clothes.  (please keep in mind since they are little people, their clothes will need to be altered before they can wear them)
Raegan - Large Girls Size 14/16
Ryan- Small Boys Size 5/6
Matt - Small - Medium Mens Shirts
Tina - Small - Medium Womens Shirts
Virgie - Medium - Large Womens Shirts, Size 4 womens pants
If anyone is in a position to help this wonderful family out, it would be greatly appreciated.  Donations can be made here or you can mail a donation directly to their PO Box below.  They are also in need of gift cards to food establishments, Walmart, Target or anywhere else someone would like to purchase a gift card from.
PO Box 1077
Sterling, VA  20167
They are also in need of prayers for their strength to get through the next few months while they rebuild their home, lives and independence.
If anyone has any questions on other items they may want to donate please email Tina at tk3foot2@yahoo.com or myself at susanscott915@yahoo.com.
+ Read More
Help spread the word!
 929 total shares
Update 2
Posted by Tina Simms
33 months ago
To our family, friends, the entire Sterling community and beyond, we don't know where to begin. As many of you know, our peaceful lives turned upside down recently after we lost our home to a massive fire. Thankfully our family is safe, which is absolutely the most important part of this whole experience. We are trying to keep all of the "what ifs" out of our minds.

We have to begin with a special thanks to the first responders who came to our home on March 24th. To the firefighters and the police of Sterling and our surrounding towns, we cannot thank you enough.

Sterling Middle School, Guilford Elementary School and surrounding schools as well as the Loudoun County Public School Transportation Center all came together to help our family, a heartfelt thank you for all of your generous donations of time, money, gift cards and meals. Never in a million years did we think we would be on the receiving of so many donations and help with all the alterations of clothing that has been donated to our family.

Our Employers/Co-Workers - Toll Brothers, Feld Entertainment and EIT also contributed clothes, food, toys for the children, gift cards, money and much more. We spend so much of our lives at work its a great feeling to know that we are family to each one of these industries. Thank You!

Facebook family has also poured out a impeccable desire to help our family. Donating clothes, helping us with meals, setting up a storage unit, wanting to help us find rental homes, and uplifting support, the list goes on and on.

Little People of America districts near and far also came together to help donate clothing already altered, toys, gift cards and money. Its a great feeling to know how our LPA communities help look after each other, especially in a time of need.

Red Cross brought us toothbrushes, blankets and starter kits that night when we hadn't even processed the fact that we didn't have anything but the clothes on our backs anymore, while others went on a mission to set up a Go Fund account to help raise money for the re-build, a company called After the Fall donated a new wheelchair to our daughter, others came together to help my daughter replace her security blanket that meant the world to her, we even had volunteers help walk the streets to hand out flyers for our missing dog.

While we are devastated that the experience of a house fire will be etched as one of our children's biggest childhood memories, we are consoled by the fact that these incredible acts of kindness will likely be a much more vivid memory. It has been so important for them to see all of the goodness in the world in the middle of such a frightening time of uncertainty. The compassion and generosity that has been shown to us started while the fire was still burning and continues each day. It has been overwhelming.

We certainly have a long road ahead, but it is so comforting to know that we are not alone. We are eternally grateful for everything the community has done for us. It may be a while before we get a chance to acknowledge friends, families, and first responders individually, but know that we have seen every text, listened to every voicemail, read each email, and treasured each of the beautiful cards that have been sent. We are truly humbled by it all. What makes a house a home is the people inside. And next year, when we return to 900 West Maple Ave, we will come back to our home with not only our family, but also the spirit of all of you who have helped us through this challenging time. We will never forget the incredible support you have all given us. From the bottom of our hearts, Thank You!!!

The Simms Family
Matthew, Tina, Raegan, Ryan and Virgie Rinker
+ Read More
Update 1
Posted by Tina Simms
34 months ago
Omg I just logged in and saw the amazing donations words and tears can't express how thankful we all are for your help.
+ Read More
Help spread the word!
 929 total shares
Read a Previous Update