"Help Bert Save The Farm"
$11,870
of $25,000 goal
Raised by
85
people in 51 months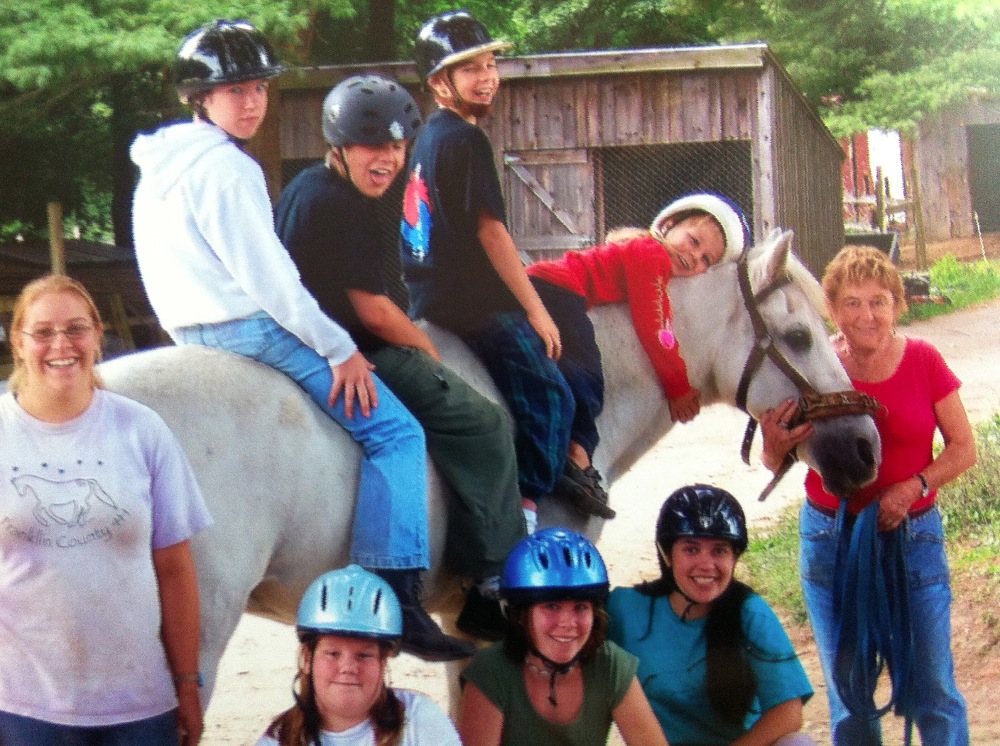 Roberta with 4-H Gang

     
Since 1970 Roberta Bryant has devote her life to creating a safe and supportive environment for children and the community at large to have the equine experience. 
 Now at almost 80 years old she continues to offer lessons, trail rides and the use of her horses as project horses for 4-H youths.
 Unfortunately in the current economy the stables do not financially support her efforts and the farm may soon be faced with forclosure. 
  Help Roberta in her effort to continue serving our children and our community. 
+ Read More
It was a pleasure to pay back even a small portion of what Bert has given to me. She has twice taken in my horses on very short notice, once when Rocky had emergency surgery requiring stall rest and once when our stallion needed a transitional place to be. She will tell you she got the best of that deal because her two beautiful mares MTS Jazzy Jet and MTS Royal Envi were bred and born there. Maybe so, but I remember times I just took her truck and trailer and let her know after the fact and she shrugged. Many, many times when she took in stray horses and people and gave them all a sense of home. Bert, you are one of a kind! We've been there for each other before and we'll continue to be there for each other always.
+ Read More
On 3/20/15, a very close friend lost one of her barns to a fire. Although she sadly lost 2 goats to the fire, they were able to save the 5 horses that lived in the barn. It burnt to the ground. Roberta Bryant and Mount Toby Stables (now known as The Craig Memorial Equestrian Center) have been a part of my life for 35+ years. If not for her willingness to be my mentor, share her life lessons, her Heart, Wisdom, sense of Family, and Love, I never would have been able to make it through college. She fed me when I had no money to eat and made sure I earned money taking out trail rides (which she is still one of the few farms in Massachusetts that still offers trail rides in and around beautiful Mount Toby). We developed a friendship that will last a lifetime. 'Berta' has taken in 'strays' (both human and animal) since long before I met her. She has given of herself to her community and to the children of her community (4-H especially) tirelessly. At 80 years old now, I can barely see that she's slowed down since I worked with her those many years ago! She is still fit, spry, teaching her students,and riding her Morabs. Sadly, due to the state of the economy in Western Massachusetts especially, as well as a few local issues, the farm was already in dire financial straights. This fire could be the thing that puts her over the edge. I'm sharing all of this because I'm asking for help for her. GoFundMe is an excellent, safe site, for people to go and ask for help. Please, if you can help in ANY way - 'Bert' needs our help! If you can't help financially maybe you can help with Hay, Feed, Supplies to rebuild the barn she lost... It's time to give back to a woman who has given so much of herself for as long as I've known her. Every little bit helps! Do you believe in PIF? I do and it is most definitely true that what goes around, comes around. So rather than make this any longer I will just ask that you please, open your hearts and help before we lose an established institution that took in so many and helped them in their times of need, has taken in the children of those 'strays' and even to her own detriment, continues to help strays! Please, every little bit helps and adds up! Thank you and bless you! Roberta I'll forever be indebted to you for all you've given me. I love you and pray this helps!
+ Read More