Help Mike Beat Stage 4 Cancer
$106,394
of $125,000 goal
Raised by
812
people in 28 months
My name is Michael Burke and I am 37 years old.  I want to share a story of how my life suddenly changed from a healthy, athletic father of 4 beautiful kids to someone who found himself in a battle with a deadly cancer.  I have all intentions of beating this, but I need help from people like you.  Please read on to learn more...
I am happily married to my beautiful wife Michele and have four wonderful children - Brennan (12), Christian (12), Adam (10) and Lily (6).  We reside in Westminster, MD and I have proudly worked for the Baltimore Ravens since 2000 and have been lucky enough to be part of two Super Bowl Championships.  I also enjoy coaching youth soccer and basketball in the Carroll County area.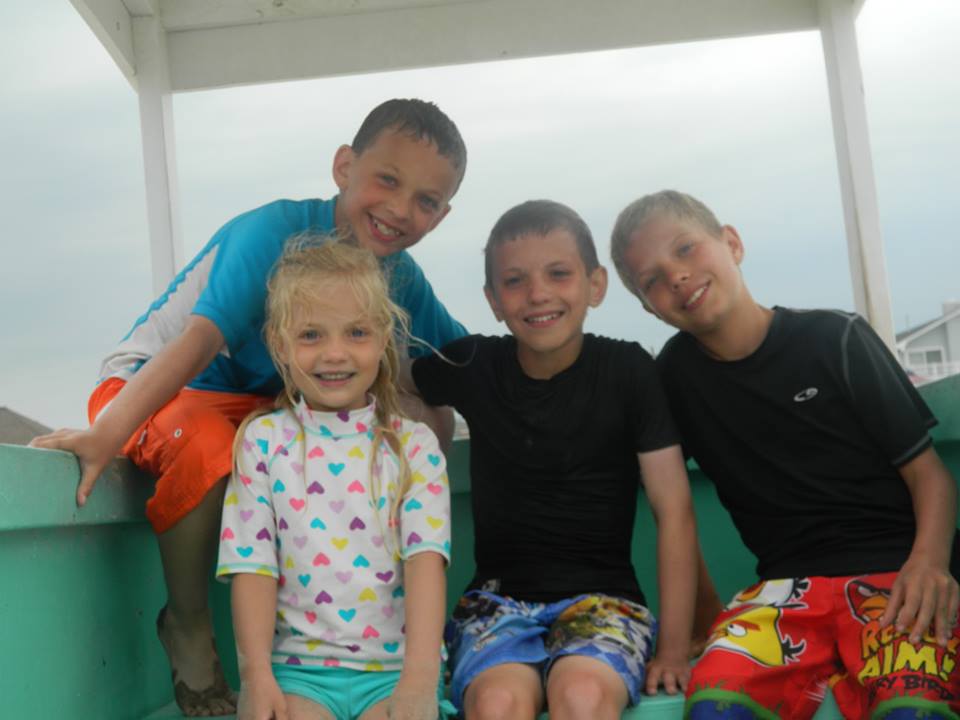 In September 2015 I began having pain on the right side of my chest.  I assumed it was nothing major being that I am pretty active.  I ended up seeing my primary care physician who ordered a chest x-ray to make sure I didn't unknowingly have a broken rib or something.  It ended up that I had no broken bones however they did notice a shadow on my upper right lung.  My doctor ordered a CT scan and put me on an antibiotic assuming I had an infection.  The scan confirmed the mass on my lung and he sent me to a pulmonologist in early October.  Because the antibiotic was not helping, the pulmonologist decided to do a biopsy to rule out cancer and confirm it was just an infection.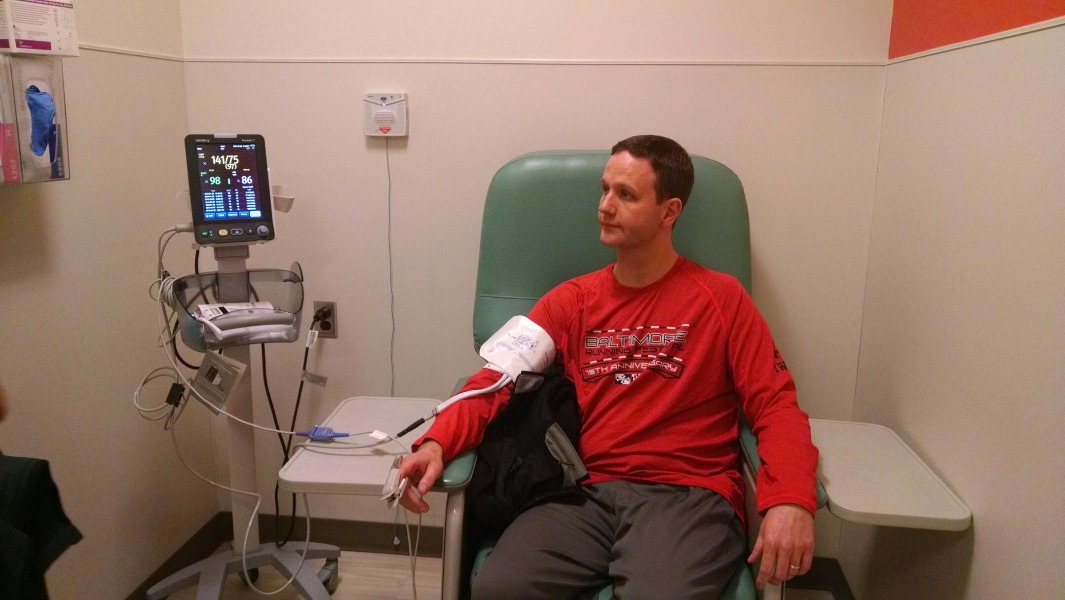 Well the next day changed my life.  My biopsy results showed that there were cancer cells present and I was diagnosed with lung cancer, more specifically adenocarcinoma.  This was completely shocking given my young age and the fact I have never smoked a day in my life.  The next step was to have a PET scan to make sure my cancer had not metastasized or spread to other parts of my body.  The hope was that if the cancer was isolated to my upper lobe of my right lung, they could cut it out via surgery and I should be fine.  Unfortunately the scan showed that it had spread - to my lower right lung, lymph nodes in my chest, my liver and the bone in my left hip.  
At this point I was considered to have stage 4 lung cancer.  I was instructed to immediately find an oncologist.  I was also advised not to look at survival rates online.  Well of course with all this technology at our fingertips, I could not help myself and found that only 5-10% of stage 4 lung cancer patients survive 5 years.  Being that I have four young children who need their father and the fact that I have always been very competitive, I refused to accept those statistics, kept a positive attitude and chose to fight back. In the coming weeks I scrambled through various connections to get in to see a great oncologist at Johns Hopkins.  Because I was not showing any other major symptoms, my oncologist chose to do another biopsy to see if I had a mutation driver.  The hope was that if I had a specific mutation, then I could go on a targeted medicine or pill rather than rushing into chemotherapy or radiation treatments.  Targeted treatments have less side effects and do not cause as much damage to the rest of your body and immune system which is very important.
Two weeks later my doctor informed me that I was "fortunate" they had found a mutation.  I have the EGFR mutation, exon 19. This meant that I could go on Afatinib which is a once a day pill targeted to stop the further spread of cancer for those with this particular mutation.  The problem is that even with this newly approved targeted treatment, it is only effective in about 60% of patients.  Furthermore, studies show that even if effective it will only last about two years or less before your body becomes resistant or the cancer mutates again theoretically rendering this medication useless.  Plus it doesn't necessarily improve your overall chance of long-term survival.  Again this wasn't and isn't okay with me.  So in conjunction with this medicine we started doing a ton of research on other methods I can do to improve my chances of beating this. 
We found that your diet is extremely important. I have since gone to a 100% organic diet with no dairy, gluten, red meat and almost no sugar.  For those who know me, that was a huge adjustment.  And who knew that eating healthy was so expensive!  I am also taking daily supplements known to be helpful to cancer patients.  But there had to be more out there.  Through further research in cancer articles, studies, survivor videos, documentaries and more, we found that there are other alternative options out there that are completely non-toxic and natural that can be used in combination with your main treatment.  Additionally there are adjustments you can make in your home and every day environment that can be helpful as well.  We hope to eventually add more treatment modalities as we go.
A few weeks ago I received promising news after my most recent scan - the tumor in my lung is shrinking and everything I am doing seems to be helping!  I need to continue this progress because I am trying to avoid going on chemotherapy or radiation.  The only problem is that it is very costly for us to maintain my current diet as well as implement all of the changes we would like to make to create an environment and lifestyle that is conducive to healing.  We are a single income family of six people.   Even with a good insurance plan, my medical expenses from all the procedures, scans and bloodwork have started to mount.  In addition, it is not cheap to eat organically.  
My goal is to raise $75k which would help cover most of my medical expenses, alternative therapies and supplements, and assist with our ongoing grocery bills. If you are able to help out I would really appreciate it and if you know anyone else who may be interested in helping please feel free to share.  Every little bit counts and my hope is to pay it forward after I get past this by spreading awareness and all the knowledge I have gained along this journey to others who either have or are affected by cancer.  
My entire family thanks you from the bottom of our hearts!
Mike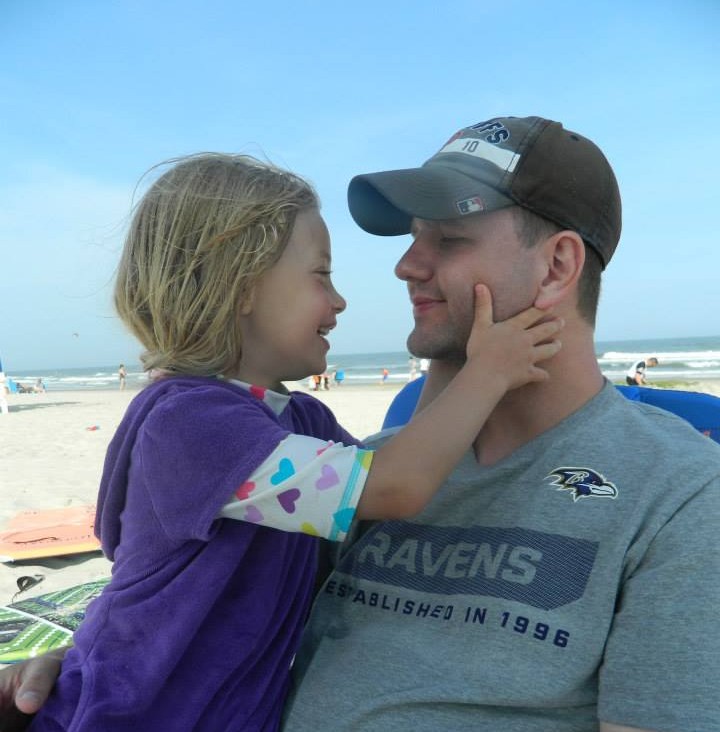 + Read More