40
14
We've "got your back" Jared!
$5,610
of $120,000 goal
Raised by
37
people in 6 months
Please help us make a huge difference in Jared's life, by taking away just one of his many struggles with this life changing surgery, that will help him fix his scoliosis/spine while retaining the natural movement, function and growth it was meant to have!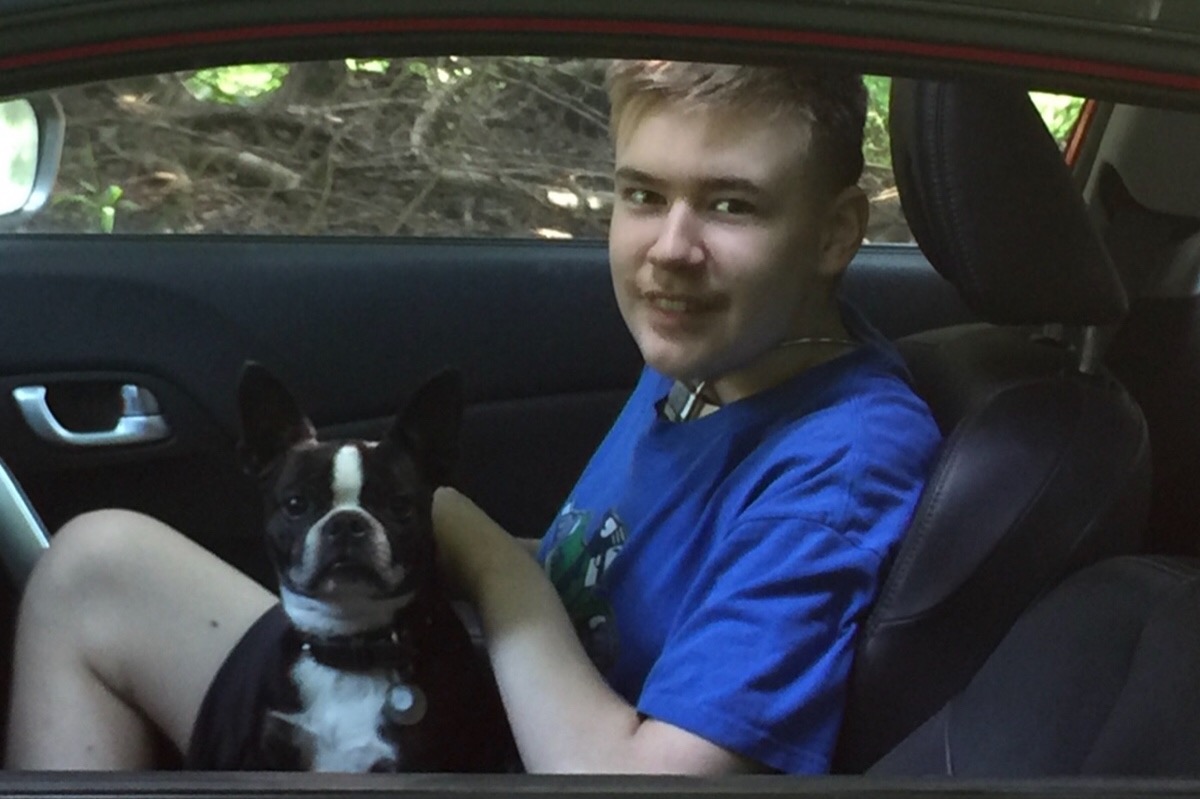 I am a little late in sharing Jared's story, due to all the juggling of our family needs lately....
Things have been such a whirlwind,  that I've only now had a chance to reach out and start this page.
Here is Jared's story:
We are a family of 6 - my husband James and I have 4 kids. Three boys age 16, 14, and one whose 11th birthday is today, as well as a 6 year old daughter.
Our oldest son Jared was diagnosed with infantile idiopathic (no known cause) scoliosis at 14 months old.
His curve measured 14 degrees at that time and was considered mild, so the Doctor's recommendation was to wait and watch it to see what it did.
We were told that sometimes these curves correct themselves on their own, and we were hopeful we would be so lucky. So we watched and waited and hoped for the best.
By this time we already knew Jared had some struggles as he had been a bit late in meeting his early childhood milestones such as rolling over, sitting up, talking and walking.
We were not excessively concerned however, as we were accepting and open to kids getting where they needed to be in their own time.
I (Allie) was a lifeskills support worker at the time for kids and adults with extra support needs, and was very understanding of individual timelines, learning speed and needs. We were sure Jared would catch up when he was ready. On his own time.
He couldn't speak yet, as other babies were starting to do, but our sweet boy made his needs understood with baby sign language and picture symbols, thanks to support from the local Infant Development Program who was helping support us and Jared's needs with assessments and therapies targeted to his needs.
Jared was a very happy, love filled little cherub that we were very tuned into. He was easy to love and care for and amused all who knew him with his ability to fall asleep anywhere he was tired, including a very festive Indian Wedding of a friend, and under the twinkling lights of a Christmas tree at a cheerful and loud Christmas celebration. He was just happy to be with those that loved him.
Fast forward a few years.... Jared's scoliosis continued to grow through the years until at age 4 the curve had reached 31 degrees. He started wearing a Milwaukee TLSO body brace that we were hopeful would hold his curve from progressing so we could avoid major surgery on his little body.
At 5 years old Jared came home from preschool one day and had what we learned was a seizure. It was not your typical Tonic Clonic seizure that most people are familiar with (but did eventually turn into). It was scary as I had never witnessed any seizure before and was worried he'd had a stroke. He quickly received a diagnosis of epilepsy and started on medication that controlled the seizures very well. Other than a switch in medication required in December 2017, they thankfully continue to be well controlled by twice daily meds to this day.
Later on in his 5th year he received a diagnosis of Autism as well as the fine and gross motor delay (which we knew affected him from early on), oral and global dyspraxia (motor planning and coordination disorder-affecting walking and movement, speech and eating etc) and a couple other challenges as well.
Autism was yet another challenge he would live with the for rest of his life, but again with the right support we knew he could find his place and happiness in a world that is often not so accepting of differences.
Due to my profession as a support worker, I was confident we could advocate for his needs and support him to have a happy and fulfilling life.
Another challenge, but nothing we couldn't help him with.
With love, understanding, and friend's and family support we could do this!
Fast forward a few more years to now... at 16 Jared has worked very hard along the way to over come these numerous extra struggles.
He has done very well rising to the challenge of learning to speak, read, write and continues to work on understanding social cues and such that the rest of us take for granted. He is a typical teen in the way that he loves gaming and spending time with friends. 
He has diligently worn his rigid, uncomfortable and awkward body brace (that limits his movement and enjoyment of physical activity) for 22 hours a day for over 10 years now, (with exception of when it needed repair), in hopes it would help him avoid surgery.
Unfortunately with recent growth spurts his curve has become "a runaway train"as quoted by his Doctor.
Jared is now at the point of requiring surgery to stop his curve from progressing to the point of crushing his lungs and heart, and causing chronic debilitating pain.
It was considered severe at 40 degrees and he is now at 71 degrees (maybe even more by now).
The only option we have been offered in Canada where we live, is spinal fusion. This would involve cutting through the muscles of his back from his neck right down to lower back, having pieces of his spine removed, rigid metal rods installed on both sides of his spine, to be held in place with screws in his vertebra and then a bone graft packed down the centre of his spine that would eventually fuse to create a long solid and rigid block.
We have learned there IS another option available that has come to Canada within the last few years (but been performed for about ten years in the United States), called VBT-Vertebral Body Tethering.
Devastatingly to us Jared is not a candidate for VBT due to the narrow surgical parameters of this procedure. His curve has become too large and stiff for VBT to help him.
However..... in other parts of the world an advancement on VBT has evolved called ASC. Anterior Scoliosis Correction has been available and successfully performed for a few years now on both kids and adults, but it is not yet available in Canada.
Jared is eligible for ASC surgery and it will help him immensely, but he doesn't have the time to wait for it to come to Canada!
He needs surgery now!
ASC involves a much less invasive approach than fusion, as a smaller incision is made under his arm, his lung will be deflated to gain access to his spine anteriorly (from the front), and although there are still titanium screws that need to be placed in his vertebra, the screws will be on one side only (the convex side of the curve), and they hold a flexible PET cord/tether to not only correct the curve on the operating table, but continue to correct using his future growth by holding the convex side as the other side continues to grow and pulls the spine out of the curvy shape to correct more with each bit of growth.
ASC maintains the natural movement, function and growth potential of his spine, unlike a rigid fusion.  
Keeping the natural function of his spine will give Jared better odds of not developing degenerative disc disease, arthritis, and chronic pain as he gets older, which is more of a risk with a rigid spinal fusion.
Fusion is irreversible, but ASC is a much less invasive first approach that if successful will allow him to avoid a fused spine forever.
We are confident ASC (with disc release to address his stiff curve) will be all Jared needs to once and for all correct his scoliosis and prevent a lifetime of additional spinal problems.
We have worked long and hard to find a capable and experienced surgeon and have made all the arrangements to make this a reality for our boy.
We finally did it!
We had to travel all the way to Barcelona Spain to do it, but we are now here on the eve of surgery, ready to go. 
We have met with the wonderful and kind Dr. Olaverri, and surgery is tomorrow, November 5, 2018!!
We are over the moon that we have been able to make this happen for Jared, but we now come up against the enormous medical bills that the medical system we have paid into in Canada, will not cover any of. 
Even though if he got a fusion in Canada they would cover the equally enormous costs, they will not help us with this surgery, but we feel ASC is his best option for his short and long term health and well-being, and it is worth whatever we need to do for him.
Without help, this medical debt will affect our family into the unforseeable future, which is why we are sharing his story and asking for your help! 
We realize the cost of this surgery is extreme, and don't expect we will be able to raise enough to cover it all, but every single bit helps so much. 
If you could help with any donation in any amount at all to his cause, or if you are not in a position to donate, even just sharing his story so more people see it would help us immensely and we would all be eternally grateful.
Any and all funds raised will go directly towards paying off Jared's medical expenses that include hospital stay costs, hardware costs, doctors fees and travel expenses. 
If you are not a fan of the Go Fund Me platform but wish to donate, please feel free to contact either my husband James or myself directly either on messenger/Facebook or privately another way.
Thank you you so much for taking the time to get to know a little about Jared and considering helping him. 
Let's all show Jared "we've got his back"! ♥️
+ Read More