VUDA MARINA FIJI STAFF APPEAL
$12,890
of $15,000 goal
Raised by
61
people in 37 months
VUDA MARINA STAFF APPEAL : : Vuda Marina survived Cyclone Winston relatively unscathed through a couple of reasons. The first is the design of the Marina itself. The second and most importantly, is the phenomenal efforts of the staff. Many of them stayed at the Marina right up until the very last minute prepping thbe boats for your safety. They went above and beyond their duties for you. Unfortunately 4 of them missed their chance to get back to their homes so they had to stay back and continued to work throughout the night with the other 4 volunteers. These guys ended up risking their lives during the height of the storm, walking single file, holding each other by the shirt in horizontal rain in the pitch black and barely able to hear each other with trees falling around them to get to yachts in the water that needed assistance. HEROIC does not even seem strong enough a word to describe them. Yet TRAGIC is also a way to describe it because the next day when they finally managed to get hold of their families, some of them found out they didn't have a home to go back to because the roof blew off their house. Or they found out that meals would be a lot harder to come by because their kitchen had been blown away. One of them was Jerry (security) who lost his kitchen. Moji (security) lost his roof. Keith's (F&B) sister lost her house. And there were other staff who didn't stay back but still sustained damage such as Miliana (housekeeping) who lost part of her roof. So tragic and the amazing thing was that the very next day they were at work helping to clean up. With a smile and a shrug of the shoulders saying "no one was hurt so it's ok". I'm sure there are many tough and resilient countries in the world but right now at this very moment there doesn't seem to be anyone as tough as a Fijian.

Despite their toughness and amazing attitude to life, they do need our help. Therefore Vuda Marina will be donating all Severe Weather Surcharge fees collected during this cyclone (which applies to vessels who are not our normal, long-term customers) and using it to setup a staff relief fund. At this moment it looks like this will be in excess of $10,000. We would like to get it up to $25,000 so if you would like to assist then please send through a financial donation to our bank account with the reference "FIJISTRONG" and we will be arranging a cash payout next week on a 'needs-basis' with those experiencing the most damage receiving the most cash. Any little bit helps but perhaps we could recommend an amount equivalent to the Severe Weather Surcharge IF it had of applied to you.

Thanks for reading and taking the time to consider helping.

Vinaka, 
Adam Wade
Vuda Marina, General Manager
Fiji Islands
+ Read More
Hi Guys. We have managed to raise just over $7,000. A massive effort and I cannot thank all who have donated enough. Please continue to share the message to help raise funds for our staff after Cyclone Winston.

We have just finished a food run up North past Rakiraki where the devastation is very hard to describe. Many of our staff still have not heard from their families especially in the islands. After seeing what happened to Rakiraki, I can only imagine what happened to the villages in the islands. Any funds the staff receive will be either be used by them personally for their repairs to their homes or to help feed and cloth their families affected by the storm. Even $10 goes a long way. Please give generously.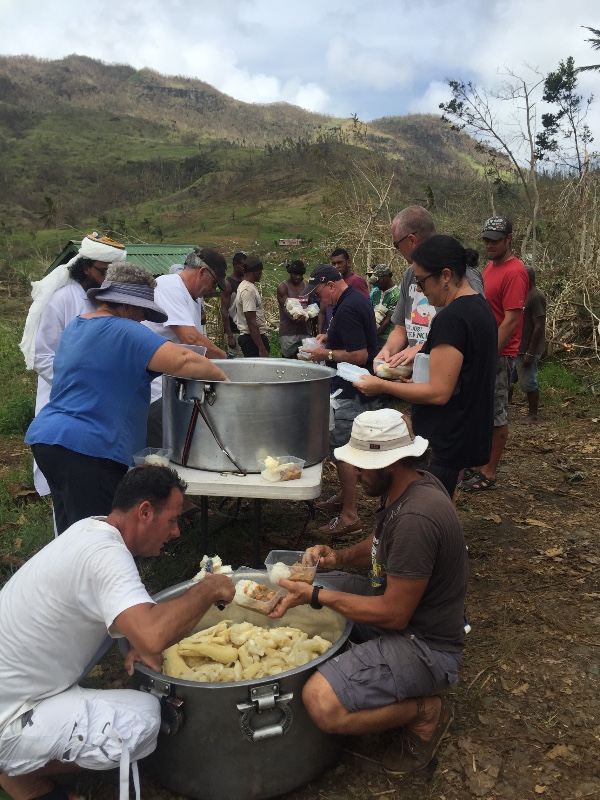 + Read More
Be the first to leave a comment on this campaign.