64 and More
$1,554
of $20,000 goal
Raised by
16
people in 41 months
For years I have imagined setting aside my daily routines, getting in a car and traveling—not just to see America, but to
talk
to America. Find the people and places that intrigue me and tell their stories. Sort of Charles Kuralt on Christina Abt terms.
The thing is, whenever I start hashing out the details and realities I begin to wonder, could I really do it? Could I get in a car and drive away for months at a time, with no home base and no family? Could I ever endure without my comfy bed and just-right pillow? Moreover could I find ways to fund such a project?
The answer, of course, was that I would only know if I tried. And so, with the advent of my 64th birthday on December 13, 2015, the time seemed right to begin.
My plan is to take the 366 days (yep it's a leap year) between my 64th and 65th birthdays to travel and interview people across the United States.
The trips will be short-term to see if I actually like gypsy adventuring. My subjects will be of all ages and genders, each with valuable life experiences that have inspired invaluable insights.
I will then post these stories on my website in video, audio and written forms over the 52 weeks between my birthdays, all under the brilliantly creative title of, "When I'm 64 and More".
Obviously funding such a project is essential. To estimate costs of the project and continued expenses of life while on the storytelling road, I consulted with business and media industry experts. Below is the list the estimated project costs.
1) Purchase of video equipment.
2) Travel costs and expenses.
3) Costs and expenses of researching and identifying subjects, interviewing, editing and producing the project stories and promoting the project through broadcast, print and online media.
4) Website and project design costs.
As this project is already underway, the funding needs are immediate and will continue through the ensuing 366 days.
At this point, I've accumulated the necessary video and editing equipment — which I've never before operated and will be learning to use as I go—no doubt an adventure in and of itself!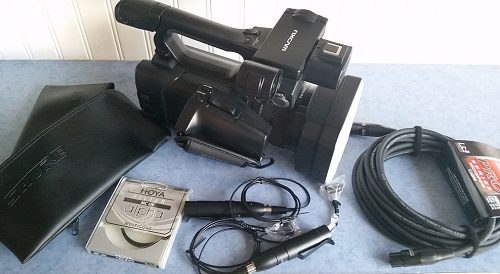 I've also lined-up the first two months of interviewees including a couple in their 90's married for 70 years, a nationally recognized cake and fine dessert artist recreating her life, the head pilot of a major American airline during the 9.11 tragedy and a man who has helped Mickey Mouse weave his magic. And that's just for starters
Won't you join in my birthday celebration and become a part of my writer's dream ? Come along and experience the places and people I'll be discovering in this next year—when I'm 64 and more.
To learn more about me and my writing career, go to my website: 
http://christinaabt.com/
+ Read More
Be the first to leave a comment on this campaign.