Ganesh on his journey to health
$2,750
of $3,000 goal
Raised by
99
people in 34 months
Hello everyone! 

We hope you all have enjoyed watching Ganesh's journey to health and happiness! We posted an update a couple of days back but I guess it doesn't show up so easily since we have also shared progress photos of the baby since then.

With that being said, we want to thank each and every one of you for your beautiful contributions since we started this fundraiser. We have received so much love, infinite well wishes, thank yous and just all around support. It has been amazing to see how many people have been touched by Ganesh's story. Even more so, we are grateful for how much support and donations were offered by our circle of family and friends. We are truly blessed to have such compassionate individuals in our lives who get to play a roll in giving Ganesh the life he has always deserved. To those who are still trying to donate, we have reached beyond Ganesh's necessity (now that we know the condition of his health) so it is no longer needed, but we do thank you for taking interest in being involved.

Apparently there is some sort of misunderstanding in reference to Ganesh and his rescue. Though we did originally begin working with Good Karma Pet Rescue, we decided within the first week to move forward with Ganesh's rescue independently since we felt uncomfortable with the way Good Karma proceeded. It's nothing personal. It's just the choice we as the group who gave Ganesh his freedom collectively have made. 

In the couple of days of speaking with Good Karma, we were sent by the rescue group to a vet in Broward they work with for an examination. According to the vet, Good Karma is responsible for this bill. Since we chose to proceed independently, we reached out to the vet to pay for this check up out of Ganesh's funds, but unfortunately GK put that account on lock so the receptionist could not disclose any information. She gave me a number for the founder of Good Karma so I could pay them directly for the visit but the number I called rang then went to what sounded like a fax line. We have been waiting for someone from GK to reach out so we can reimburse them for the vet examination they paid for. Oddly enough, no one has seemed interested in making contact with us other than passive aggressive animal advocates on social media questioning what the funds raised are being spent on.

It is actually heart breaking that anyone would exploit the life of any being for financial interest. It is also sad that any group of individuals would try and come between the good work we have done and continue to do every day for Ganesh. We appreciate everyone's concern on the matter though and thank you all for your work in the world of animal rescue.

On to the more important issue, which is Ganesh's progress, we have been moved by the experience of watching him transform more and more every day which passes. We have had some difficulties here and there as he is a dog who slowly is being socialized to new people, but overall he is very curious to learn more about the world. As you all know, Ganesh's biggest hurdles now are to grow to a healthy weight, strengthen his immune system and fight off some minor infections he is currently on antibiotics for.

Since Ganesh has not known for a very long time when his next meal would come, he has displayed food aggression a couple of times. We want to share this information with you all so you understand why it is so important for us to incorporate a training program as part of his rehabilitation. He has bit both my mother and I on two separate occasions over food. He did not cause serious harm to either of us, but it is important that we transform this behavior as soon as possible so he can continue on with a life free of aggression and with humans who do not fear a potential bite. It is clear he has anxiety over food and fears starving. He is the biggest baby though who loves to cuddle and share love once he feels comfortable with his new friends.

In the time we rescued Ganesh, he has been to the vet for two full examinations including blood tests, fecal tests, snap tests, etc. He has been on separate antibiotics for an ear and intestinal infection, is taking probiotics once a day to encourage a healthy digestive tract, is currently on a de-worm treatment, Nexgard for flea/tick prevention and will be starting Heartgard for heart worm prevention very soon.

We will be taking him back to the wonderful Animal Welfare Society in Coconut Grove for a follow up this week where they will continue to track his progress. Dr. Misleydi Martin stressed the importance of waiting to neuter and vaccinate Ganesh until he is at a healthy weight and his immune system is very strong.

Attached below are photos of purchases we have made so far with your donations including, food, toys, treats, bed, crate, bowls, nail clip, current vet bill minus their generous 30% discount etc. In addition, the training programs we are looking at range around $700. His neuter surgery, vaccines, rabies tag and microchip will cost $245 before the discount the Animal Welfare Society is offering us. They know we have raised money to care for Ganesh but have been very generous in giving back in their own way. We have an idea now of how much Ganesh's rehabilitation is going to cost in the end. As we said before, whatever funds left over will be carried on to other animals in need as they come along. We have already donated $200 to abandoned puppies found on an empty road in the Redlands who needed spay/neuter and vaccinations.

It is our priority to not only nurture Ganesh's physical well being, but also that of his mental and emotional state. We are so happy to be caring for this pup and are pleased to continue keeping everyone updated each step of the way. Please continue following us on this journey! Thank you.
-
-
-
-
-
-
-
-
-
-
-
-
-
-
-
-
-
Our landlord came by to visit us and told us about a house  a few blocks down where he had seen a dog(Ganesh) tied up.. We immidiately made our way to the address he gave us.
When we got there we saw him tied up, in starving conditions, no food, water or shelter in sight.
Initially we thought the house was abandoned... but after about 20 minutes a man came through the gate, we confronted him and his response was 
'that's my nephews dog, he left him here months ago and I'm not interested in taking care of him'

We were very irritated by his reaction, but for our safety we decided not to directly confront him and call animal control instead.
We made sure to ask "you wouldn't put him down right?" and animal control's response was that they wouldnt lie and tell us no, because there was a big chance he would be, given his condition.
At that moment we asked them to change the report... We decided that if there was any chance at all that he wouldn't be given a chance we preffered to take him home and care for him. Giving him a real chance at a loving home.
We walked him home, cleaned him and fed him.

Its been only a couple of hours since we've had him and the change in his  whole demeanor is incredible.. the anxious barking nervous  dog is now showing us nothing but love and curiosity.
We're spoiling him with all the love and care that we can, but we need your help for all his medical bills and all his expenses to bring this pup to health so he can live the long playful life he deserves. 
Keep Ganesh in your thoughts <3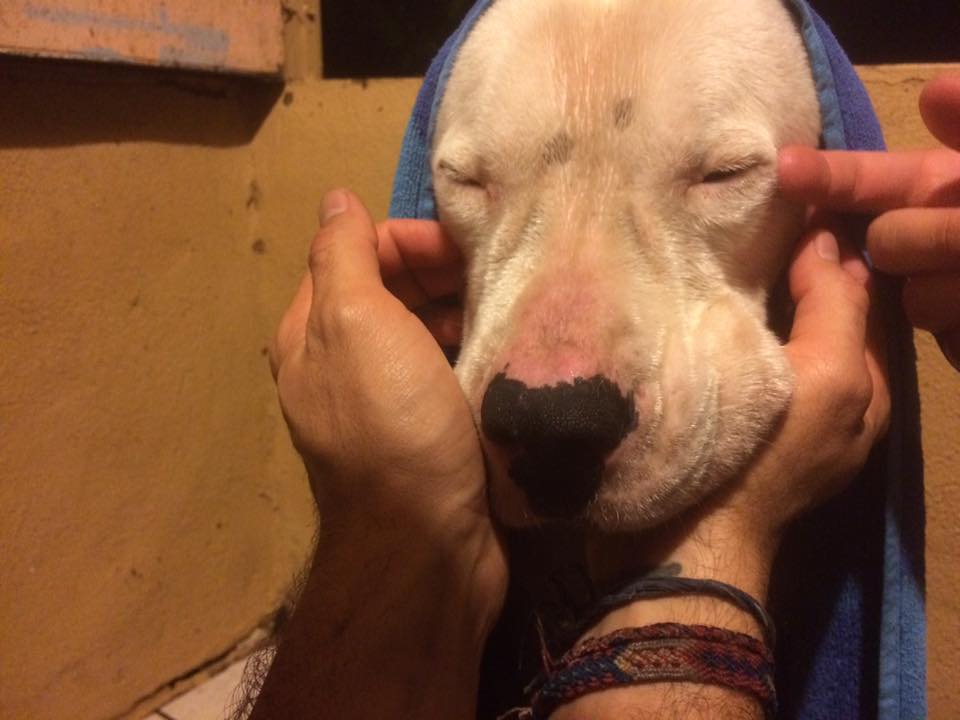 All your support is beyond appreciated!
+ Read More