19
5
31 rescued rabbits need your help
$900
of $1,000 goal
Raised by
20
people in 8 months
3 interventions in 2 days
When we receive a report about rabbits in terrible conditions, we know that we can not wait. So it was this time, except that we had two applications straight away. So we decided to visit both places day after day. 
Intervention # 1
In the first place indicated, we appeared on September 26. We found breeding rabbits in a tin garage. They sat in small wire cages, without food and mostly without water. Dead puppets were broken in the bars ... Rabbits emaciated, bloated, sneezing. The owner claimed that he was renovating and could not look after the rabbits. 
We have intervened collectively 19 breeding rabbits who went with us to Asylum. Unfortunately, it is still a sad picture of "backyard rabbit farming for meat". 
Intervention # 2
Riding the next day together with the Emergency for Animals for another intervention, we went to a farm. There, our eyes appeared a rabbit kept in a kitchen cupboard looking like one big tangle. And although he had something to eat, his condition left much to be desired. He also went with us. 
Intervention # 3
This intervention concerned the miniature rabbits, created by humans, to accompany him. The owner insisted with emphasis that they were dwarf rabbits, not just rabbits. The dwarfs had the same conditions as in the pictures below. I do not need a comment here. Two lived in a dirty transporter, the rest in disintegrating cages. You can imagine the smell we experienced. We brought 11 rabbits from this place of course dwarf breed.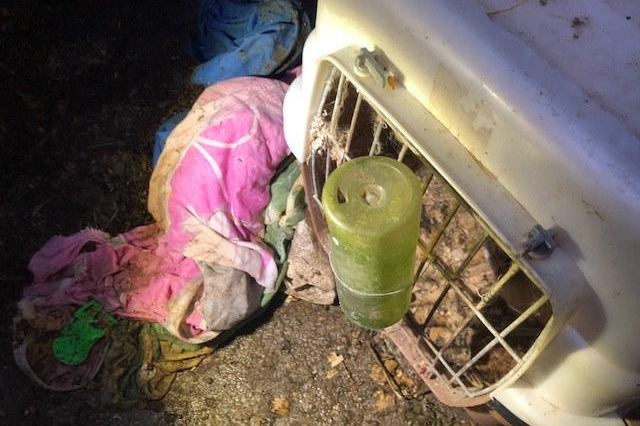 Rabbits are already after the vet visit. Most of them suffer from malnutrition and general neglect, but there are cases of abscesses, respiratory infections and encephalitozoonosis. More information and photos from the intervention can be found on our blog on facebook under  Rabbit Rescue in Torun.
31 new rabbits  joined those who had been already at our Rescue . In total, we have about 100 rabbits  and a dozen or so in foster homes.Why such an amount, 1000$ ? Because of the scale of our activity. All the test, treatments,therapy and maintenance of such a big number of rabbits  is a huge financial challenge.
Thank you so very much in advance for your help.  We cannot thank you enough for your generosity.
+ Read More
Update 1
8 months ago
Share
All rescued rabbits are after vet visit,and trust me the list of their health problems is long :( Most rabbits were found to have malnutrition / emaciation, severe intestinal distension, baldness,sneezing.Overgrown nails,horrible tangles also undernourished / emaciated.
From the good news they are all safe and from now on they will receive a proper care.
Thank you so much for you donations we are almost halfway to reach our goal.We still need your help so please share with your friends If you can and help us to spread the word about our Rescue and our campaigns for animal rights and educational campaigns which aim to make the society aware that home pets need care and attention, and that they are not toys.
+ Read More