Darrow's Baton Rouge Flood Relief
$525
of $100k goal
Raised by
8
people in 7 months
To all of our beloved friends and neighbors, we are once again reminded of how fragile all our lives are.  Natural events that seemingly happen overnight have life changing impacts.  Like the massive category five hurricane that rocked New Orleans and the Gulf Coast region 11 years ago, the non-hurricane related floods of 2016 have left trauma and devastation in its wake in Southern Louisiana (principally to five parishes in the region).

Moved, hurt and tormented by the images of great human loss and suffering, my perspective and psyche was shaken to the core.  "What can I do to help?"  was the question that kept ringing within me.

For those of you who do not know me, my name is Norwood J. Clark, Jr.  Presently I am CEO/President of Uncle Darrow's Inc., a first generation family business, based in Los Angeles but drawing heavily on our southern heritage.  I was born in Charity Hospital in New Orleans, (which was destroyed by Hurricane Katrina) and reared in its suburbs.  As it was during Katrina, I have relatives and friends who accounted for some of the casualties.  And while the full extent of the damages are still being assessed, once again temporary and permanent displacement along with tragic loss is part of the dialogue.

Based on our clarion call to be responsible humanitarians and citizens who care for all humanity, we founded "ReUnite America" in the aftermath of Hurricanes Katrina and Rita.  As our grass roots mission, "ReUnite America was established to marshal resources needed to bring hope, comfort and stability to those who are adversely impacted by natural disasters." 

Embodying the heart and soul of everyone embracing the mission, we are once again being called upon to wear our unselfish humanitarian hats to bring comfort to those in need.

Called the worst natural disaster to strike the United States since Hurricane Sandy by relief agencies, the current statistics say that a staggering 6,900,000,000,000 gallons of rainwater poured onto the earth over a five parish area in Baton Rouge in only one week causing some $30 million dollars in property damage and to date, the loss of 13 lives.

Striking quickly, ferociously and somewhat unexpectedly, one part of Livingston Parish took on more than 31 inches of rainwater in 15 hours.

As we did after Hurricane Katrina, we are mobilizing and galvanizing the abilities of those who can make a heart-felt donation to help and assist our neighbors, friends and relatives in Louisiana during their time of tremendous need.  Currently, it is estimated that some 40,000 people have been temporally or permanently displaced.  At least 7,000 are still living in temporary shelters provided by the Salvation Army.  Family, regardless of the numbers, many of the survivors have lost everything they had!

 The plan is pretty simple and doable. We are currently organizing the following activities.

We've partnered with The Salvation Army and Grammy Award Winner, singer/songwriter and producer Kashif's Team I Care Foundation to spearhead this Herculean effort.    We are planning a Bayou Aid Concert as one of the fundraisers.  Currently Kashif and friends have committed to the concert.

As we coordinate the concert event, the need is immediate to get funds to the Salvation Army so they can provide assistance to the area.    We're not asking you to give until it hurts... just until it feels good!

From a grateful American,

Norwood J. Clark Jr.
+ Read More
Update 1
Posted by Norwood Clark
6 months ago
Share
2016 Baton Rouge Flood Update
Sept. 10, 2016 by Gary Simms

As the days go on, the news worthiness and attention given to the aftermath of the devastation caused by 7 trillion gallons of rainwater falling on a five parish area in Louisiana have waned as if it never happened.

"That's a real tragedy in and of itself," says a Louisiana citizen who refused to identify himself. "There are people who are still fighting unbelievable flood conditions," he continued. According to this citizen and other accounts from the impact areas, there are still great numbers of people who are displaced by the conditions that pretty much have not changed since the deluge that took place last month.

A recent LA Times article depicted the present status being experienced by many. It read, "RESIDENCE RIDE HOME THROUGH ALLIGATOR-INFESTED WATERS IN LOUISIANA NEIGHBORHOOD!"

From ground zero, here are a few bullet points of information that represent the most current updates.

- - Now several weeks removed from the stormy rains that produced this event that flooded much of central Louisiana while killing 13, more than 100,000 have applied for assistance from the Federal Emergency Management Agency. About 4,000 people are still in shelters.

- - Residents returning to their homes — or those who never left, choosing to ride out the storm — are struggling to survive. To engage services necessary to sustain themselves, those citizens must still be ferried home through rank, alligator-infested floodwaters by tractors, off-road vehicles and boats.

- - Survivors have encountered extreme situations while trying to hold on to their properties. In addition to continued rainy weather and the near miss of a tropical storm, mother nature's creatures have taken liberty to expand their territories. One local survivor said that he has hauled a few big (12 foot) alligators out of the swamps created by the flood waters. Additionally, there are the snakes to be concerned with. The area is home for king snakes, copperheads, banded water snakes and cottonmouths, which also swim.

- - The neighborhoods that have experienced a receding of the waters now resemble auto junk yards. There are 10's of thousands of abandoned cars and trucks that litter the streets. One tow driver outside of Baton Rouge estimates that he's towed some 15,000 cars that are now parked at a local fairground that will never be driven again.

- - The current reality for the people of Louisiana is that they need help. While the federal government has committed millions of dollars ($127 million) to help the area recover, there is still a need for funds, items and services to help in the recovery.

Federal Emergency Management Agency (FEMA) Administrator Craig Fugate said he's concerned that the need for help hasn't resonated with Americans. Fugate, who has visited the state twice in recent weeks, including the tour made with President Obama said the effort now has switched from an emergency response to recovery.

"Unfortunately, people are kind of like tuned out because of, I think, everything from the elections to the Olympics," he said in an interview. "I don't think people across the nation realize how big or how bad this is...or how much help the Salvation Army, Red Cross, Catholic Charities and other volunteer organizations down here are going to need."

President Obama, while visiting the flood area, pleaded to Americans to help the people affected by this natural disaster.

"Federal assistance alone is not going to be enough to make people's lives whole again, so I'm asking every American to do what you can to help get families and businesses back on their feet,'' he said.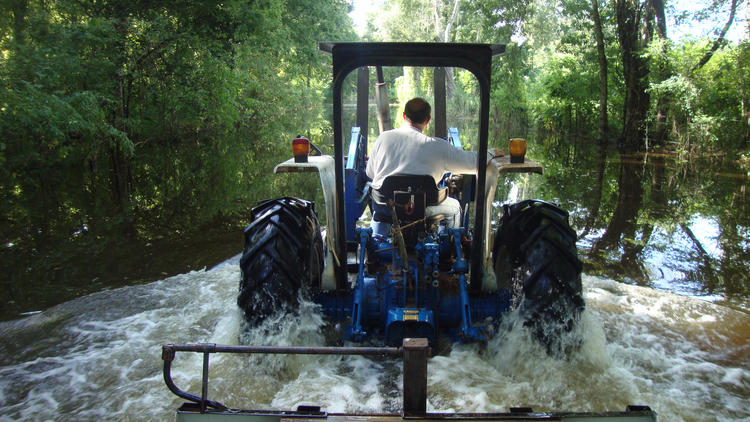 + Read More
Be the first to leave a comment on this campaign.