Baracoa, apoyando al pueblo
$2,465
of $30,000 goal
Raised by
39
people in 32 months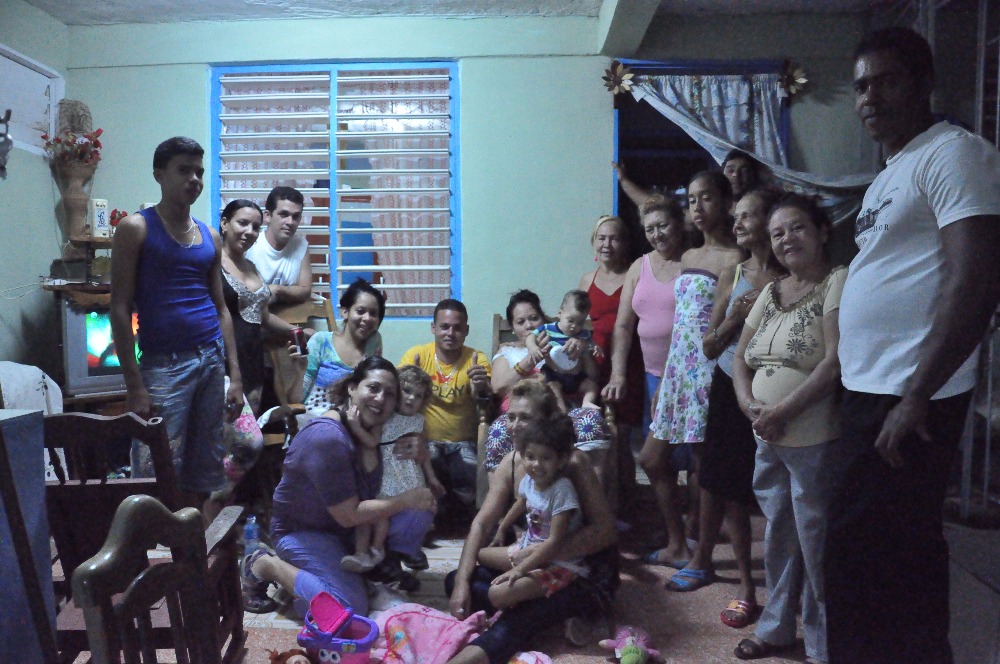 https://enlareddeltiempo.com/
Baracoa NECESITA TU APOYO!!!!
Saludos a todos!!!. 
Mi nombre es Yannis Lobaina. Soy Cubana. Productora de cine y escritora. Nací en Baracoa. Actualmente resido en Canáda.
Baracoa, significa mucho para mí, es  dónde están mis raíces maternas. Actualmente,  toda mi familia por parte de madre vive allí. Ellos han querido  permanecer fieles a su tierra. No quieren irse, sus sueños y anhelos como seres humanos están arraigados a la primera villa.
En ella, algunos han logrado ser médicos, albañiles,  dentistas, deportistas,  campesinos, artesanos, o simples trabajadores.  Todos buenas personas, humanitarios y muy humildes.
A causa del violento paso del Huracán Matthew, el 4 de Octubre, sus casas quedaron  desvastadas. Es por eso que comencé esta campaña de ayuda la cuál no será  sólo para mi familia, sino para sus vecinos, amigos , y pueblo en  general.  La idea, es recaudar en principio 30 000 dólares para ayudarles en la reconstrucción parcial de sus viviendas, comprar comidas, medicinas, juquetes, ropas, zapatos.
Todo el dinero recaudado será enviado a Elia Ramos Jardines, mi madre, a través de  la agencia Transcard inc, ubicada en Canáda. Toronto. Elia,  Quién junto a nosotros ayudará a distribuir equitativamente todo lo que ustedes han donado. 
Contacto de Elia:
elia62@nauta.cu
Todos los que contribuyan con esta causa humanitaria, les prometo, que en Baracoa, tendrán una habitación disponible para cuando quieran visitar la bella ciudad primada. Y una gran familia esperándoles para celebrar y agradecerles su aporte y apoyo,  tanto emocional, espiritual o material.
Les iré informando sobre el uso adecuado de el dinero recaudado,  a través de mis redes sociales. Y cuando vaya en Diciembre a Baracoa, les prometo subir el documental sobre nuestra campaña de apoyo a mis familiares y pueblo de Baracoa. 
Desde ya, miles de gracias y muchas bendiciones por apoyar tan humanitaria causa.
Gracias,
Saludos,
Baracoa needs your support !!!!
Greetings to all!!!.
My name is Yannis Lobaina. I was born in Baracoa, Cuba. This city means a lot to me, it is where my maternal roots are. Currently, my whole family on my mother side lives there. They wanted to remain faithful to their land. They do not want to leave, their dreams and aspirations as human beings are rooted to the first city (villa primera de Cuba, Columbus landed there in 1492 at it became Cuba's first city) In it, some have managed to become doctors, bricklayers, dentists, athletes, farmers, artisans or ordinary workers. All good people, caring and very humble.
Because of the violent Hurricane Mathew, on October 4, their homes have been destroyed, and they are devastated. This assistance is not only for my family but for their neighbors, friends, and people in general. The idea is to raise in principle $30,000 to buy construction materials for 6 to 10 core families. It will cover at least the first and basic need them sleep under a roof. Then we will continue to seek financing everywhere to help other basic needs. The sooner we can raise the funds, the faster they can recover from the psychological impact they have suffered.
I, as well as my family and friends in Havana, already have collected: clothes, shoes, food, medicines, and toys to send to Baracoa.
Currently in Baracoa alone there are 36 000 people without proper shelters. All contributions to this humanitarian cause, will in the end help rebuild Baracoa, Our plan is to make sure that there will be a room available for any of the contributors who decide that they may want to visit the beautiful historical city. There will be large family waiting to celebrate and thank them for their contribution and support, be it emotional, spiritual or material. All will be welcomed and appreciated. I will report on the proper use of the funds raised through my social networks.
We are already appreciative of the hopeful wishes and send out thousands of thanks and many blessings to support this humanitarian cause.
Thank you,
Regards,
Yannis Lobaina
PD: Parte de mi familia felizmente reunida, Baracoa 2012. Video by Yannis Lobaina.
+ Read More
Un poco de historia!!! Su autor fue Sinesio Villanueva de la Quintana, fue escrito el 12 de diciembre de 1940 como muestra del aprecio que sentía su autor por los valores históricos del pueblo de Baracoa, muy vinculado a las luchas por la independencia, por su patriotismo y amor a la ciudad, de su orgullo y su cultura, sin dejar de transitar por su identidad y tradiciones hasta reconocer el yunque como su símbolo dice así: Baracoa, tierra legendaria, Don Colón desembarcó Y Velazquez al colonizarla Ciudad Primada proclamó. Son tus playas hermosos trofeos Que la historia te dio a ti, Arribando a ellas Maceo, Gomez, García y Martí. Eres cuna de héroes cubanos: Cardoza, Suarez, Rustán, Pérez, Oñate, Galano, Dupotey, Lores, Toirac. La atalaya de tu Yunque hermosa, Por sí sola habla de ti. Y dio una nota armoniosa Al grito heroico del bravo mambí.
+ Read More
Gracias a los amigos, que han aportado por esta causa humanitaria!!!! Un gran abrazo de luz y esperanza!!! https://youtu.be/EFgEJsAZasE
+ Read More