Aaron Holley's Medical Fund
$37,967
of $35,000 goal
Raised by
376
people in 35 months
Aaron Holley, father, husband, son, brother, and local entrepreneur was faced with the unimaginable on October 1. 

Last week Aaron had suffered some minor head aches he attributed to a head cold and as he described "some difficulty focusing."  On Saturday October 1st he woke up disorientated and unable to speak in complete sentences (expressive aphasia).  His wife Christine rushed him to the ER.  After a CT and MRI, we discovered that Aaron had suffered from a stroke.  The co-owner of local hotspot, Wasserhund Brewery, is still in the hospital praying for answers and recovery.  At only 28 years old, a stroke is highly unusual. 

Aaron has private insurance, but even with that coverage, we all know the out of pocket costs and high deductibles can hit hard, especially for young growing families and small business owners.  Aaron's wife Christine is also one of the co-owners of the brewery, helps run their business, is expecting their second child, and raising their 18 month old son Andrew.

Our family is thanking God for his current stable condition, but there are still numerous unknown costs in the future. Bearing the cost of this critical hospital stay, tests, procedures, and foreseen rehabilitation are not what this young family should be concerned with right now. Any help in relieving the financial burdens at such a difficult time will allow Aaron and his wife to focus on a speedy recovery.
+ Read More
Update 2
34 months ago
Share
Aaron has been moved to the Inpatient Rehabilitation Unit. Thank you for all the prayers and support.

The doctors think we are in the clear for no relapse stroke, but it remains a mystery why Aaron had one. The doctors were doing a cardiac work up, but test results turned up showing nothing but a healthy heart so we are back at square one for figuring out why and how this happened.

Aaron is getting several hours of PT/OT/ST a day in rehab and we are headed in the right direction. He is making slight improvements daily. He still is having trouble with apraxia and aphasia, but we are believing for a complete and full recovery.

It was good to see him in such good spirits today.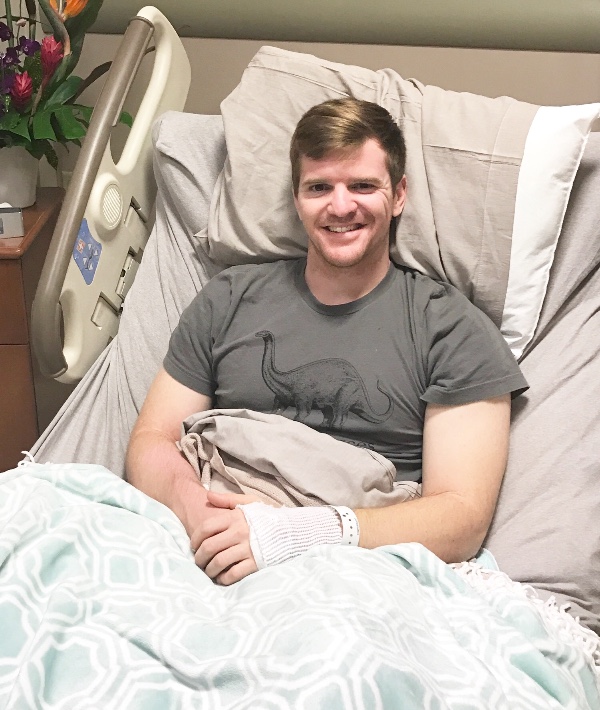 + Read More
Update 1
35 months ago
Share
I just want to say thank you to everyone who has donated. Christine and Aaron are blow away by everyone's generosity, support, and love.

Aaron is doing better today. He is still having expressive aphasia, but he is able to communicate a little better today and the sensation in his right arm and leg is increasing. His CT this morning showed slight improvement in his cerebral edema. They are also transitioning him from IV heparin to a oral medication. The doctors are also talking about sending him from the ICU to the Neuro unit. We are hoping and praying from there that he will be sent to the Inpatient Rehabilitation unit for a week where he would get intensive physical therapy and speech therapy care.

Continue to pray for a complete and speedy recovery.
+ Read More
Read a Previous Update