Save the Witch House in Framingham!
$4,495
of $10k goal
Raised by
60
people in 5 months
Janice Thompson
for Land Conservation and Advocacy Trust, Inc.
ASHLAND, MA
Please help us save the Sarah and Peter Clayes House ("The Witch House") in Framingham, MA!

We need $10,000 for the first phase of our $1 million campaign within the next month, or we might lose our vision to make this a public resource for all!


All gifts to this project through the Land Conservation Advocacy Trust are TAX-DEDUCTIBLE.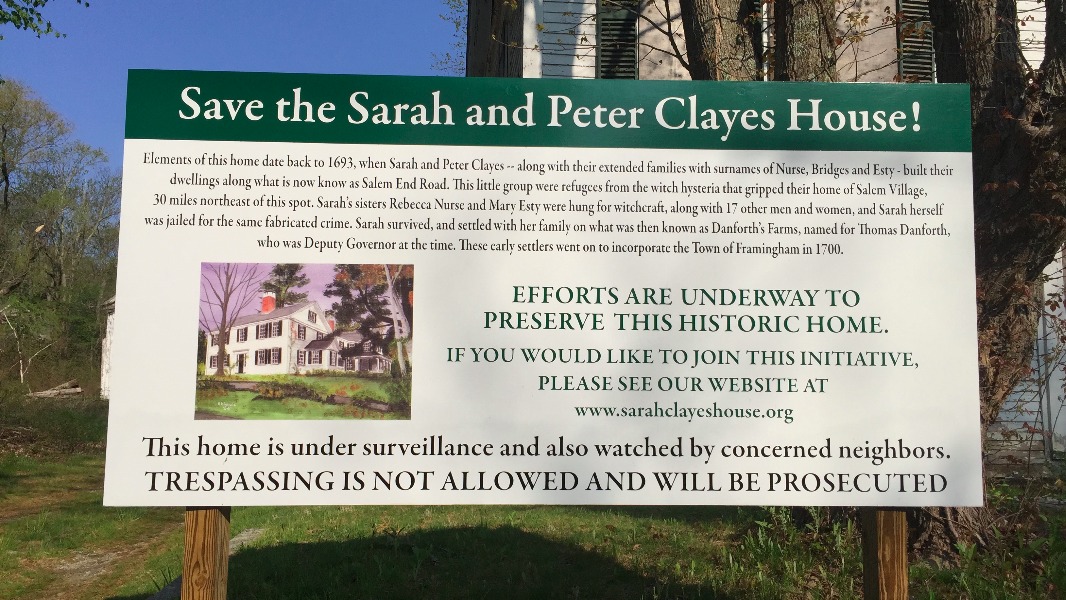 The house on Salem End Road (Framingham, MA) was built on the property that was settled in 1693 by Peter and Sarah Clayes, who had fled the witch hysteria that had terrorized Salem Village the year before. It is one of the most important historic houses in Framingham, as it was built on the site settled by some of the original incorporators of the Town, and it holds within its very walls vital lessons in architecture, history, social movements, even American legal practices.
The Salem witch hysteria has captivated the curiosity, fear and wonderment of the American people for generations.  What is it about the story that inspires such disparate phenomena as Arthur Miller's The Crucible on the one hand and the lion's share of Salem's tourism industry on the other?  Perhaps it is our fascination with scapegoating and "group think," or a natural interest in our cultural roots, or the very visceral fear of the unknown.  Whatever it is, it is something we want to learn from, to preserve, to understand.  
In reality, the story of the witch hysteria was a deeply personal one for the families that were affected.  Sarah and Peter Clayes -- the owners of the farm in Framingham -- were some of those innocent people.  Known in Salem as Cloyce, Sarah, along with her sisters Rebecca Nurse and Mary Esty and countless others, had been accused and jailed for witchcraft. It is unknown why Sarah escaped the noose while her sisters were not so lucky. Whether she escaped or was set free from jail is not certain – but we do know that she and her husband Peter, along with members of her extended family, settled in an area 40 miles away, in the early part of the following year.

Their new home was in a region known as "Danforth's Farms," so named because it was owned by Thomas Danforth, Deputy Governor of the Massachusetts Bay Colony under Governor Simon Bradstreet. Danforth himself was, in fact, one of the magistrates who oversaw Sarah's pre-trial examination in April of 1692.
We don't know for sure the true connection between Danforth and Sarah and Peter Clayes. But what we do know is that the Clayes, along with their brethren Towne, Barton, Bridges and Nurse, were among the first residents of a town newly-incorporated in the year 1700 as Framingham (after "Framlingham," Danforth's home in Suffolk, England); indeed, these surnames can be found in many early local government records as elected officials and leaders.
The impact of this organization and this property -- made available to the community -- is immeasurable.  
 Saving the Sarah and Peter Clayes House
For over ten years, the Sarah Clayes House Trust has worked tirelessly to preserve this enormously important property.  The house has been uninhabited since the 1990s, as it was caught up in the previous owners' divorce, the securitization of failed mortgages, and the housing crisis of the new century.  For years we couldn't even find out which banked owned the property, as the mortgage was passed from bank to bank, a miniscule part of major securities.  But finally, after years of chasing the mortgage, we discovered which financial organization owned the property, and after many more years of negotiating with the bank, we received a donation to our project in December 2015.  

Throughout these years, we also accomplished a great deal.  It seemed that every person and group we talked with about Sarah and Peter's house were fascinated by the story.  We built a website and created an e-newsletter that now reaches close to 300 people, all of whom asked to be included in our efforts.  We created partnerships with the Foundation for Metrowest and then the Land Conservation Advocacy Trust, who agreed to serve as our fiscal sponsors so that we can accept tax-deductible gifts to our project.  We have raised almost $40,000 in small gifts from hundreds of people, mostly in the $50-100 range.  In 2006 we nominated the property for Preservation Massachusetts' Top Ten Most Endangered Massachusetts Properties, and we were accepted.  In 2008 we worked with the local Historic District Commission to name the home a single-property historic district.  In 2011 we organized a neighborhood clean-up of the outside of the property, and over forty people helped us clear out invasive brush that was slowly eroding the house's foundation.  We have boarded up the windows and installed signage to detract vandals.  We are currently working with the Massachusetts Historic Commission to get the house on the National Register.  We have underwritten an important
preservation assessment
that was completed by Bill Finch (Rose and Finch Associates, Beverly) over a two-day period in 2014.  We have used this assessment to establish restoration priorities and budgets.  Our progress has been written about in
The Boston Globe
and
Metrowest Daily News
.  
Our plan
Our overall goal is to preserve one of the most historically significant properties in metrowest Boston, thereby protecting and sharing the important stories that the house represents.
We envision a center of education and community, a place where people can gather to learn about not only Sarah's personal story, but also the larger context:  New England Colonial history, Framingham's beginnings, the Salem witch trial hysteria, social justice, etc.  As the property is in a quiet, residential area, the house will not be a large tourist attraction; rather, visitors can tour the house by appointment.  We will also develop a library -- both on-line and in the house -- with materials relating to the property, early Colonial history, etc.  We will work with the local public schools to develop hands-on activities for learning, such as creating a garden of crops that would be grown in the 17th century.  We will partner with The Framingham History Center to develop programming at the house that will focus on, for example, the connections between Salem and Framingham.  
At the same time, we plan to develop income from the property by establishing a bed & breakfast and renting the two original bedrooms on the second floor of the house.  In addition, a conference room space will be built on the existing garage footprint, and this space can also be rented out for meetings or other gatherings.  
The cost of the preservation, according to a local architect we have hired, will be $1 million.  This includes restoration of both the interior and exterior of the front and oldest block of the house.  The remaining extensions of the house -- which were built much later and deemed of minimal historic priority in the Bill Finch report -- will be razed and rebuilt to match the look of the front part.  We plan to use the restoration itself as an educational tool, holding sessions where participants can learn from the inside out how historic preservation is done.  
 This GoFundMe campaign
We are at a critical juncture in our preservation efforts.  Without significant funds raised in a very short time, the house may be seized due to the fact that it has been deemed an abandoned house.   Alternately, a private buyer may purchase the home and it would only be open to the public one day a year.  
It's now or never!!!  Please help us save Sarah's story for countless generations!!!
Conclusion
When we first started this project over a decade ago, some people believed the cause was lost.  They thought we would never convince any bank -- if we could find the mortgage holder in the first place -- to donate the property to us.   Our goals seemed daunting and impossible.  

But many more people have joined us -- people who, like us, have great passion for the importance of saving this historic home.  They have donated their time, skills and what little money they had to help us get this far.  We have accomplished a great deal together.  We have ownership of the home and have developed a strong plan for both the restoration and the maintenance of the property into the future, to the public's great benefit.  
Now we need significant funds to move forward with our plans.  The impact of this support will be extraordinary, both now and in future years to come.
+ Read More
Update 2
Posted by Janice Thompson
5 months ago
Share
In just a few days we've had over 1,400 shares and close to $4,000 raised on our campaign to save the "witch house" in Framingham, MA! Please keep sharing and donating so we can reach our goal! :-)
+ Read More
Update 1
Posted by Janice Thompson
5 months ago
Share
Hi all, our GoFundMe campaign is trending! We have close to 700 shares at this point. Thanks so much to everyone who has donated to our campaign, and for spreading the word. Now if we can translate each of those "shares" into donations -- even as little as $10! -- we could raise so much more money to save the Clayes House. Please consider making a donation today! And again, thank you, on behalf of Sarah and all of the unfairly accused women and men in Salem!
+ Read More
Read a Previous Update
Be the first to leave a comment on this campaign.