Alzheimer's Music Fest
$6,230
of $5,000 goal
Raised by
136
people in 32 months

UPDATE: We will be accepting donations through 11:59 pm on August 6 (the day of Alzheimer's Music Fest).
As of 7/27/16, our banner is in print, so donations made after this event will not be represented on the banner. However, the incentives for the upper three levels ($25, $50, and $100) will still be in effect through the end of the campaign. Please allow a few days after your donation to receive an email from us with details about your incentive as we are in the final stages of planning the event. Thank you so much for your support in spreading awareness of Alzheimer's/dementia!


Alzheimer's Music Fest Mission

Inspired by families who provide care for a loved one with Alzheimer's disease/dementia and for those affected with the disease, The Alzheimer's Music Fest produces and presents a festival of musicians with diverse musical backgrounds who come together and celebrate the family caregiver. Our goal is to raise funds for those families with limited financial resources, increase awareness about Alzheimer's disease/dementia, and create a community of supports for these families. Alzheimer's Music Fest has partnered with Caring Together in Hope and Amy's Place, a 501(c)(3) non-profit to ensure net funds raised are used to support Alzheimer's disease/dementia families who care for their loved one at home.

The Story of Alzheimer's Music Fest
by Vince Zangaro

My father and my Alzheimer's journey started over 10 years ago. He was 62 when diagnosed, and I was the young age of 29 when my world completely changed. It was so very hard for both of us to accept, so we lived in ignorance for many years until we could not any longer. My dad was a hard working man, served in the military, and was a great father to me. I was a selfish ass that still lived to be cool, get girls, and make money.

As my dad progressed in the disease, I started to evolve into a better man. I remember many of my friends suggesting I put him in a home, but I made a promise to my mother before she died at age 55 that I would take care of him. I made my dad a promise that I would care for him no matter what. Through our journey I went through an almost bipolar way of living. I lied to my friends, went through depression, and at one point I thought I had Lupus. I didn't ask for help, and many around me didn't understand. I remember yelling at my father, not understanding why he was doing this to me and calling him selfish. I would drop on the floor in tears on many occasions. I just didn't want to go on!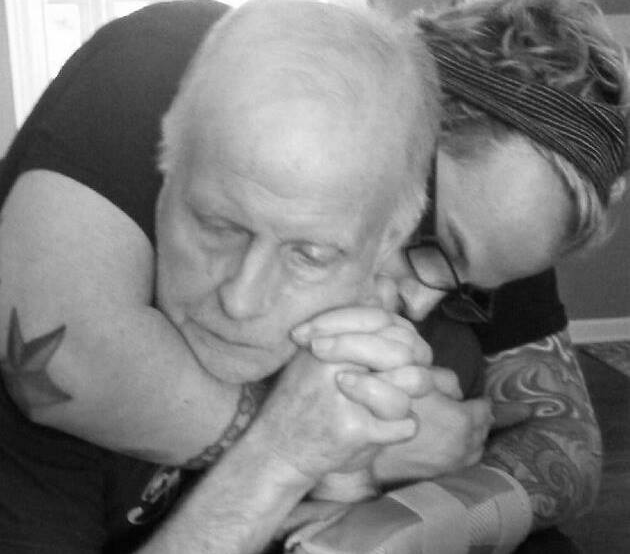 I had a decision to make. Give up or grow up! I started to change my whole way of thinking. Instead of dad having to live in our world, I decided to live in his. For every party, vacation, friend, and career opportunity I lost, I gained so much more. I fell in love with my wife, started to write songs again, and started to be very vocal about our Alzheimer's Family. For every transition we have been through, dad teaches me something invaluable. I started to wake the hell up and made a choice to be happy, not miserable. Everything started to slowly fall into place. I founded Alzheimer's Music Fest to help others be able to care for their loved ones at home. Through that I met two Alzheimer's / dementia nonprofits, Caring Together in Hopeand Laona M. Kitchen Foundation, that I consider amazing Alzheimer's /dementia advocates. I also met some really great people that have walked this same path that I consider dear friends.

Dad is a gift in my life, and I will fight for every possible moment with him. I feel now I can also say I am a gift in his life as well. My wife is our surprise present that God gave us just in time. I AM PROUD, I AM HAPPY, I AM SON, I AM HUSBAND, I AM FRIEND, I AM FORTUNATE, I AM FATHER, I AM SONGWRITER, I AM ALZHEIMER'S ADVOCATE, I AM STRONG, I AM CAREGIVER!



Our next Alzheimer's Music Fest is August 6, 2016, and with the help of our sponsors and your donations, we will be able to assist more caregivers in providing their loved ones the care that they truly need.
+ Read More