Feyisa Lelisa Support Fund
$163,396
of $150k goal
Raised by
2,866
people in 6 months
We are calling on all Ethiopians and human rights advocates to make contributions to funds needed to support Marathon athlete Feyisa Lelisa who exhibited extra-odrinary heroism by becoming an international symbol for #OromoProtests and Ethiopian Freedom Movement after winning a medal at the Rio de Janeiro
 Olympic games today August 21, 2016.  
Feyisa Lelisa faces persecution if he goes back to Ethiopia and he has decided to to seek assylum.  Funds are needed to support him and his family in the meantime,  Please donate whatever amount you can.  We assure you all the money collected will go to support this Oromo/Ethiopian hero.  
Co-sponsered by Abdi Fite, Lalisaa Hikaa and Solomon Ungashe 
+ Read More
Help spread the word!
 14K shares on Facebook
Dear Friends,
We are wrapping up our Feyisa Lilesa Support Fund campaign with this update.
We raised a tolal of $163,221 from 2,863 generous donors. GoFundMe deducts a fee of 5% ($8,161.05) for their service. WePay, the company that processes the credit cards, charges 2.9% of the total fund ($4,733.41) and $0.30 per donation that amounts to $858.90. The total fee that goes to FoFundMe and WePay is $13,753.36.

Subtracting all the fees the net Feyisa Lilesa Support Fund receives is $149,467.64. Mr. Lilesa has donated $20,000 to Demisse, Tasisa & Angasu Support Fund. GoFumdMe will transfer the $20,000 to the latter Fund and will not charge additional fee. In addition, WePay will not charge the 2.9% and the per donation fees on the $20,000 to be transferred to Demisse, Tasisa & Angasu Suppot Fund.

After the intra Funds transfer, GoFundMe will deposit $129,467.64 to Solomon Ungashe's bank account. Feyisa Lilesa Support Team has incurred expenses amounting to $21,216.45. The expenses were incurred by 1) Mr. Bayisa Gemetchu, 2) Mr. Kefyalew Fekade, and Mr. Lalisa Hika who traveled to, and staid in, Brazil for nearly three weeks to support Mr. Lilesa and to facilitate his travel to the United States. Accordingly, Solomon will distribute the $21,216.45 to the three individuals.

Finally, Solomon will transfer $108,251.19 to Mr. Lilesa's bank account. Please refer to the attached spreadsheet for details.

We thank you all for making this historic campaign successful.

Feyisa Lilesa Support Team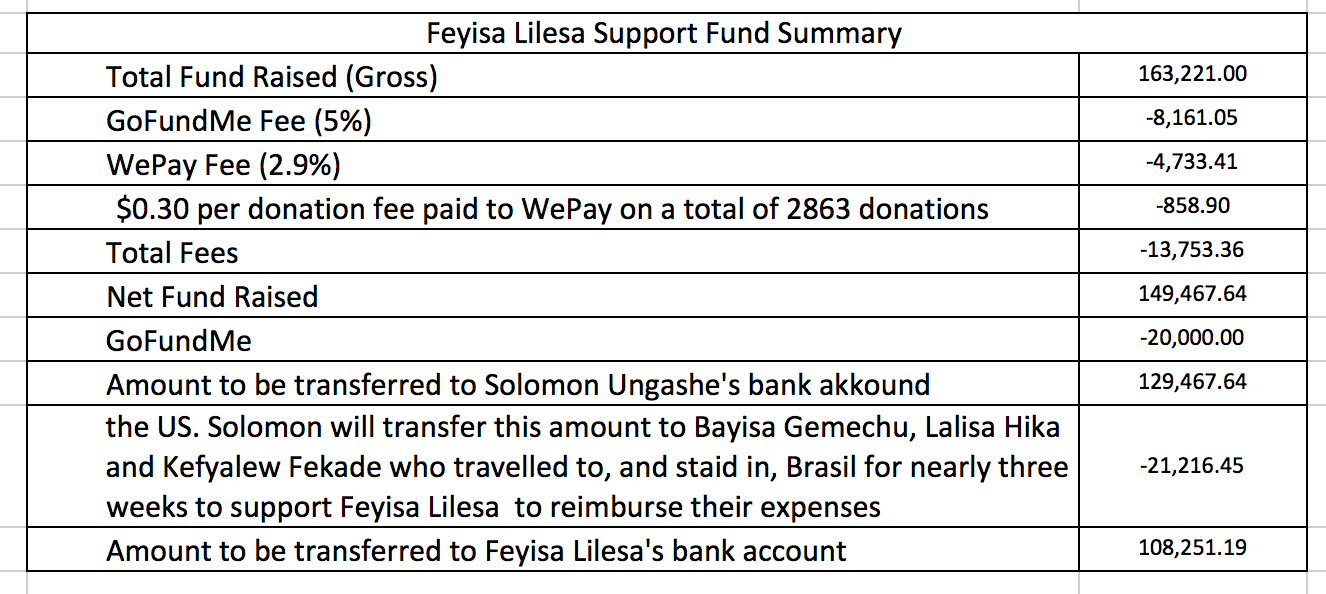 + Read More
Help spread the word!
 14K shares on Facebook