HorseSpirit Art Gallery Rebuilding
$19,184
of $200k goal
Raised by
226
people in 8 months
I am a friend of Robin Holliday of HorseSpirit Art Gallery, located in Old Town Ellicott City, MD. The gallery was severely affected by the flooding that happened on July 30, 2016. The entire first floor of her building was completely flooded, and the paintings, jewelry, ceramics, and sculptures were washed away or buried under mud.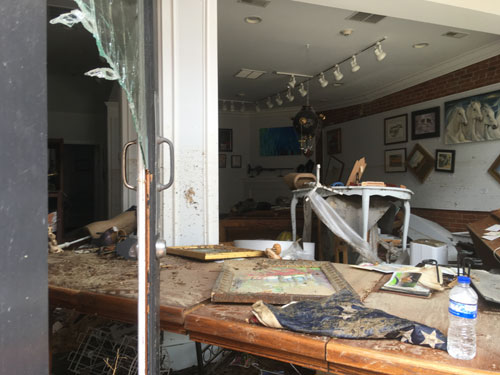 Robin was there when the flood happpened and tried to hold the door shut as the waters rose. After the windows shattered and the water was up to her chest, she was able to get to the 2nd floor. She was interviewed by NPR, and you can listen to her story
here
.
Robin's dream was to have a beautiful gallery to sell art made by local artists so that they can be recognized for their talents. Her eye for beauty and design are exceptional. She has been in business for just over a year, and her gallery has become one of the go-to stops when visiting Old Town.
website
This disaster has affected so many of the business owners and residents of the area, and no doubt some of the businesses will not be able to come back from this. The cleanup has just started, and the community has been overwhelmingly supported by people in the area, as well as people all over the country.
Photos
At this writing, Robin's insurance company has refused to pay on her flood insurance policy, stating that the policy she was sold was not the proper one for an art gallery, even though they knew she was an art gallery (go figure?). She is appealing and seeking help through the State to try to rectify this.
Robin was too humble to start this page herself, but frankly she needs help to rebuild. Anyone that knows Robin has experienced her big heart and generous soul... she's been such a blessing in my life.
Thanks for any help you can bring.
+ Read More
How on earth can they deny her claim!!!???!!!
+ Read More
Howdy Robin: So sorry to see and hear about the damage to your beautiful gallery. I have great confidence in you and your ability to get the shop open, and look forward to visiting and supporting you and your artists again.
+ Read More