Pachamama our only home
$1,815
of $9,000 goal
Raised by
17
people in 29 months
Watch how we sailed through the Arctic!:
Please chek out our website
www.toptotop.org!
There you find where we are (our position/track)!
There you find our annual report for download (PDF).
-------------------------------------------------------------------

TOPtoTOP
 Global Climate Expedition
Over more than 16 years, Dario & Sabine Schwörer and their family have circumnavigated our blue planet to every climate zone growing our awareness of climate change and its effect on communities.
A supporter who believed strongly in the mission and the passion of Dario and Sabine Schwörer to inform the world about climate change, was one of many giving a loan to purchase Pachamama. He needs urgently his money back and agreed that he is satisfied when they pay back the amount of Euro 90,000. Please donate so the Schwörers can continue on their important mission to Inspire Youth To Save Our Planet.
Pachamama is TOPtoTOP's principle means of transportation around the world. There is little more sustainable means of transport than a sailing vessel, which doubles as the Schwörer's home. But funding Pachamama alone is not enough to ensure TOPtoTOP's continued work in the future.
This fall, TOPtoTOP is scheduled to make climate change presentations at institutions throughout New England, including Natural Resource Council of Maine, Massachusetts Institute of Technology, University of Massachusetts, Boston Museum of Science and New England Aquarium. A five-day partnership with Mystic Aquarium follows, including a multi-event climate summit, meetings with Boys & Girls Clubs and local school presentations at every destination. Mystic and TOPtoTOP are also collaborating on education program curriculum development, distance learning opportunities and more to bring TOPtoTOP's field work and experiential learning to life for Mystic Aquarium's students, guests and online visitors.
This important work doesn't come without costs. And today we're asking you to consider supporting TOPtoTOP on their journey to Explore – Inspire – Act!
Global Climate Expedition facts:
Distance sailed: 90,000 nautical miles
Mountains climbed: 400,000 vertical meters, including:
Mt. Blanc, France; Mt Aconcagua, Argentina; Mt. Everest, Nepal; Mt. Kilimanjaro, Tanzania; Mt. Kosciuszko, Australia; Mt. Denali, Alaska
Distance cycled: 18,000 kilometers
Number of children attending TOPtoTOP school presentations: 100,000
Garbage collected in clean-ups: 50 tons
Please send tax-deductible contributions of $500 and more to:
The Samuel Lawrence Foundation, TOP to TOP, Drawer F Del Mar, CA 92014. The Samuel Lawrence Foundation is a 501(c)(3) non-profit organization | Tax ID: 27-1030462, 
www.samuellawrencefoundation.org
Please use GoFundMe for contributions less than $500. Thank you for making a difference in our lives, and in the lives of millions around the world!
My name is Andri and I am playing the violin to safe the Oceans.
I was born on the "TOP to TOP" Expedition sailboat "Pachamama". "Pachamama" means mother earth in Inka language.
She is the only home also for my four other sisters and brother and for my mom and dad. We shared our home so far with volunteers from 48 nations joining our campaign for a better planet.
https://toptotop.org/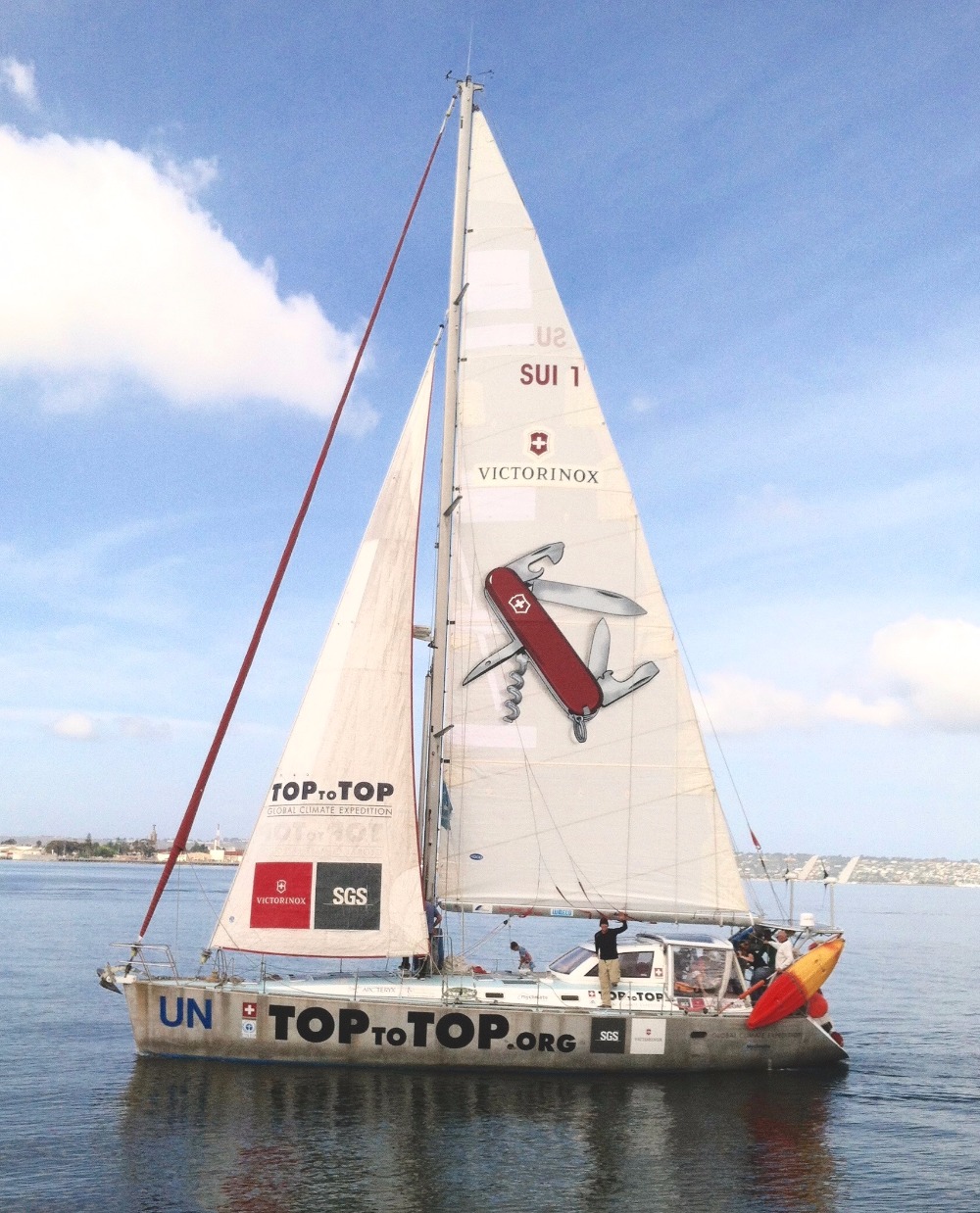 Pachamama our only home
+ Read More
Be the first to leave a comment on this campaign.