save Marie-Claire's life (Rwanda)
$1,665
of $13,750 goal
Raised by
47
people in 27 months
The Good Ones were the first group ever to have a record released internationally that featured songs in the Kinyrwanda language. The group's primary songwriter, Adrien Kazigira, is a world-class songwriter and poet.

His 11-year-old daughter, Marie-Claire, has had an undiagnosed tumor on her left-eye since birth (she is the one standing next to her father on the right in the family photo). We were fortunate enough to have an extensive examination done for her in Kigali. But the sobering result is that she is suffering from a brain and eye tumor that continues to grow.

The family continues to live in a rural area over one-hour outside the capital city and on the same farm that Adrien was born on, as his children have been, as well. They live without electricity or running water and have no health insurance. To add insult to injury, the family's only cow was stolen earlier this year.

The surgeon at King Faisal Hospital in Kigali is estimating that the surgery will cost around $13,800, and will require at least two operations-- the first to remove the tumor and the second to repair or remove her eye, depending on the outcome of the surgery. He states her life is at risk without the intervention and that the tumor is continuing to grow.

Marie-Claire is a soft-spoken child and does extremely well in school. She lost her mother to illness a few years ago.


                 SALVATE MARIE-CLAIRE (RWANDA)

Dolce, umile e di un'intelligenza disarmante. Lei è Marie-Claire e in questa foto è la bambina con l'occhio e il viso gonfio, affetto da un orribile tumore terminale. Vive in un villaggio piccolissimo, a un'ora da Kigali, capitale del Rwanda. Il Rwanda è il paese di mia madre. Come ho conosciuto Marie-Claire?

Nel 2009 mio marito e io abbiamo incontrato suo padre, Adrien Kazigira, poeta e musicista straordinario. Insieme a Janvier e Stani formano il trio The Good Ones: ognuno di loro incarna ciascuna delle tre etnie del paese, coinvolte nel genocidio del 1994 (Hutu, Tutsi, Twa). Abbiamo prodotto la loro musica in due album, Kigali Y'Zahabu e Rwanda is my home: parlano di genocidio, sopravvivenza e tanto amore.

Adrien non ci ha mai parlato della sua piccolina, nata con un tumore destinato a degenerare. L'abbiamo scoperto per caso, durante una visita improvvisata a casa sua. Una capanna stipata di mosche e zanzare, costruita a fango e paglia, con spazio sufficiente per dormirci. Avevano una mucca, molto magra, quando abbiamo conosciuto il resto della famiglia. Gliel'hanno rubata un mese dopo.
Ho scattato questa foto per condividere la gioia di Adrien e le sue figlie con voi. Marie-Claire è orfana di madre e morirà presto se non interveniamo. Ian e io nel nostro piccolo abbiamo finanziato tutti gli esami che hanno portato alla diagnosi. Ora abbiamo bisogno di aiuto. Le spese per l'operazione, che avra' luogo presso l'ospedale King Faisal di Kigali, ammontano a circa 13.000 euro.

Vi prego, aiutatela, aiutiamola. Mi sembra strano parlare come una di quelle campagne contro la fame che si vedono in tv. Il mio appello nasce da un sentimento di amicizia verso Adrien, da un sentimento di affetto e empatia verso questa bambina dolcissima. Il mio cuore è qui anche con voi, salvate, salviamo Marie-Claire. Un grazie profondo dal Rwanda.
+ Read More
Update 2
16 months ago
Share
Marie-Claire had her second surgery in February. The tumor has been removed, but there is still swelling. Sadly, the current diagnosis is that there might be some sort of issue with the eye itself. They say that there will not be a specialist in country until December. But we are attempting to see if we can gain access to care for her sooner than that. thank you!
+ Read More
Update 1
24 months ago
Share
The tumor is now removed. Next will be two more steps-- surgery to strengthen the bone. And then finally, some reconstructive surgery. "Murakoze" (thank you in Kinyarwanda)!!!!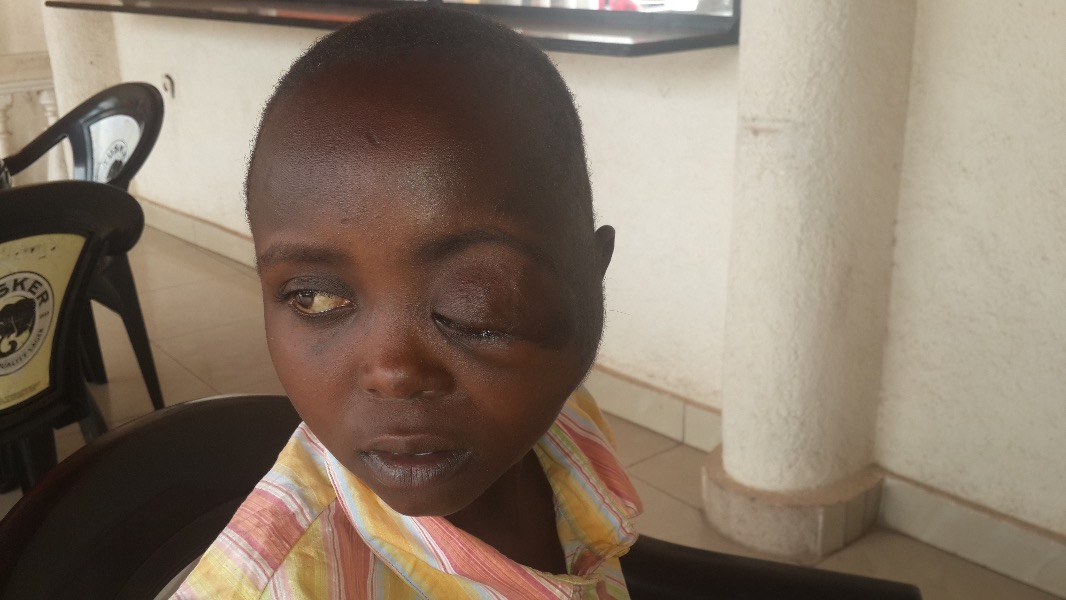 + Read More
Read a Previous Update