Eric Jeffus Recovery Fund
$18,802
of $1,500 goal
Raised by
232
people in 29 months
Eric Jeffus is a compassionate, knowledgable, and hard working man whom under unfortunate circumstances must take a leave of absence from his passion. After suffering unspeakable violence, he never lost his sense of humor nor his sense of humility, going so far as to say that he was glad it was him rather than someone else. Eric has suffered a fractured skull and will require reconstructive surgery, which will put him out of work for at least two weeks. In an effort to support a coworker and moreso, a friend, I hope to call on the kindness and empathy of all those who are willing to support this cause. While the recovery process will be tough, the time away from work and the community that surrounds him will be just as difficult. If nothing else, consider your donation as buying Eric Jeffus a drink; which we all know that Jeffus certainly would appreciate.
+ Read More
Update 2
29 months ago
Share
Hey, folks, it's Eric.

I know you've all been curious about my recovery, and I'd like to apologize for the relative radio silence. I'd been waiting for concrete information that I could relay, and for a while there I was just seeing doctor after doctor, each referring me to one of his colleagues for another opinion, yet seemingly without taking any steps forward.

But yesterday morning I saw my final doctor, a neurosurgeon, and both he and the last plastic surgeon to whom I spoke are of the opinion that surgery isn't strictly necessary to my recuperation. I've been healing more quickly than anyone could have anticipated, and to subject me now to an invasive, painful, and scarring surgery just as a possible preventative measure for issues down the road would be excessive.

So I've been given a clean bill of health! There are still some small fractures in my skull, but they'll heal on their own, and otherwise I'm in high spirits — eager to return to work and resume my normal life. In other news, the detective assigned to my case is almost certain that a man they have in custody, who's been charged for other robberies in the area, was responsible for my attack as well. Whether he admits to assaulting me is immaterial, as far as I'm concerned, so long as he's off the streets and my service industry friends and I can feel safer.

I wanted to thank you all again, sincerely, for the incredible kindness and generosity you've all shown me over the past couple weeks. This whole incident has given me a new perspective on life, and, while my chosen lifestyle may find me moving frequently and forging new and unknown paths for myself, I will never truly feel alone again. You gave me the gift of seeing my place in the world, and I won't soon forget it.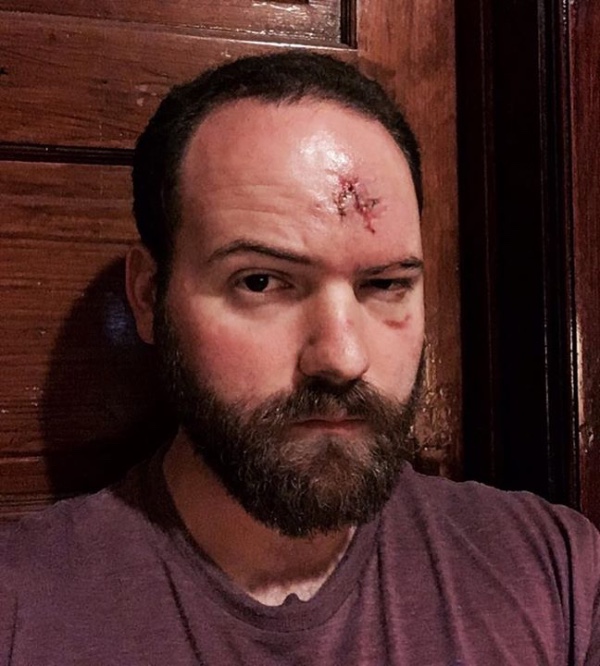 + Read More
Update 1
29 months ago
Share
I had the opportunity to visit with Eric yesterday and he is doing well, albeit a bit bruised. His wit and humor is still sharp as he joked with other coworkers that stopped by to visit him. I want to personally thank each and everyone of you who has donated or even just shared the page, it is completely humbling to see the outpouring of love that has resonated through our community.
At this time, Eric must make the decision whether or not to stick with Northwestern Medical to proceed with his surgery as it not covered by his insurance. The choice will not be an easy one as the out of pocket costs for a top tier surgery is an astronomical cost.
This campaign was featured in The Chicagoist which will hopefully draw more support from the community.
http://chicagoist.com/2016/07/08/campaign_raises_more_than_12000_for.php
For those of you who aren't friends with Eric, I want to close with a direct quote from him.
"Today I can finally see, all in one place, how much I mean to the people in my life, and it's frankly overwhelming. I don't think it's possible for me to fully express my gratitude, and all of you know that it's not an easy thing to find me at a loss for words about anything.
Thank you. Thank you so much. I love you. I love you all.
I leave you with my battle cry: "He broke my skull, but not my spirit.""
+ Read More
Read a Previous Update
Dianne Adams
29 months ago
As Eric's mother , naturally I want the best possible care for my son . I just want him restored back to looking exactly like he did before this horrendous and senseless attack . And I think the original hospital he was in might well be the best place for this extensive reconstructive surgery but it will be prohibitelying expensive . And unfortunately I'm not in a position to help much financially . I can only wait and pray . I know Eric is mentally unscathed , I just want his face to look unscathed . He shouldn't be left scared but I know he will have a scar on his forehead .
+ Read More
As a mom, I have always stressed out about the late hours of leaving work and heading home...This is the nightmare that shouldn't have happened to anyone...
+ Read More