Old Truck Dreams & Honoring Mom
$50
of $10,000 goal
Raised by
2
people in 29 months
INTRODUCTION

This is a true story about never forgetting, persevering, paying tribute and living lifelong dreams. The centerpiece is a 1949 Chevrolet pickup truck that has been in our family since the summer of 1981, and that I have owned for just over a decade. The first part of the big dream became real on May 30th, 2015, when she went down the road under her own power for the first time in 30 years. After a fantastic first summer on the road, I thought it was a good time to start working on the next phase – getting the truck in good enough shape for a drive the across the country, focusing on a full length run of Route 66. The thought of such an epic road trip has intrigued me since my early teen years, before I was old enough to drive.
My entire experience with the truck – the recently successful five year effort to get it back on the road, the long desired epic road trip and this book – is a tribute to the memory of my mother, who died tragically just as the truck came into our family. The circumstances surrounding this stunning loss, which are detailed in this story, created an unbreakable emotional attachment to this old Chevy. For as long as I live, no amount of money will buy it.
As you might imagine, preparing a nearly 70 year old truck for a coast to coast trip and funding the trip itself is not exactly an inexpensive proposition. Like most others, I would never be able to do it with the day job alone. So I wrote this story and I'm putting it out there in an effort to make the next stage of the big dream a reality. I think the goal amount would leave us with a solid, dependable ride and cover the trip as well, including time away from work.
Of course, updating the truck and the road trip are dreams that are very important to me. Perhaps most importantly, however, this effort is about preserving this family heirloom for generations to come.
If this next part of the dream becomes reality, the planned road trip will be documented from beginning to end with photos, video and blog updates. We'll stop along the way to visit with friends in various parts of the country, eventually ending up in Ohio for our annual family reunion, which has been happening on the family farm every August since 1969. I saw this old truck for the first time in Ohio, in the summer of 1981. It would be perfection if we can make the trip happen for the 50th reunion in 2018. Mom always loved the idea of such a big adventure, and I'm quite sure she would have wanted to ride along.
You can ride along too, via the blog at
JohnsOldTruck.com
, where you'll also find many photos, social media links and my direct contact info.  
Here is the story in its entirety
,
including many photos. It's not long - only about 60,000 words, so it won't take a long time to read. If after reading you would like to help make the dream happen, either with a donation or by simply sharing it with friends, I would be truly honored and very appreciative. Please feel free to contact me directly anytime if you have any questions. Thank you! Hope you enjoy the story!
I'm sure what first attracted young boys to pickup trucks was not so much the trucks themselves, but the idolization of the men who drove them. Fathers, grandfathers and uncles putting these utilitarian vehicles to work on the farm, the ranch or wherever else they were needed. Unlike today's trucks, the first pickups were certainly not built for style, comfort or convenience of the driver. They were built strictly to get the job done, and in doing so helped to instill a solid work ethic for millions of American youngsters.
My lifelong love of pickups was sparked on the family farm in New Matamoras, Ohio, just up the river from Marietta & Parkersburg, West Virginia. Although I grew up in Connecticut, both of my parents were from Ohio, and toward the end of every summer since 1969 the family has gathered on the farm for the annual reunion. It's a 600 mile trip for us, and even farther for family members who live up near Boston, but we look forward to the weekend with great anticipation every year. We're all proud to be a part of this wonderful tradition. The huge smiles and hugs upon arriving have always made the trip so worthwhile. Truth be told, however, as a youngster the reunion didn't really begin for me until Uncle John came meandering up Cady Run in his pickup. He had several of them over the years, either GMC or Chevy as I recall, but I also seem to remember a green Ford.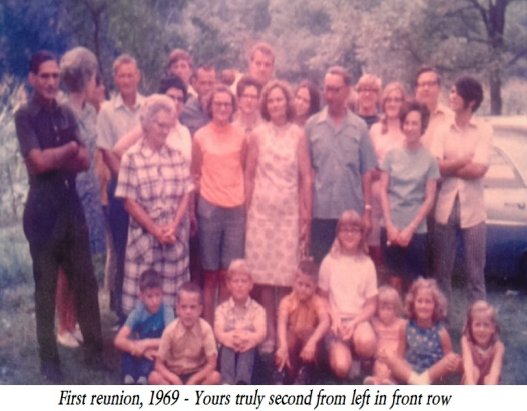 NEW TRUCK DREAMS


Dad never had much use for a pickup truck here in suburbia, so we never had one when I was growing up. But it certainly wasn't for my lack of trying to talk him into it. One vivid memory of a car shopping trip in 1972 comes to mind. There were many vehicles on display when Dad and I walked into the showroom at Dan Ridge Chevrolet on Main Street in Danbury, but the only one I could see was the shiny new C-10. Although I wouldn't be old enough for another eight years, I pictured myself driving it, elbow resting on the open window, meandering down the one lane dirt road just like Uncle John.
With all the eight year old logic I could muster, I did my best to convince Dad that we needed that truck. We could put the dog in the back and drive around. We could use it to move a bunch of dirt from one side of the yard to the other for no particular reason. We could give all my friends from the neighborhood rides in the back. The possibilities were endless! Unfortunately for me, practicality and Dad logic won the day and we ended up with a four door land yacht.


RUNS IN THE FAMILY


My oldest brother Peter also loves pickups…always has. Particularly old ones, and I'm pretty sure the source of our inspiration was the same. During his cross country bicycle trip in the summer of 1981, he stopped at a convenience store in Preston, Missouri. He was on the hunt for a nice Midwestern truck with little or no rust, and while grabbing a Gatorade he asked if anyone knew of such a truck for sale. Sure enough someone did, and Peter ended up on the back of a V-8 trike for a short ride down the road to take a look at a green 1949 five window Chevy. His wife, Susan, was soon wiring him the money for a deposit. He left the cash, got back in the saddle and biked the rest of the way to the Pacific ocean, finally realizing his lifelong dream of pedaling coast to coast. Then with a Greyhound bus ticket and his bicycle in a box, big brother made his way back to Preston. He completed the truck deal, threw the bike in the back and at a top speed of 50 miles per hour began the nearly 800 mile trip to Ohio and the annual reunion. What would normally be an 11 hour trip took about 20 hours in the old truck, but he still made it with a day to spare, arriving late in the evening of Thursday August 27th, 1981.
While Peter was in the home stretch of his trip from Missouri, Dad, Susan and I were setting out on our drive from Connecticut. If my memory serves me right, my brother Dan and sister-in-law Terri were either planning to head out early Friday morning or had decided to stay home that year as they prepared for their September 12th wedding. Brother Chris had also either planned on leaving the next morning or stayed behind because of work. Same with Mom, who was working second shift at National Semiconductor in Danbury.


THE PHONE CALL


Early that Friday morning, only a few hours after Peter had arrived from Missouri, the phone rang at the house shared by our paternal grandmother, Alva and Dad's sister, Marceline. Thinking it was just a call from a local friend, he ignored it at first. But when the ringing persisted, he finally got up to answer, thinking something could be wrong. Indeed, something was very wrong.
While this was happening, Dad, Susan and I were in the final few miles of our trip. As we pulled up to the house in Newport, just down the road from the family farm, I saw the beautiful 1949 Chevy truck that had just entered our family and loved it instantly. A few minutes later we made our way from the car and knocked on the door, which Peter opened, and with his first words delivered the stunning news
.


"Danny just called. Mom drowned in Squantz Pond yesterday."
How else do you say it? There was certainly no way to soften such an incredible blow. It just needed to be said. And if simply having to deal with the news of Mom's tragic death wasn't enough, each of my three older brothers had a huge additional burden to bear. Danny had to make that call, Peter had to tell us and Chris was home alone when the police got there. Thankfully Danny and Terri were close by so he wasn't alone for long, but I still can't imagine what it was like for him in those first moments with nobody there.


MOM


In keeping with her perpetual free spirit and trying whatever new idea happened to strike her fancy, Mom started taking scuba diving lessons. She hadn't used oxygen tanks yet but wanted to get some practice dive time in, with a snorkel and weights around her waist. She went into the water around lunch time, breaking the cardinal rule by going in alone. She put her flag up to let the lifeguard know she was there, but at least three hours passed before it occurred to him that there could be a problem. Apparently she had accidentally taken in water, panicked and was held down by the weights when she was unable to release them.
Around 5pm that same day, when Dad, Susan and I were grabbing a bite at a drive thru as we prepared to leave town and figured Mom was at work, the process of identifying her body and notifying the next of kin had already begun. Without cell phones in those days, we obviously couldn't be reached on the road. After hearing the news in Ohio, Dad took the first plane back while Peter, Susan and I drove back in Dad's car. Peter would later go back to get the truck. Danny and Terri's wedding happened as scheduled just over two weeks later on September 12th, with everyone agreeing that Mom would have wanted it that way.


MOM MEETS DAD


What are the chances of someone named Joan Schneider meeting someone named Jim Schneider, then falling in love and marrying? Pretty slim, I would think but that's just what happened. Joan Schneider and Marceline Schneider were not related when they became best friends at Marietta College, but that would change not long after Marce decided that Joan needed to meet her brother Jim. They were married in 1953, with Peter coming along in '54 and Danny in '55. Chris showed up seven years later, on Christmas day 1962, and I was born the same day the Beatles started filming A Hard Day's Night – March 2nd, 1964. I've often joked that I was Mom's last desperate attempt at a daughter, which I think would make her laugh because she had a great sense of humor, but maybe then shed a quiet tear because it was at least partially true. I know she had no regrets, though. She unquestionably loved all her boys with all her heart.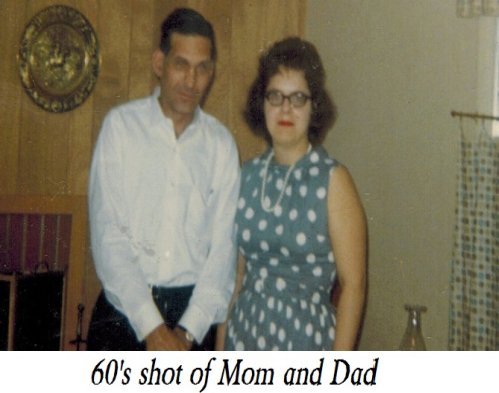 WALKING TO HER OWN BEAT


Mom always went whichever way she felt like going, without much concern for what anyone else thought about it. She was always looking for the next big thrill, often acting on impulse. She took flying lessons on and off for a long time when we were kids, but never did get her pilot's license. Looking back, part of me wonders if she ever intended to. Maybe she just loved to go flying every once in a while and used the lessons as an excuse.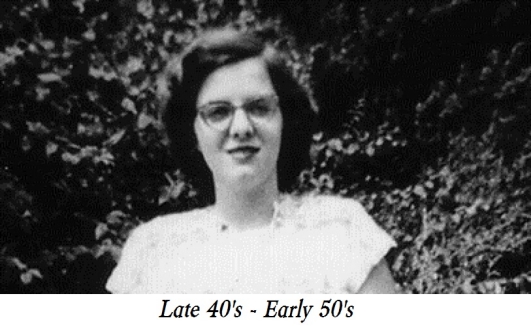 Her impulsive side could sometimes be an issue. Like the time she grabbed me, said "Come on, we're going to a movie," and took me to see the musical "1776," which had just come out. Mom loved her musicals. Oklahoma, West Side Story, The Sound of Music (the movie is my favorite to this day, thanks to the memory of Mom forcing us to watch it every time it was shown on tv) and many others. Anyway, because she didn't tell Dad or anyone else about our little matinee excursion, half the neighborhood ended up combing the woods thinking I had gotten lost or been kidnapped. I remember Dad being pretty angry about it after we got home, but all I could do was say "Hey, that movie wasn't my idea. Mom made me go see it."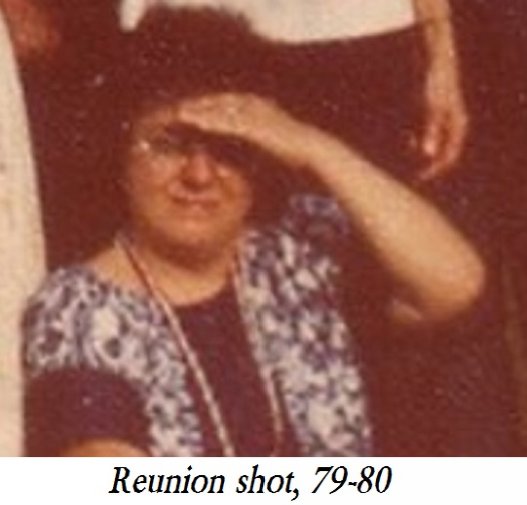 10-4 GOOD BUDDY


Among the many other movies Mom would take us to see were Convoy and Smokey and the Bandit, which pretty much led us to join the citizens band radio craze of the 70's. Peter and Dan were older and out of the house by then and as a result didn't catch the CB fever, but Mom, Chris and I had a lot of fun talking on that thing and made many friends with it. To signify her love of being up in the air, Mom's handle was "Flying Duchess," Chris was "Red Eagle" and I was "Little John." We would meet with a small group of these fellow CBers at what was then the Hilltop Diner on Route 6 in Bethel every Sunday morning, where I had my first ever cup of coffee and pancakes with ham was my usual. Every once in a while we would also make the half hour drive up to the truck stop off interstate 84 in Waterbury, just because Chris was really into the big rigs and wanted to be a truck driver. That wasn't really my thing, but I always did enjoy going into the store there to read the funny stuff printed on cheap bumper stickers and t-shirts.


IF I HAD TO PICK ONE


I will forever be thankful for all the great memories from my 17 years with Mom, but there is one that really stands out. In late May of 1981, she was there to see me run in the 110 meter hurdle final at the Connecticut Class M track meet at Middletown High School. It was a very hot, humid day, the kind of weather that seems to just suck all the energy right out of you. I settled into the blocks for that state championship run and rose to the set position on the starter's command. When the gun went off, it seemed like I had been launched into another dimension. Everything was a blur. The heat and humidity meant nothing. The cheering crowd became a sort of low level hum. My focus could not have been stronger. These days I guess it would be described as being "in the zone." But through it all, clear as a bell three or four hurdles from the finish, I could hear my mother cheering for me. I won that race in 14.7 seconds, a full half second faster than my previous personal best, setting the Bethel High School record that stands to this day. It was without question the greatest athletic achievement of my life, and I'll always be glad that Mom was there to witness it. We lost her three months later.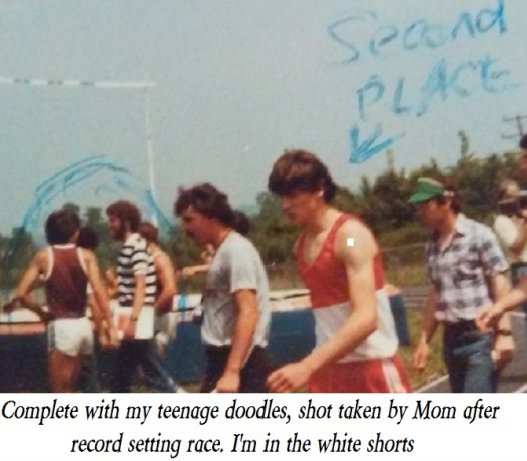 PETE'S OLD WORK TRUCK
Peter used the truck as a daily driver for a few years after getting it home. He and a friend had a handyman business where they would do just about anything people needed. It made me crazy when he would fill the bed with hot asphalt to make curbs and speed bumps, but I think it actually helped to preserve the original bed wood that I refinished and that remains with the truck today. I rode in the truck many times back in those early days, but never did drive it. Thinking back with a smile, if I had been the older one I'm pretty sure I wouldn't have allowed my teenage brother to drive it, either.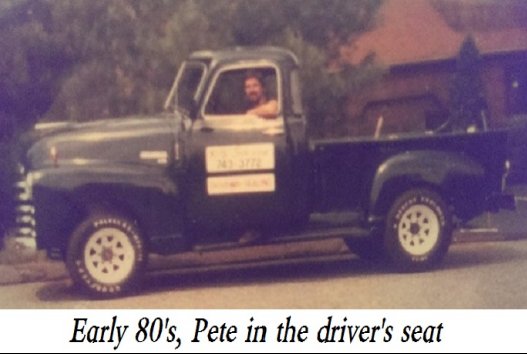 For the nearly two decades after Peter parked the '49 in his garage I harassed him relentlessly about getting it back on the road, eventually just saying "How's my truck doing?" whenever I was at the house. I thought about it on a regular basis through the years, while my radio career took me to upstate New York, Pittsburgh and Washington, DC. My greatest hope during these times of reflection was simply that he still had it and would eventually get it back on the road. He always wanted to restore the truck, but could never get the time and money simultaneously.
BROTHER TO BROTHER
Finally, when Peter's kids were old enough to drive and he needed the garage space for another car, he called. "Hey, if you really want this thing let me know." My better half Meg and I talked about it. Then without telling me she called Peter, made the deal and the next thing I knew we were at his house with a flatbed meeting us. Just watching that garage door go up and that truck being pulled onto the flatbed was incredible. After more than two decades of being in love with this '49 Chevy, I actually owned it. I knew my brother was sad to see it go, but happy that it would at least remain in the family.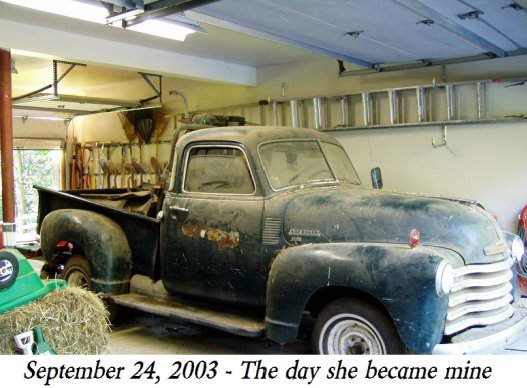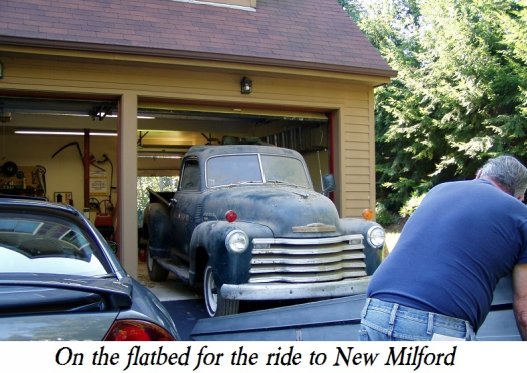 Meg had also arranged to have the truck stored near us in New Milford. The garage owner had a friend with a restoration shop just down the road, so we stopped by for a quick visit. It was a large shop with many different projects going, and the guy's work was amazing. He explained that he could do a complete restoration on the truck for about $20,000. Based on his other work I know it would have turned out perfect and been well worth it, but I wasn't even close to having that kind of money. Still not even close twelve years later, and now the same job is no doubt closer to 30k. So there she sat for another several years, because I wanted to wait until I could afford to restore the truck completely.

ATTITUDE CHANGE
Thankfully, a call from the garage owner in March of 2010 would begin to cure me of the silly "all or nothing" mentality. He needed the space and I couldn't afford to have the truck stored anywhere else, so we brought it here to the house.
It wasn't long before I couldn't stand walking past it in the driveway every day without doing something. I started by sanding off the various surface rust spots and spraying them with primer, then running a bead of silicone around all the dry rotted and leaking window seals. Before I knew it I had the bench seat pulled and stripped down to the frame, had the old gas tank yanked out and was cleaning and rust sealing the entire inside of the cab.
At a slow pace through that spring and summer, I put a new tank in, reupholstered the seat and started fiddling under the hood. I could handle the easy stuff like new plugs, points, wires, oil, thermostat and coolant, but when it came to things like rebuilding the carburetor and swapping in a new fuel pump, I needed help. Lifelong friend, Brian, was the first of many to come to the rescue. By the fall of 2010 we were ready to see if this thing would run again.
We gave it a shot over the course of a couple of Saturdays in October 2010, but the old beauty just wasn't ready to go. I was pretty sure we had fried the old starter, so I pulled it out and took it to Danbury to be rebuilt. The snow started falling while the starter was in the shop, so I figured we'd just cover the truck and wait to start fresh in the spring.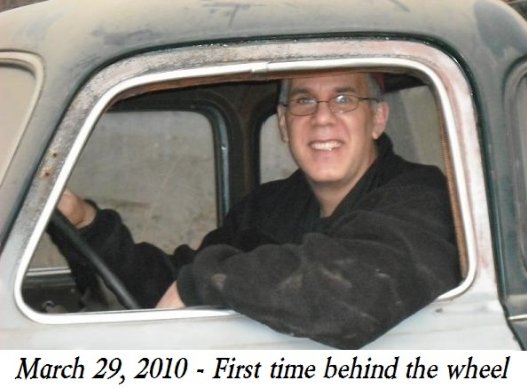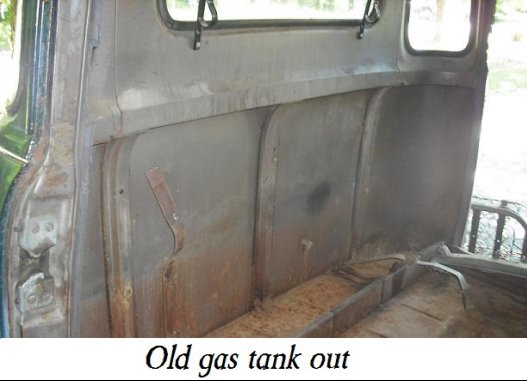 DOWN TIME AND A SILVER LINING
In early November 2010, I quite unexpectedly lost my morning radio job in Norwalk to company consolidation. This began a very long stretch of unemployment and underemployment, which of course hampered the truck project. The '49 sat through the spring and into the summer of 2011 while I focused on the search for work. By the time early July 2011 rolled around, the job hunt had been going on for nine months without success. I really needed something positive to happen, so I decided to just throw the rebuilt starter in the truck and see if we could at least get the thing running again. I called my friend Jim, who had been there for the previous start attempt, and we made plans to give it another shot.
Finally, on July 9th, 2011, with Jim's invaluable help, this dream ride roared to life for the first time since 1985. As I sat behind the wheel and marveled at that awesome sound, for just a minute I was seventeen again. And, of course I thought of Mom. This project always has been and always will be a tribute to her memory. I knew for sure that day that no matter how long it took, this truck was going to go down the road again.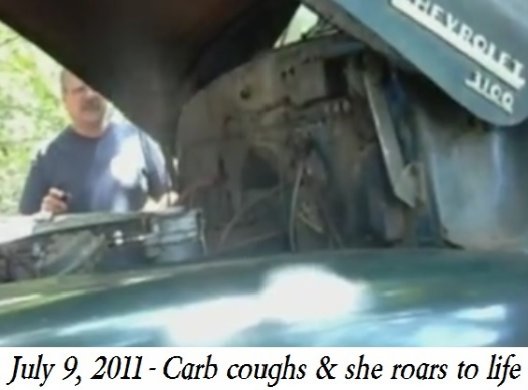 SO CLOSE BUT YET SO FAR


There wasn't all that much left to do before actually driving the truck, but unemployment would continue to keep the final few things out of reach. We still needed a complete brake system overhaul including new lines and drums, several pieces for the bed, and of course registration and insurance. I carried on as best I could while still looking for work, doing things that cost very little or nothing but still needed to be done. I took the bed off the truck and disassembled it, refinished the wood, put a wire brush attachment on the drill and cleaned up the rear part of the frame. In addition, I smoothed out some rough old body filler on the back of the cab that had been hidden by the bed.
It was during the process of cleaning up that rough filler and sanding the back of the cab that the truck's current look developed. At this point the rest of the truck featured large areas of primer and paint, thanks to all the sanding and priming of surface rust areas I had done previously. I finished the back, looked at the rest, thought about it for a minute and finally decided I might as well just go ahead and do the whole thing to make the look consistent. All the sanding revealed bare metal in some spots, which I sprayed with a clear finish. I don't call it "patina" because it's not natural. It's just a different look that I had fun creating, and it will remain until we're able to do the full restoration.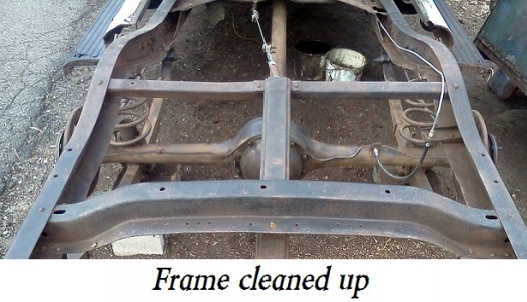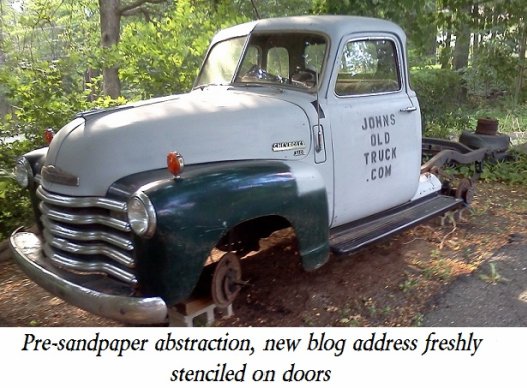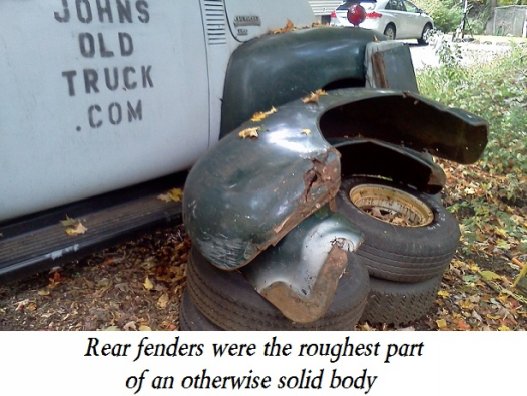 DAD'S HAND


Refinishing the bed wood was a multi-step process. First up was the pressure wash, which I had to do twice. The second step was a spray with straight bleach in direct sunlight, which was also repeated. Then came belt sanding, hand sanding and six coats of polyurethane, with a light sanding between coats. I loved the finished look. Clean but not new, just a nice aged appearance.
Because I had flipped the wood to make the underside the new top side, we needed to cut new grooves for the metal strips. This should have been done before refinishing, but I had completely forgotten about it. I brought the finished wood over to Peter's garage, where the truck sat for all those years, and we used the router that Dad gave Peter for his birthday in 1980 to cut the grooves. Peter even found the sales receipt with Dad's signature on it while getting the router out of storage. It meant a lot to both of us for Dad to have a hand in this project, and I love the way it happened. He passed away in July of 1984, just under three years after Mom, after having been diagnosed with cancer in February of that year.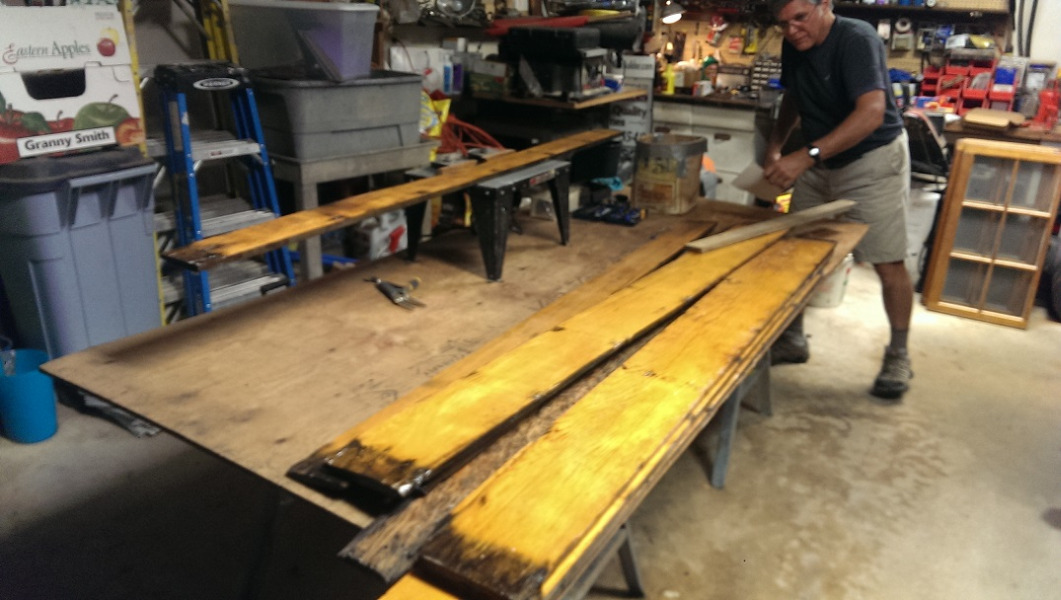 Back in Pete's garage to cut the new grooves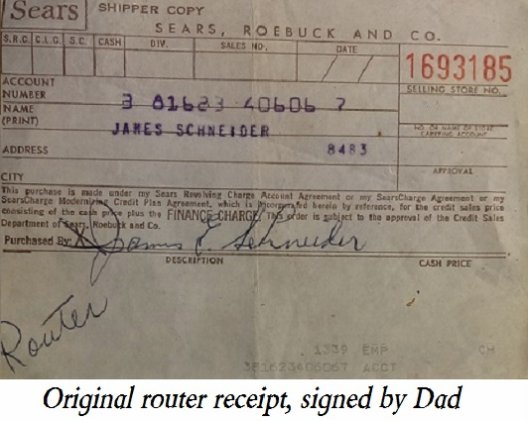 LOOKING ELSEWHERE


After logging 25 years behind a radio microphone and spending more than two years trying to get back on the air full time, I finally accepted that I needed to expand the job search to other areas. This was not an easy realization for me, which is why it took so much longer than it should have. I had invested my life in the business, and the fact that I couldn't do it every day really hurt. Eventually, though, I learned to be happy with part time weekend air work on the hometown station while the search for a day job continued.
After training for and obtaining my commercial driver's license in mid 2012, I drove a school bus, a garbage truck and a septic truck. The employment situation had finally stabilized somewhat but the paychecks still weren't where they needed to be, so in early 2015 I added the hazardous materials endorsement to my license and began work with a local propane company. Finally I had 40 hours, year round, at a decent rate. Not raking it in by any stretch of the imagination, but at least I could throw a few bucks into the truck project here and there and finish the mission of getting old beauty back on the road.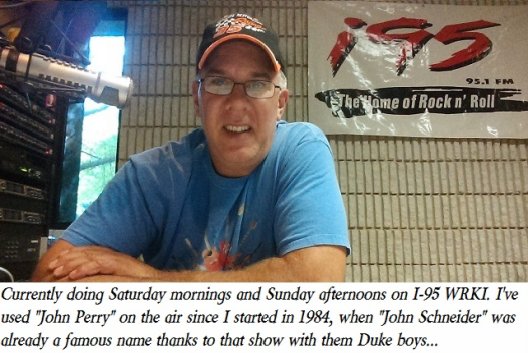 BIG DAY IN SIGHT


I began planning in February 2015, quickly deciding that May 30, 2015 would be the day I had been dreaming about for 34 years. I wanted all my brothers and their families here (which would require a good bit of travel for many of them), along with the friends who had given so graciously of their time and expertise to make it all happen, and wanted to give everyone plenty of lead time to make sure they could be part of the celebration.
Before hitting the road, however, we still needed to get the essential wiring squared away, finish the brake job and of course register and insure the truck. The wiring was done with several weeks to spare, followed by the insurance and registration about 10 days out. The brake job was finished with two days to spare and on Thursday, May 28, the truck rolled off the trailer into our driveway.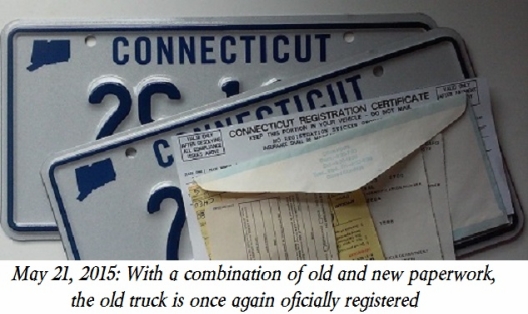 FINALLY!


The weather could not have been better for the big day. Everyone started rolling in around 11am, and by noon or so we were ready to go. We gathered in the driveway, where Peter and I told the story of the truck and how it came to be in our family. There were a few difficult moments, because as had always been the case, it was impossible to talk about this truck without thinking about Mom. But we made it through, and all that was left was to go down the road.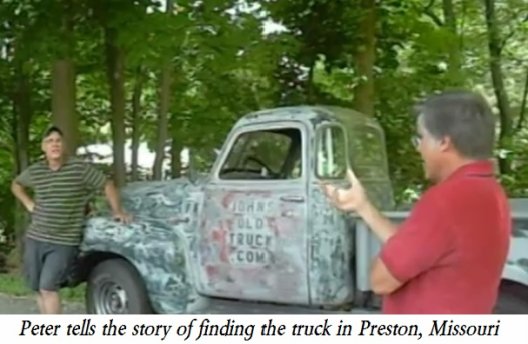 I had long since decided that Peter would take the wheel first. I thought this nod to my big brother was only right, since if it weren't for him living his dream all those years ago, mine never would have happened. There was at least a little concern among the crowd about us going down our big hill, but we didn't worry about it. I hopped in the passenger side just as I had done many times over three decades before when I worked with him in his handyman business. Then with my friend Jim driving the chase van where brother Chris was working the video camera, and Dean following them in his killer Camaro, Pete punched it like he was in a drag race. Down the hill we went, stopping at the bottom with no problems.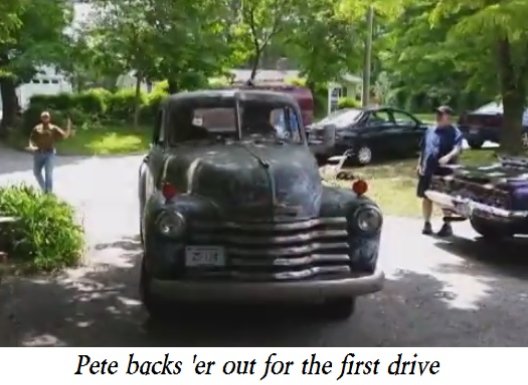 The first thing we needed to do was stop at the gas station about two miles from the house, since the gauge on the truck didn't work and I wasn't sure how much gas we had. We topped off the tank, hopped back in and continued a few more miles down the road, where Peter pulled into the parking lot at the radio station so we could switch seats.
Finally, the moment I dreamt about and imagined for a full two thirds of my life had arrived. I might have appeared outwardly calm, but my mind was racing. I had been a passenger in the truck many times, but had never driven it. Would I pop the clutch and stall it right out of the gate? Would I remember the incredibly simple "three on the tree" shift pattern? Would we make it all the way back to the house without the truck breaking down?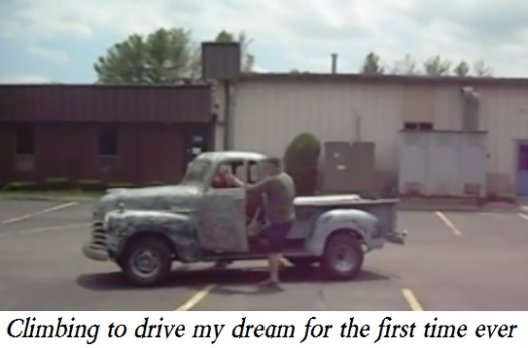 Thankfully all went well. We made it home, I fired up the grill and we had a wonderful afternoon with family and friends. I could not have been more proud or more appreciative as I looked around the yard while serving up the burgers and dogs. They had all come to see this old boy live a lifelong dream, and I will never forget it.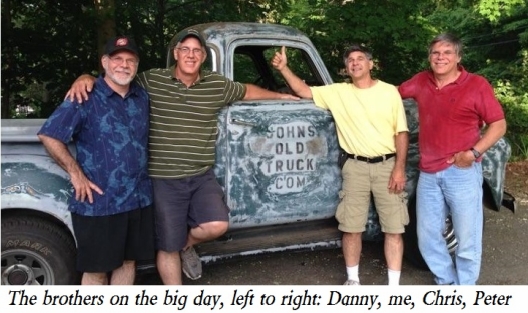 HEARTFELT THANKS


It goes without saying that amateur dreams like this don't become real without a lot of help. Brian rebuilt the carburetor and put the fuel pump on. Jim made the truck run again for the first time since 1985, and did a bunch of wiring to get the brake lights, turn indicators and horn working. Dean welded up the rough spots on the rear fenders so I could get them back on. Steve fixed a bad spot in the frame and installed the front disc brake kit, which I switched to when I found out it was less expensive than the drums and hubs I had been looking for. And Alex smoothed out the bed sides, welded on the new stake pockets, fabricated a mount for the new dual feed master cylinder, finished up the brake job and worked with Jim on the final wiring. I will forever be thankful for these friends who really made it happen.



HOMETOWN CRUISE


The first official stop after getting on the road was something else I had planned for a long time. One week after the first drive, we rolled into the Sycamore Drive-in Restaurant in my hometown of Bethel, Connecticut for their cruise night. This was the first of what would be many stops there over the course of the summer. I had a blast every time, walking around to check out all the other rides and hanging by the truck to chat with passers-by. I have to say I was a little surprised but very appreciative of all the kind comments about the abstract look I came up with by simply going crazy with the sand paper. There were many suggestions to leave it this way, and I have actually considered doing so, but I'm pretty sure we'll go with a full coat of the Forester Green I fell in love with all those years ago when the full restoration is done. Until then, we'll definitely keep the current look.


NEXT BIG DREAM: THE EPIC ROAD TRIP


With the annual 10-12 hour trek out to Ohio for the family reunion, Mom was certainly no stranger to road trips. In fact, she seemed to actually enjoy them. Of course as little ones we thought this was pretty strange, because those reunion trips seemed to take days. How could anyone enjoy being in the car that long? Upon reaching adulthood and making the drive myself, however, it all began to make sense. When it's just you and the road for 600 miles, you've got all kinds of time to clear your head, recharge the soul and be inspired. In fact, I'm sure these trips served as the inspiration for Mom's desire to do something that would make the Ohio run look like a short hop. I can clearly recall her talking about how she wanted to drive the Alaska Highway from end to end, which she almost certainly would have done, had she lived on.
Given the item at the top of my bucket list, it seems pretty evident that I inherited my mother's big adventure gene. I want to drive this truck coast to coast, focusing on a full length run of Route 66. I've always loved the idea of this trip, taking in all the classic Americana and meeting all the interesting people along the way. I want to sleep in a teepee, eat greasy Route 66 burgers, leave my mark at the Cadillac Ranch, stare in awe at all the natural beauty and splash this truck with Pacific Ocean water.
With many friends to see in various parts of the country, the overall trip will by no means be a direct run. We'll visit some before hitting Route 66, some during, and some after. There will still be 600 miles to cover to complete the trip by the time we roll into Ohio for the family reunion, but when this old Chevy finally sits once again where I saw her for the first time in August of 1981, and we meander up Cady Run to the reunion spot just like Uncle John used to do, the circle will be complete.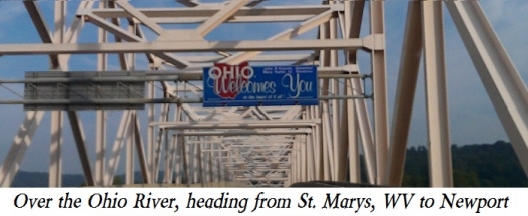 CRAFTING THE PLAN


There is much to do to get this nearly 70 year old truck safely prepared for the epic trip, and it will be costly. We're talking about a total restoration, perhaps minus the paint job but including modern upgrades for the suspension and drivetrain, to make us highway ready. Our national highway system didn't exist when this truck was new, so it's not surprising that it was basically geared for the farm with a top speed of 50 miles per hour. And that's really pushing it, which is why I avoid the highway. With today's speeds we'd only be getting in the way, and I'm sure there would be problems if we tried to maintain that top speed for long stretches on a cross country drive.
In addition to the large price tag of preparing the truck for the trip, there's the issue of getting all the time off from work. I'm not sure of the overall time frame because I've never done it, but I know this is not something you do in two weeks. Figuring in all the stops we'll need to make and the full run of Route 66, I'm thinking we'll probably need four to six weeks. If I'm still working for the company I'm with now, I think it's at least possible that they'll agree to a leave of absence, considering the fact that our business is typically a little slower in the summer. Then we'll have to actually plan the trip and time it out so we end up in Ohio on Friday of reunion weekend.
There will be a lot of trip logistics to work out for sure, but once we get that far along in the process, the hard parts will be behind us.
Connecting with others and sharing my passion through my blog and social media is something I truly enjoy. I will document this dream trip from beginning to end with pictures and video, so anyone who wants to can ride along.



WHY I WROTE THIS STORY


The big dreamer in me would love to see the epic road trip happen for our 50th family reunion in 2018. The logical thinker knows that's a tall order, but this determined old fool is not about to let long odds keep him from giving it his best shot. That's why I wrote this story. Here's the way I see it: If you're not willing to step out of the ordinary in an effort to make them happen, you're only guaranteeing that your dreams will always be just that.
Mom never saw this truck, but I know she would have loved it as a reminder of her late teen years when it was new. I'm also sure she would have loved the idea of an epic road trip wrapping up on the family farm for the annual reunion, and would have been the first one to shout, "I got shotgun." She might have wanted to stop to peruse every little knick-knack joint along the way, but I would gladly do it and fill the truck with them if it meant Mom could ride along. Pretty sure she'll be right there riding shotgun anyway.


***

Thanks so much for reading my story! I can't tell you how much I would appreciate any help you can provide to make the dream happen and preserve this family heirloom, either with a donation or by simply sharing the story with friends.
Follow the blog for updates
,
and please feel free to email me directly from there anytime if you have any questions or would just like to say hi.
Thanks again! See y'all down the road...


J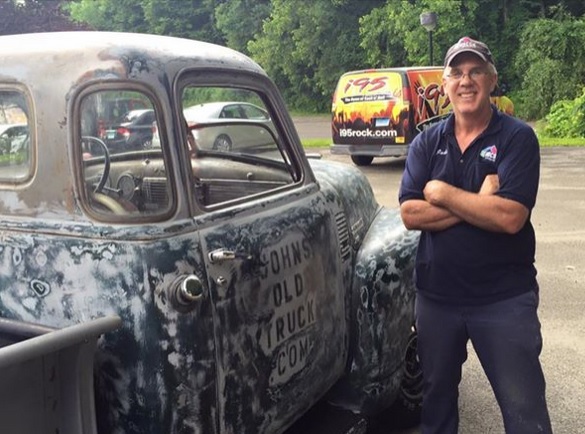 VIDEO: First start since '85 - 07/09/2011
VIDEO: First drive since '85 - 05/30/2015
+ Read More
Be the first to leave a comment on this campaign.