Henry Sutton Book Publishing Fund
$2,360
of $60k goal
Raised by
35
people in 9 months
Henry Sutton is one of Australia's greatest inventors, and the true extent of his genius and how he changed the world has never been revealed. But with your help this book can be published and Henry's contribution to scientific and innovation history can be told.
I am Lorayne Branch, Henry Sutton's great grand-daughter, and I am the researcher and author. For the past 7 years I have been researching records, files and archives in libraries around the world to put together the full story of what Henry achieved and his effect upon the development of technology around the world.
Television, radio, the telephone, the electric light bulb, the fax machine, front wheel drive cars - Henry Sutton invented, designed,  innovated and built all of these, but they are just chapters in a lifetime of constant invention.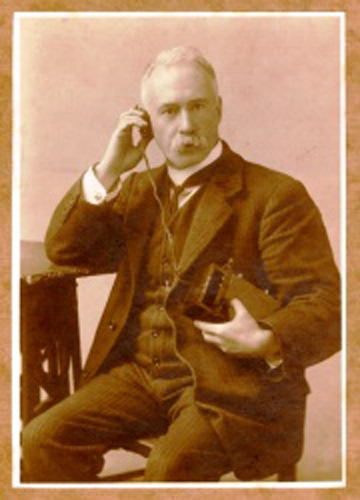 Image: Henry Sutton and the world's first portable radio receiver he designed and built
Roughly 45 years before John Logie Baird was credited with inventing television, Henry Sutton conceived of the technology to televise the Melbourne Cup to punters in his hometown of Ballarat.
Henry made and installed the first telephone and telephone system in Australia between his family's music stores and invented the first telephone handset. Henry's life long friend,  Alexander Graham Bell, came to Australia and visited Henry in 1910. He was also a friend of Nikola Tesla whom he met in London in 1892 and discussed all the possibilities of wireless telegraphy.
At age 14 he became the first documented Australian to experiment with the principles of flight, decades before Lawrence Hargraves; decades later he designed and built some of Australia's first cars, and the world's first documented front wheel drive vehicle.
These are just some of his inventions, yet few, if any Australians know of Henry Sutton.
Henry 's wireless inventions and contribution to wireless history has been uncovered and  will change Australian and world wireless history.
There are more revelations to come, which will require at least a revisiting of the history of technology and communications. This book will result in an acknowledgement of someone who declared that science belonged to everyone and all of humanity should benefit from it.
I have had great support for my book on Henry from science journalist Robyn Williams, Professor Mark Dodgson from the University of Queensland and the members of Telsoc, the Telecommunication Society of Australia and many other organisations and people.
Robyn Williams
 -  ABC Radio National
Science Show
Telsoc
  - National Telecommunications Society and convenor of the annual
Henry Sutton Oration.

In 2011  I was very grateful and fortunate to take part in a Henry Sutton special exhibition as centrepiece of the Ballarat Heritage Weekend.
ABC Ballarat
 feature by Jarrod Watt on Henry Sutton and his involvement in radio for World Radio Day
.
The money raised will be used for the final phase of production of the book which will include the following costs:
* editing
*layout
*design
*indexing
*printing
* publicity
All donations large and small are very much appreciated, your generous donations will ensure that Henry Sutton's biography is published and is available in all schools, universities and libraries in Australia and is available for everyone to buy and read in Australia and overseas.
For people who do not have a credit card donations can be made into the following bank account.
Account Name: LORAYNE BRANCH
Account Designator: ATF HENRY SUTTON BOOK PUBLISHING DONATION
Account Type: WESTPAC Esaver
Home Branch: WENDOUREE
BSB:  033607
ACCOUNT No. 000569
Support and rewards

For donations of $1,000 to $2,000, An autographed copy of the book will be donated in the donor's name, or the donor's company or organisation's name, to a High School of their choice.
For donations over $2,000,  an autographed copy of the book will be donated in the donor's name, or the donor's company or organisation's name, to a High School of their choice, plus the donor or their company or organisation will have the unique privilege of being acknowledged in this very historic and important book.
+ Read More
Be the first to leave a comment on this campaign.