25 Years of Animal Rescue
£3,371
of £25,000 goal
Raised by
101
people in 3 months

Welcome to Friend Farm Animal Sanctuary's 25th Anniversary AppealPlease help us raise £25,000 in 2019 to support our work in service to the animals
For those of you new to FRIEND we are one of the first vegan farmed animal sanctuaries in the UK. We were established in 1994 and this year we have very proudly achieved our 25th year of animal rescue.  In our lifetime we have been able to offer a loving, caring, lifelong, no-kill, free-roaming, safe-haven to upward of 2000 abandoned, abused and neglected non-human animals including many rescued from the meat and dairy industries.
We have had the pleasure and delight of seeing most of our FRIENDS go from being scared and afraid of humans to becoming happy, trusting and playful, as they have come to feel safe. Some on the other hand may always remain aloof or shy and that is fine too, we respect their individuality here, just like us, they each have their own unique needs 
Our Animals Today

Rosie
In our care today we have 200+ animals including Rosie who will be 21 years young this summer, a spectacular age for a cow in this day and age, most cows don't make it past 5 before being driven to slaughter.
Rosie is the matriarchal elder of our herd of 9 cows. When she was just 1 year old herself, she spontaneously produced milk for every single one of the younger cows and voluntarily weaned them ALL despite not being their biological mother.
What an incredible and beautiful being!
 
Sanchez
Sanchez is one of our 15 sheep. Hand reared as a lamb at the sanctuary Sanchez is very loving and affectionate, happy to be stroked, cuddled, and hand fed. If you have ever tried to approach a sheep in the English countryside you will know it is highly unlikely you will get any where near them before the entire flock has fled.
It is such an honour and a delight to be able to be so close to Sanchez in this way. We will never allow any harm to come to him or for anyone to ever betray his gentle trust
 
Poppy
Poppy has the most beautiful, life-affirming story. At just 5-months old, the average age of slaughter for a pig, she was found wandering in an area near a local slaughterhouse. Nobody in the area had pigs so it was determined that she had escaped.
Because it is illegal for slaughterhouses to let animals escape nobody stepped forward to claim responsibility for her and so she was lucky enough to find her way to FRIEND.
She is now in a huge herd of pigs, and surrounded by friends of many species, she is inquisitive, gentle and like most pigs loves avocados and belly -rubs.
She will have a lifetime of sanctuary and love at FRIEND.        
Poppy then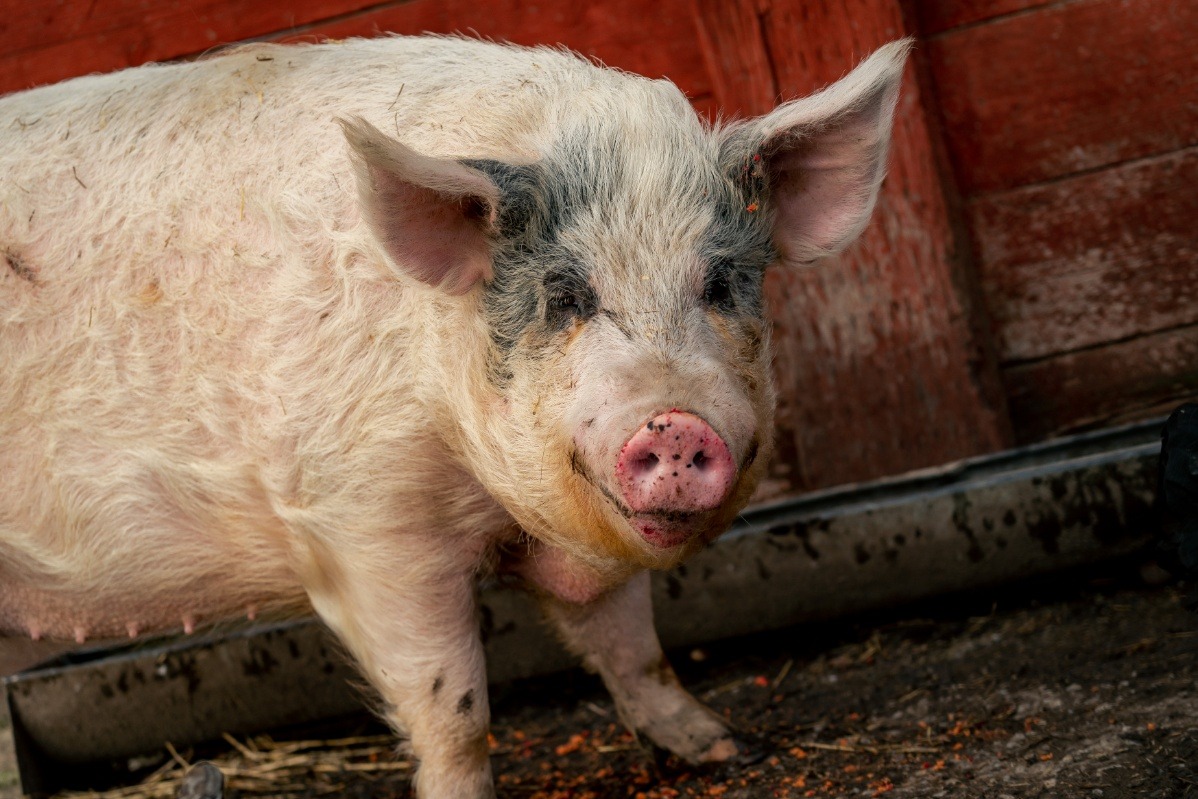 Poppy now            
Goosius
Goosius is a Goose with a purpose, a wonderfully protective guard goose who has taken a flock of ducks under his wing. He sleeps with them by night and guards them by day. If any unwitting volunteer dares to step anywhere near Goosius's flock he comes running towards us pecking and honking and making it very clear that we are not welcome. He is truly awesome to behold.
These are snippets from the lives of just 4 of our friends at FRIEND. Every single one of our 200+ animals has their own unique stories, their own personal feelings and their own individual thoughts.
In our sanctuary today we have 9 cows, 4 goats, 16 sheep, 1 alpaca, 40+ pigs, 3 dogs, 12 cats, and upwards of 100 birds including turkeys, ducks, geese and chickens. In 2018 we rescued a new flock of baby turkeys, Harry Kane the piglet, mother and daughter goat team Terri and Pashley, 4 cats, and many more ducks, chickens and geese.
So Let's Talk Business. How do we survive? To be honest by the skin of our teeth!
As you can imagine the costs of caring for the health and well-being of 200+ animals in any given year, and providing them with food, warmth, veterinary-care and stimulation are huge, and as a registered charity we depend solely on the goodwill of our supporters to make it happen.
We have administrative costs, transport costs, fundraising costs and that is just a start. Our animal food and bedding costs can be as high as £6000 per year, our veterinary fees have reached almost £6000 in a year and that doesn't include emergency vet bills which can sometimes soar to over £2000 at a time on top, our annual large utility bills come to over £4000 and in 2017/18 we spent approximately £16,500 on building much needed fencing, improving our infrastructure, and upgrading the animal shelters, in 2018/19 we are set to have spent a similar amount if not more and there is still SO much more to be done.
For any of you who have visited the site you will be well aware that at 25 years old much of our original infrastructure greatly needs a huge overhaul, we have a huge ongoing fencing project, and most of our animal shelters urgently need upgrading too. 
We need to provide our animals with the very best. We want them warm, comfortable, happy, stimulated, healthy, and free to roam where possible, and to really give them the life they deserve we really do need your help
How Can I Help?
Truly the best way you can help is to donate to this 25-year anniversary appeal and to tell as many people as you can about our appeal too.
Please donate as generously as you are able, although no amount is too little, and in the spirit of our 25-year anniversary we particularly encourage donations of £2.50, £25, £250 and if anyone feels flush £2,500 (yes we are being cheeky ;)
Please also tell people about our appeal on your social media, email your friends and family with our link and spread the word far and wide. We have a big goal and we need to achieve it!
To add to this if we achieve £5000 by 31st March we have a generous anonymous donor who will match fund with another £5000
We have also planned 7 exciting open days and special events this year to celebrate our 25th anniversary so you can actually come along to the sanctuary to meet our beautiful animals and to experience for yourself just how magical and beautiful Friend Farm Animal Sanctuary really is. We can't wait to meet you and I'm sure you can't wait to meet them.  Visit
www.friendfarmanimalsanctuary.org/visit
 to find out more.  
THANK YOU !
+ Read More