2.8k
80
Augustine
€85,970
of €100,000 goal
Raised by
2,781
people in 10 months
*****Please scroll down to view in English.....
La semaine dernière j'ai reçu une terrible nouvelle de ma cousine.
Sa petite fille de 4 ans Augustine vient d'être diagnostiqué du gliome infiltrant du tronc cérébral, un incurable cancer du cerveau


Nous sommes sous le choc !
Nous ne comprenons comment ça peut nous arriver !
Elle se plaignait de voir trouble depuis quelques semaines et avait des problèmes d'équilibre.
Ils l'ont donc emmené chez le docteur.
(le 3 août 2018) ils découvrent une cellule cancéreuse dans son cerveau appelé le GITC (gliome infiltrant du tronc cérébral)

Le GITC est un cancer très agressif et très difficile à traiter

Le GITC est la première cause de décès chez les enfants atteints de cancer du cerveau.
Seulement 10% des enfants atteint de GITC survive 2 ans après la découverte de la tumeur, et moins de 1% survive pendant 5ans.
La moyenne de survie est de 9 mois après diagnostique.


Les Avancées médicales ces 40 dernières années on fait d'énormes progrès en matière de traitement de cancer enfantins.
Malheureusement pas pour ce type de cancer.


Le trop peu de progrès en matière de recherche sur le GITC et le manque de fonds font que le traitement de ce type de cancer n'avance pas. 

 
Un enfant diagnostiqué du GITC aujourd'hui fait face au même sort qu'un enfant atteint du même cancer 40 ans auparavant.
Il n'y a à ce jour aucun traitement efficace et aucune chance de survie


Après découverte du trop peu d'options (voir aucune) de traitement, ma famille est dans une tristesse profonde
Nous ne comprenons pas pourquoi il n'a a pas plus d'aides dans le traitement de ce type de maladie.

Comprenez la tristesse que nous avons en ce jour de savoir que même avec un traitement, Augustine ne survivra malheureusement pas a ce terrible cancer
Seul un miracle peut la sauver !
     
Après avoir posté sur Facebook notre situation, nous avons reçu plusieurs messages de différentes familles qui malheureusement se battent contre la même maladie.
3 cas dans la même région qu'Augustine !
Après avoir parlé à ces familles touchées elles aussi par ce problème, nous nous sommes rendu compte du manque de communications entre spécialistes.

Nous espérons qu'avec un financement suffisant, nous pourrons donner le traitement nécessaire a ses enfants et serons capable de faire plus de recherches a la matière.
Nous avons besoin des rassembler ces enfants atteints de GITC et les spécialistes traitant ce genre de maladie pour qu'ils puissent enfin trouver des solutions tous ensemble.
Il a tellement a faire encore pour aider nos petits anges!
Nous refusons de perdre espoir!
Nous avons une opportunité de combattre cette horrible maladie et nous avons besoin de toute la solidarité possible dans ce combat.
Nous avons créé cette collecte de fonds pour le traitement d'Augustine dans son combat contre le GITC et aussi aider la recherche contre cette maladie
Svp aidez nous dans ce combat
Merci du fond du cœur!
Quelques mots pour décrire Augustine:
Elle vient juste d'avoir 4ans et malgré la maladie elle respire la vie, toujours souriante et insouciante.
Elle adore s'occuper de sa petite sœur Leontine.
Elle est très créative et adore peindre pendant des heures.
Elle aime aussi beaucoup Wonder Woman au point de passer des journées entières dans son costume.
Si vous avez l'occasion de la rencontrer vous verrez a quel point elle est souriante et aimante.
Un amour de petite fille.

Quelques nouvelles d'Augustine (le 11 Août 2018)
Elle vient de faire une biopsie. Elle a du mal a bouger son bras droit et son pied mais nous restons optimiste. Elle garde le sourire et continue a dessiner pour le moment.
Si vous souhaitez avoir plus de nouvelles d'Augustine dans son combat contre la maladie
Allez sur notre page Facebook: 
https://www.facebook.com/Association-Wonder-Augustine-410911819315826/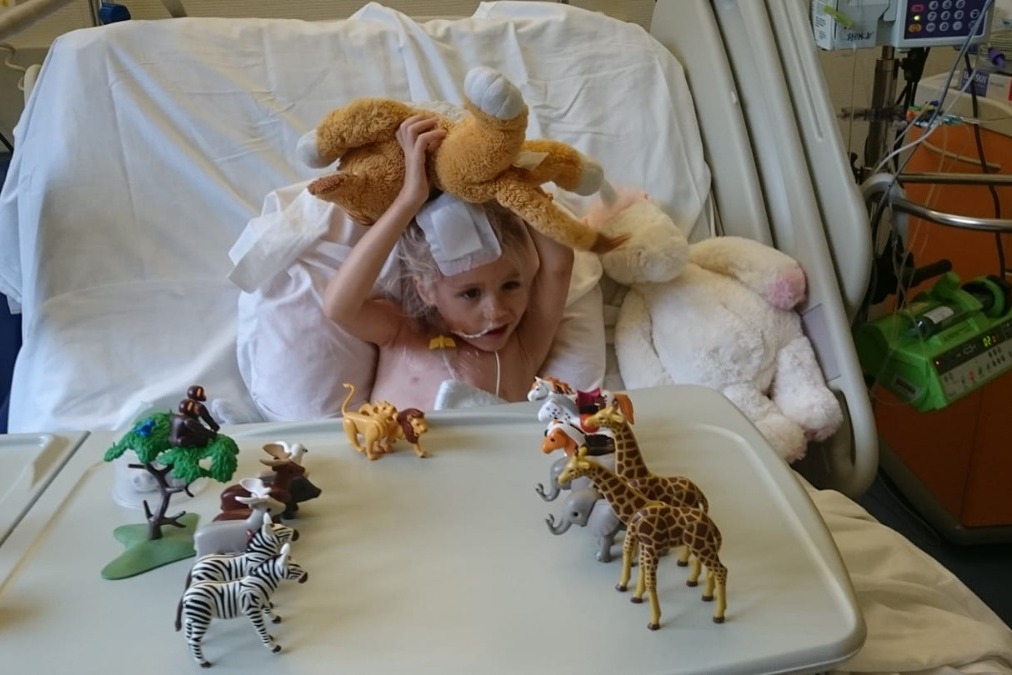 Qu'est ce que le GITC?
 
Le Gliome Infiltrant du Tronc Cérébral affecte les enfants âgés de 5 à 9 ans. La durée de vie moyenne d'un enfant affecté par GITC ne surpasse pas 12 mois.
Une chirurgie pour enlever cette tumeur n'est pas possible, ni conseillée.
La chirurgie causerait des dommages cérébraux sévères à travers le tronc cérébral et une mort accélérée.
Voilà la troublante vérité derrière GITC.
La vraie tragédie c'est les jeunes vies que cette maladie enlève en si peu de temps.
Cette maladie laisse dans le deuil des parents avec le cœur brisé, qui ne comprennent pas pourquoi cela vient de se produire à leur bébé
*****(ENGLISH)
Last week my cousin called with some devastating news.
Sweet Augustine her 4 year old daughter has just been diagnosed with Diffuse Intrinsic Pontine Glioma (DIPG) an incurable brain cancer.
We were shocked!
We couldn't understand how this was possible!
She explained that it started with an eye twitch a couple weeks ago and Augustine told her Mom that she couldn't see too well.
They took her to a specialist.
(On August 3rd of 2018) they discovered the cancer growing in her brain called Diffuse intrinsic pontine gliomas (DIPG). 
In case you are not familiar, (DIPG) is a highly aggressive and difficult to treat type of brain cancer.
DIPG is the leading cause of death from pediatric brain tumors.
Only 10% of children with DIPG survive for 2 years following their diagnosis, and less than 1% survive for 5 years.
The median survival time is 9 months from diagnosis.


Medical advances in the past 40 years have greatly improved the survival rates for children diagnosed with most types of cancer.
Unfortunately not for Children diagnosed with DIPG. 
Little advancement has been made with DIPG and the funding for research has been severely severed.
A child diagnosed with DIPG today faces the same prognosis as a child diagnosed 40 years ago. There is still no effective treatment and no chance of survival.

After learning about the options of treatment (or lack of) our whole family is devastated.
We don't understand how little has been done to help children fight this disease. 

My family is devastated by that news because there no chance of survival even with treatment for a little Augustine


Only a Miracle can save her!


After posting about our situation on Facebook we started receiving messages from several families who are unfortunately fighting this same battle.
3 even in Augustine's own region!
The more we have been communicating with the other families the more we realize there has been a lack of communication from the doctors in our community on how to fight this disease.
We believe with the right amount of funding we can get the children the treatment they need and also be able to do more research.
We need to bring together the children diagnosed with DIPG and the doctors treating them, so they start communicating on how to fight this horrific disease. 

There's still so much we can do to help our little angels! 


We refuse to give up hope!
We have seen an opportunity to fight this horrific disease and we need all the support we can get in this battle. 
We are asking for donations to help for the treatment and research of DIPG and help future children who may be diagnosed with DIPG. 

I wanna raise money for little Augustine and those fighting DIPG so they have a fighting chance. 
Please help us in this battle. 
Thank you from the bottom of my heart!


A little about Augustine 
She is like any carefree four-year-old.
She loves to play with her dolls and her little sister Leontine.
She loves to paint.
She can sit for hours drawing and creating art.
She is so creative!
She is obsessed with Wonder Woman and she still wears her costume quite often.
If you ever have a chance to meet her she will make you smile, her laugh is contagious too.
She is such a joy! A true sweetheart!


Update on Augustine as of 08/11/2018:
 She has been in the hospital undergoing several biopsies.
Her right hand and foot have been having trouble but she is still optimistic.
She still has a smile on her face and she continues to draw and create her art. 
Please follow her facebook group for real time updates on Augustine:
https://www.facebook.com/Association-Wonder-Augustine-410911819315826/
What is DIPG?
Diffuse Intrinsic Pontine Gliomas is a cancerous pediatric brain tumor located in the middle of the brain.
This is no typical cancer.
This is the WORST brain tumor in existence.
DIPG is very aggressive, inoperable, and incurable.
It takes away the ability to walk, talk, breathe, swallow, survive.
In the end, children are locked in and all physical abilities are gone, but the tumor does not affect the part of the brain that produces our cognitive abilities, so the child is 100% sane, alert, and mentally aware of the torment while they progress.
Most pass within 9 months.
There is no cure due to lack of funding, research, or concern from our government.
This is why we raise awareness!

      

+ Read More