#22HeroestoZero Help us Combat PTSD
$1,854
of $220k goal
Raised by
51
people in 5 months
Coffee Vets
on behalf of Coffee Vets
BURKE, VA
22 Heroes to Zero
is a Human Crowdfunding Campaign to
Combat PTSD.
War doesn't end on the battlefield.
It's a tragic fact that 20 plus veterans take their own life everyday due to PTSD. Our brave men & women have experienced things that we couldn't begin to imagine. We are Coffee Vets, and we launched the 22 Heroes to Zero campaign to combat PTSD. With your help, we will raise money to help veterans with PTSD get the medical care they need, and bring the number 22 down to zero.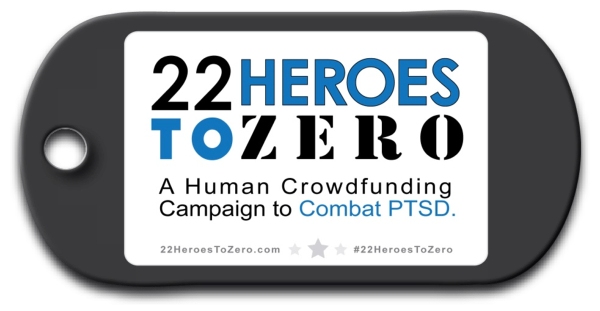 The
22 Heroes to Zero Campaign
will assist in generating
hope
for an illness that is often misunderstood and stigmatized.
Our mission
is to raise money for 22 organizations on the frontlines fighting PTSD, to encourage veterans with PTSD to seek help, to let our heroes know they do not have to struggle with this illness alone, and to humanize those who are dealing with PTSD.
"In the next few months, our mission is to raise money and awareness to help American's Veterans battle this staggering illness and to help them find the best care possible," said Kip Nicely, Campaign Chair and President of Coffee Vets. "As a Veteran myself, we are proud to sponsor a campaign that will help generate hope and financial assistance for PTSD – an illness that is difficult to accept and is often overlooked. One hundred percent of the net profits will go to 22 of our nation's organizations that are dedicated to helping veterans overcome and survive this devastating illness."
Our goal is to raise $220,000
by December 31st.
100% of the net profits
of the sponsor organization, Coffee Vets, go to organizations that are working to end PTSD.
22 organizations that this campaign will give to:
PTSD Foundation of America
Veterans Moving Forward
Paws for Purple Heart
Home Base
Military with PTSD
Hearts of Valor Retreats
Operation Restored Warrior
Team Overland
The Warrior Connection
Vets Journey Home
Brady Oberg Legacy Foundation
Boulder Crest Retreat
Semper K9
Lone Survivor Foundation
Operation: Warrior's Path
Veterans Stress Project
PTSD Chat
The Pathway Home
Fairways for Warriors
Purple Heart Service Foundation
Veterans of Foreign Wars (VFW)
The American Legion
Why do we give to so many organizations?
Because we understand that there are many ways to fight PTSD, and all the organizations we support are already on the front lines of the battle with PTSD!
Always remember ... it's heroic to seek help! It's our duty to help those who are suffering with PTSD. They've fought for us and it's time we fight for them.
Here's how you can help-
Every person who donates between $5-9 will receive a customized thank you video from the 22 Heroes team
Every person who donates $10 or above, you will receive a customized '22 Heroes to Zero'  dog tag.
If you donate $22 or more you will receive a COFFEE VETS bag of coffee and a customized '22 Heroes to Zero'  dog tag.
(Please allow up to 3 weeks for delivery) 
Listen to real life stories:
2 Heroes To Zero - Story: #1 Brady Oberg Story  -
22 Heroes to Zero - Story: #2 Pastor Corey -
Please spread the word and encourage others to join COFFEE VETS & 22 Heroes to Zero in our mission to help veterans suffering from PTSD to live a better life!
www.22HeroesToZero.com
#22HeroesToZero
Sponsored by:
Coffee Vets
+ Read More
Update 1
Posted by Coffee Vets
4 months ago
Share
We hope everyone had a wonderful Christmas!
We wanted to thank all of you who have donated and helped 22 Heroes to Zero & Coffee Vets in our mission to help Veterans who are suffering with #PTSD. Please remember that the season of giving is not over... Please share with your friends to help us spread the word.
We really appreciate your support.
https://www.gofundme.com/22heroestozero
+ Read More
Be the first to leave a comment on this campaign.