Emily's College Campaign
$26,321
of $30,000 goal
Raised by
498
people in 37 months
Hello family, friends, strangers, anyone finding themselves to read this post! My name is Emily Stutz, I am 18 years old and I am currently a high school senior at Lowell High. Like many of my other classmates it is coming time for me to choose a college to attend in the fall. May 1st, commitment day, is just around the corner. However, unlike most other students, I still have no clue what school I will attend next year. Let me give you a background on myself and why I have still yet to choose:

All throughout high school I have maintained a high GPA, ranging from 4.0-4.5 the past 4 years. I jumped at every volunteer opportunity I was offered, and joined every club that interested me. I've also worked 3 part time jobs throughout high school, always working at least 2 at a time. When it came time to apply to college I felt as though I would be all set to get in and go to any school, that is what everyone told me. I always worried about money but I was assured by many people to not give up on my dreams and with my grades & after financial aid, I would be fine. They were wrong about the financial part. I got accepted to all of my schools and I was so excited. I pictured myself at the school of my dreams studying psychology on the pre-medical track, working my way to med school. All this got shut down once I received my financial aid packages. I was fortunate enough to receive around the most money possible in merit, ranging from $11,000-$18,000 per different schools, but that was it. I received no additional financial aid. While I was extremely thankful and appreciative of the merit money awarded, at $50,000+, all of my schools are unattainable. I applied to state schools as well but they do not offer merit so they all cost me around $20,000 since no financial aid money was awarded. Now what most other students are doing is taking out loans, what everyone who goes to college does! In my situation, this is not an option. My parents have had immense financial struggles and simply cannot come up with $20,000-$30,000 a year, nor are they able to cosign a loan for me. I have no other adults in my life who are able to cosign and I am at a loss. I see my dream of becoming a doctor slip further and further away as the days pass by so I've decided I am going to do whatever it will take to get myself to college.

We've all seen the panhandlers, giving us long faces as we awkwardly sit at red lights waiting for the light to change. I've read so many stories about these people and countless times when they are told to get a job, they respond they make more standing there so why should they? So I'm going to try it! If people will give to the "homeless" panhandlers then maybe they will consider sparing a dollar or some change to an aspiring doctor who has all the academic, but no financial means to attend college. Anything helps at this point! So, as a little social experiment it is time for me to see if the people in my community are willing to help me out like they help out the other panhandlers. As an old Tanzanian proverb says, "Little by little, a little becomes a lot."
+ Read More
Update 2
37 months ago
Share
Wow. Just wow, that's what comes to my mind when I think about the past week.

I definitely never even dreamed that my story would take off the way it did, it is truly crazy. I cannot say thank you enough to everybody out there who has taken the time to reach out to me, help promote my cause, stand up for what I stand for and everything in between. The support I have received these past few days is simply amazing and I can't even express the gratitude I have for every single person who has shown me support, so here is another thank you!!

My story first made local news, then national and even international… I am still in shock. I've been contacted by countless radio stations, news reporters, talk shows, student newspapers and so much more. ABC News, Cosmopolitan, Today Show, Drudge Report- and that's just to name a few. When I had this idea to go out there I never thought people would even donate, nevermind show me this amount of support!

I knew what I was doing was controversial and everyone wasn't going to support it and I've been totally okay with that. However the response back was very surprising. While I mostly received support and love, from all over the world, the most hate has come from a handful of people in my home city. Wouldn't it be better to help find solutions to a national problem rather than attack one person for shedding light on it? Surprised me, but at the end of the day for every negative comment I received I got 20+ positive, so negative comments haven't been that hard to tune out!

In standing out there, my main motive was to promote the awareness of the skyrocketing costs of college and the huge financial burden placed on students and families. It is such a huge issue and I want to draw attention to the fact that there are SO many people in my situation and I am not alone. In doing what I did, I hope that our politicians- both nationally and locally can do something about it. There are students out there forced between submerging themselves in an astronomical amount of debt to attend school or not to go at all. And the students who are forced to pay these ridiculous prices often graduate in an insane amount of debt and sometimes cannot even find work with their degree. Quite frankly, they are being exploited.

I decided to take action by merging two very hot topics- the price of college and panhandling. My venture ended up getting me way more money in donations than I would have ever expected. Over $23,000 on the Go Fund Me and over $600 panhandling. Overall, I hope that people see the big picture of my actions and pressure our politicians to be proactive, take action, and find solutions to these problems because a few short years back when a debt crisis was ignored, the country almost found itself in financial ruin.

This whole situation has been extremely stressful for my family, but eye opening as well. We heard from so many people who shared their stories with us. We're being cheered on from people all over the world and that is just truly amazing. Now it's time for my family and I to go back to our normal lives! We are now all done with publicity and we are getting back into our normal routines. Our lives have truly been changed, and for that I cannot say thank you enough. This is something I will never forget and the fact that I have almost 2 years of college now paid for is something I will be eternally grateful for.

One day, when I am financially stable and working as a psychiatrist I will offer a scholarship for the total amount of money I end up receiving, to give back to future students. As of right now that number is $24,102 but the number keeps changing so it might be more! Giving that scholarship will mean so much to me and I can't wait for the day I am able to hand it to a student who's just like me.

THANK YOU TO EVERYONE!!!!!!

+ Read More
Update 1
37 months ago
Share
Well it's been a little over a day since I've posted my story about college funding and I cannot even begin to thank all my friends, family and others who have contributed/taken the time to read and share my story. Thank you is not enough. My first day outside Target was extremely successful! I've received amazing feedback from everyone passing by and almost everyone was thrilled to see me instead of the usual people outside Target. I'll be back at it again tomorrow!! Again THANK YOU to everyone who has taken the time to look at my situation. I am beyond grateful for everyone and I truly cannot express my gratitude!!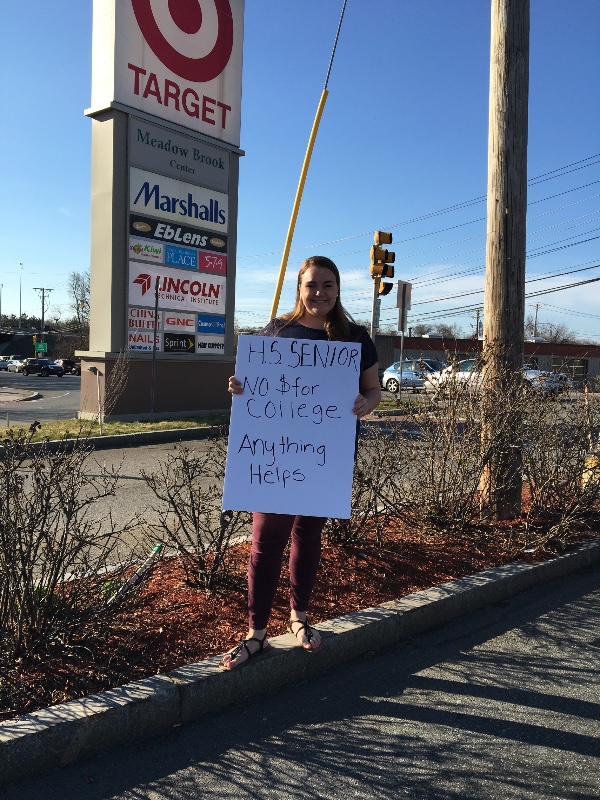 + Read More
Read a Previous Update