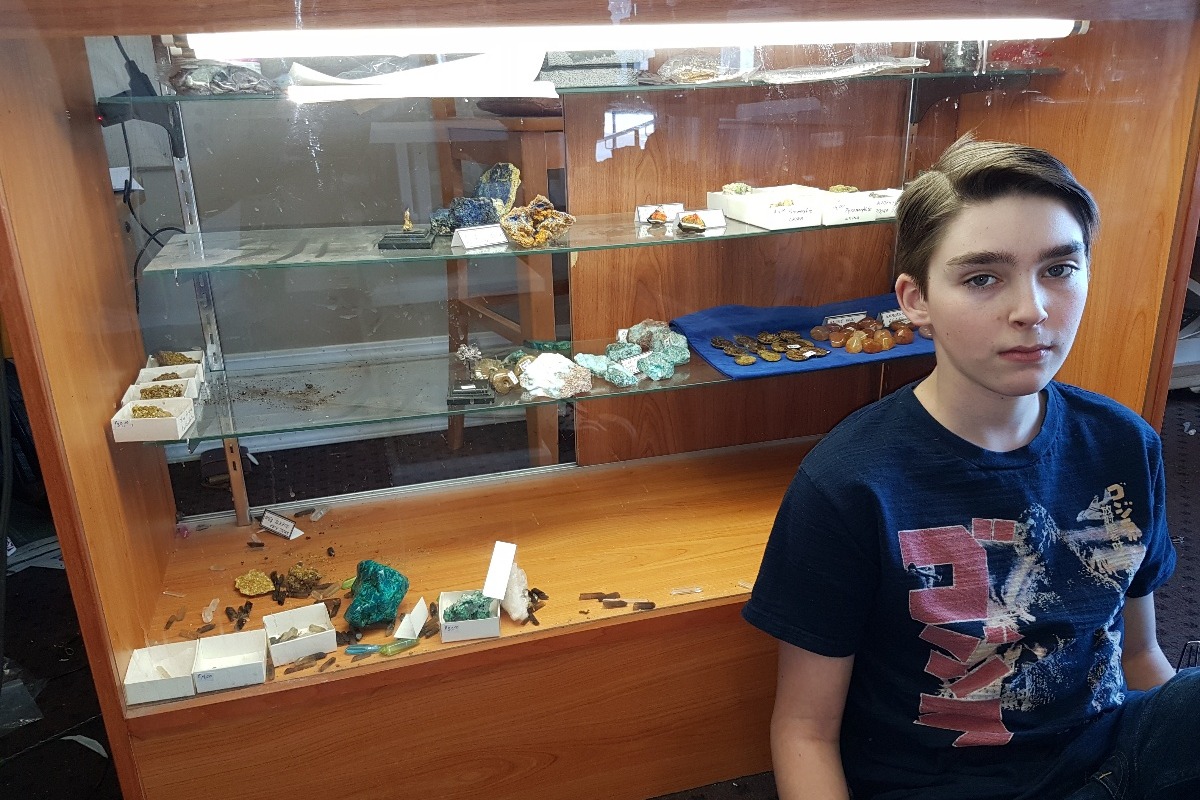 146
5
13 year old vows to stay open
$10,049
of $4,000 goal
Raised by
137
people in 14 months
13-year-old vows to keep Radisson rock museum open, even after looting
Thirteen-year-old Judah Tyreman knew something was wrong when he showed up to his museum and rock shop on Sunday morning.
Jewlery was strewn on the sidewalk, a clue that someone had taken goods he's painstakingly collected over the past two years.
"I knew that as soon as I saw the jewlery, someone had looted the shop," Judah said, noting one-of-a-kind treasures like green calcite and ocean jasper were among the things taken.
He and his family estimate the thief or thieves stole between $6,000 to $8,000 worth of goods.
"It's kind of saddening."
Judah and his sister Avi opened Sesula Mineral and Gem Museum and Rock Shop in 2016 in the small town of Radisson, about 60 kilometres northwest of Saskatoon.
Judah's spent the last two years doing odd jobs and selling specialty jewelry in order to buy more for his collection and pay rent for the museum facility.  
"He really worked at it, I mean the kid mowed lawns; he did whatever is necessary," said his father, Chris Tyreman. "Anything he sells in the museum, he keeps collecting and selling more."
http://www.cbc.ca/beta/news/canada/saskatoon/judah-tyreman-launches-radisson-rock-museum-1.3651518
https://globalnews.ca/news/3601627/boy-manager-rock-museum-radisson/
http://ccgazette.ca/tag/judah-tyreman/
Tyreman noted that Judah has had some trouble with the museum before, as highway signs advertising the museum had been stolen and vandalized in the past.  
The latest theft also seemed like an attack on his son, he felt, based on the things that were taken.
"It was obviously not to steal valuables, but to steal what they thought was valuable to Jude," he said. "It's so petty; it's sad."
Tyreman said the family was relieved that more valuable goods, like a velociraptor skeleton and a jade horse that were in the back, were left untouched. The crime was reported, and Tyreman said RCMP was investigating the theft.
While Judah said he felt struck by the loss, he has no plans to shut down the museum. Many people have told him how amazing they find the place, with a five out of five star rating for the incredible collection found "in the middle of nowhere," as Tyreman describes it.
Judah has already opened his museum again, and will rebuild his collection one way or another.
"If I could get the ones that were stolen back, that would be great. If I honestly can't, then I'll just have to get some new ones," he said.
"We're just going to put it back together and make it great again."
Since the attack, people are beginning to rally around Judah, and so we are opening this go fund me page to help him get back a little of what was stolen.  Its his birthday in ten days, and it would be such a gift!
+ Read More