#100BOOKS project
$4,182
of $5,000 goal
Raised by
62
people in 34 months
The #100BOOKSproject is committed to improving education in remote and disadvantaged communities. We do this by starting libraries and providing books to schools in remote areas, and by helping to provide teachers with safe and comfortable housing so they will stay in these remote areas giving children consistent education. We currently have projects in Raja Ampat, West Papua and in Flores/Komodo.
You can read more about the project and it's progress on our facebook page , or on the website.


***NEW PROJECT***

Ocean Pollution Awareness for Remote Indonesian Villages



Ocean Warriors Plastic in Paradise tells a story of siblings, Petrus and Novi.  Born in a remote fishing village in the Indonesian Archipelago of Raja Ampat, Petrus and Novi grow up fishing from traditional wooden canoes and exploring near by islands and beaches.  One such adventure takes the brother and sister duo, and their friend, Tateruga the Turtle, to a manta point where they free dive with the graceful creatures.  When they realise Tateruga is missing they go in search for him only to find him choking on a plastic bag he mistakenly ingested while feeding on seagrass.

The children remove the debris from Tateruga's throat, saving his life.  Needless to say, the incident leaves the children shaken and more aware than ever of the plastic rubbish that finds its way into the ocean.

The children make their way back to the beach, each lost in their own thoughts after the ordeal.  Looking around them they see that the beach is covered in trash that has washed u pon the shore and they set about cleaning it up.

The story, written for Friendly Drifter, is the first in a series intended to educate local youth of the danger of Marine Pollution as well as providing them with achievable calls to action - in this case, cleaning the beach.



Providing educational materials to children in remote areas that are relevant to the communities in which they live was the major driving force behind writing the book.  Getting these books to those kids is now our mission.

So far, through sponsorship, Friendly Drifter Foundation has distributed 250 Books to children in the remote villages of the Raja Ampat Archipelago.  And now I want to bring the book to Flores/Komodo.

$5 will pay for a book to be printed - let's see if we can print 100!!!

As always, from the bottom of my heart, thank you for you kind donation and your willingness to share this campaign.

What we have achieved so far...

We have started library collections in 2 villages in Raja Ampat (Salio Village and Selpele Village ), and 2 villages in Flores (Bitu Village and Kukusan Village ).    And we built  a house for a teacher!   Scroll through the updates to learn more! Or check out our progress on the website.

How do I spend you money?

OCEAN WARRIORS: Our current project is geared towards getting Ocean Warriors Plastic in Paradise to remote village schools.  $5 will pay for a book to be printed.

LIBRARY  BOOKS AND STATIONARY:  $5-10 will buy a storybook, $30 will buy an encyclopedia and $40 will buy 50 notebooks and pencils for a classroom

TEACHER SUPPORT: $50 will buy 12 cans of fruit and vegetables, 100 teabags, a towel, a sarong and a years supply of toothpaste, toothbrushes and soap

* * * * *

This all started in Salio Village

Salio Village is a small community on an island in Western Waigeo, Raja Ampat. The primary industry on the island is fishing.  The villagers fish and grow their own vegetables to feed themselves and to trade. 

There are no roads on the island and no shops.  The locals here are unfamiliar with many of the modern conveniences that we grew up with.  Even things like running water and power are new developments on the island. 
Homes are basic, and life is simple.
But it's not easy.
The children who grow up in Sileo village and other similar fishing communities in this area don't have the same educational opportunities that we take for granted in the western world. The school on the island is small and basic.  It has several classrooms and a hard, dirt sporting field where the students can play volley ball or kick a soccer ball around during their break times. Beyond this, the facilities are extremely limited.  One resource that they are severely lacking is books.  As a result, the literacy rate on the island is very poor.  
I want to get this school some books!
$500 will buy 100 books!!!  more money means more books!!!

*** This project is ongoing and I'm always accepting donations of books.  If you make a cash donation $5 will be a storybook, $30 will buy an encyclopedia and $40 will buy 50 notebooks and pencils for a classroom***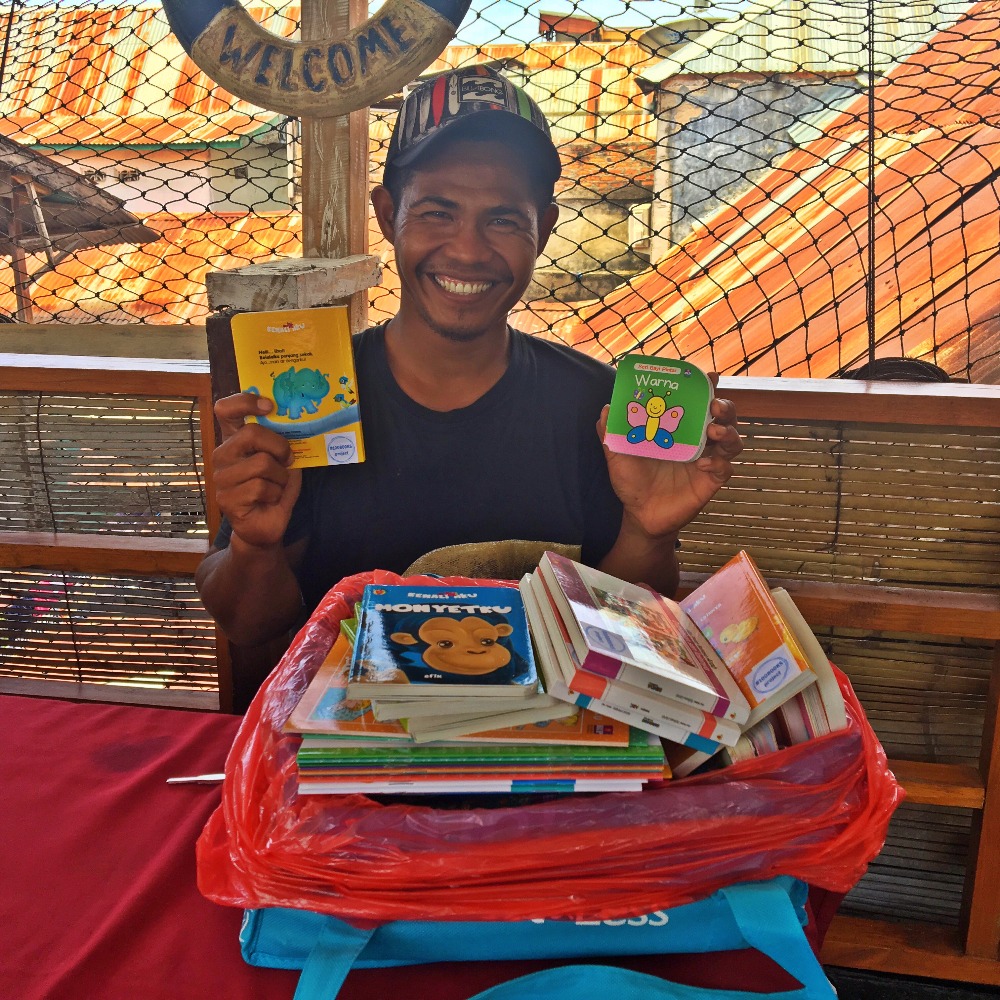 We built a house for a teacher

The new teachers house:


The teachers house, before:


The story behind this project:

On Monday we visited local village, Hamlet Kukusan.

Kukusan is a fairly typical Indonesian fishing village. Home to 70 families it is set on the foot of an island shaped like an anthill.

Fishing boats moor in the turquoise lagoon and children play on the jetty. Salted fish dries in the sun, and laundry hangs from ropes strung up between houses.

And on top of the hill, overlooking the ocean, is a small school.

50 students attend the elementary school on Kukusan, all of whom a taught by a single teacher who does her job for 300,000 Rp a month.

30 dollars.

During my visit to the island Ibu Fitri showed me her home - a bamboo shack that is barely standing. The roof is not rainproof and the floor has so many holes in it that if you're not careful where you step you will fall right through it.



Her meals are provided in her contract, but all her other needs she must tend to herself. As you can imagine, this is not easy on 30 dollars a month.

She has no bed, no mattress. She has not crockery or cutlery. She has nothing.

I asked her if she could leave and she told me that more than 10 teachers had passed through the school in the past year, none of them staying because the conditions are so bed.

She has been there for 3 months. I imagine she will stay a while longer because the boat to her home town of Bima is too expensive for her to pay.

When I asked her what I could do to help her she said the children need books. She told me that the school is being eaten by termites and needs to be refurbished.

What about a mattress? I asked her. Or a stove or a plate?

She covered her face with her hijab and her eyes glassed over and then grabbed my arm because I think she wanted to hug me and didn't know how.

I am at home. It is pouring with rain right now. The water is running in rivulets in front of my house, digging deep creases into the sand. The sea is angry and wild. The wind is howling and the thunder is making my walls shake.

It is almost unbearable knowing that she is across the sea - on an island far from home, away from her family, away from her daughter, to give these local children an education and provide for her own child - with nowhere dry to sleep.

I am opening up the #100BOOKS project donations page hoping to get support to provide safe and comfortable housing for teachers in remote villages. Without teachers there is no education. If you would like to donate and want your donations to go towards a teacher instead of books, please write a comment with your donation.

*** we have finished the teachers house but it you would like to make a donation to go towards a support package for a teacher $50 will buy 12 cans of fruit and vegetables, 100 teabags, a towel, a sarong and a years supply of toothpaste, toothbrushes and soap***

THANK YOU SO MUCH FOR TAKING TIME TO READ ABOUT THE WORK WE ARE DOING IN INDONESIA.  YOUR TIME IS VERY MUCH APPRECIATED.
+ Read More
Be the first to leave a comment on this campaign.