Rest In Peace, Jeremy Stone
$10,395
of $15,000 goal
Raised by
179
people in 38 months
(Disclaimer: This campaign was created in February of 2016 as a fundraiser to help Jeremy Stone of Columbus, Ohio to receive donations for his Chemo Therapy and other Cancer Treatment medical bills. Great support from his friends, family, old aquantances, and even well-wishing strangers were just the angels he needed during his heath crisis.. All of those hearts of gold really made the last few final months of Jeremy's Life feel very special to him, where as a different stuggling patient would feel bitter or cursed. That was not Jeremy Stone, though. He was stoic and humble, and dealt with his situation with the best attitude possible. The love and generosity shown to him throug this campaign made his swfit, decline and ultimate succumbing to mortality from Cancerand it's inevitable consequences of the multiple treatments he braved through much less stressful for him, because he mentioned many times that he followed everyone's heartwarming messages, and was overjoyed by how much people had been so gracious enough to donate to him in such a short amout of time. How the story discribing his situation in the campaingn as well as the recurring, loving, suportive comments by everyone who messaged him, and the optimistic status updates andvertizing his strong influencial additude and positive bravery were sou touching to him, he cried tears of joy and said that he felt better self esteem and respect in the last few months that he felt when he was in the Navy, which was a cherished chapter of his life. Jeremy was young, only in his 20s, and we, the "remainders" living with the grief, will be morose and hurting for losing his Jeremy's presence in our lives on Earth, But I can say with the utmost honesty that Jeremy Stone died a very happy, very loved (and aware of it, too) and he had a great supportive family, fiancee, and you ladies and gents who clicked onto this fundraiser's likn were all the greatest friends he needed. He mentioned that people he hadn't seen in years, such as old bosses an co-workers even reached out to brighten his days.
If anyone feels guilty or upset to the point where you wish you could have done more, or have been closer and more involved. That's typical sad mourning and grif, and I'm sure Jeremy would prefer anything but that. I can guarantee based on Jeremy's own correspondence with me over the past few months, that he was overjoyed and beyond at peace with the wonderful people who touched his life and no doubt left a mark on our lives, as well. The Cancer may have taken our friend from us, but he didn't let the Cancer take him away from his usual, rewarding feeling of joy and overwhelming love as he left us in a finally sleep, where he drifted off into our memories, where he will always live and he will always be there to touch our hearts. RIP, Jeremy. You won't want us to be sad, so I will only let your influence radiate like the sunshine, and I will smile. Goodbye, Pal.)
[ORIGINAL CAMPAIGN DETAILS]
A young gentlemen, and Navy Veteran, that I used to go to college with became friends with and stayed in touch with ever since is fighting the biggest battle of his life right now. The fight against CANCER. His name is Jeremy Stone, and he is only 26 years old. The horror that he and his loved ones are dealing with are a living Hell. Jeremy is facing a devastating menace of a struggle right now, and there is no doubt that he will be dealing with its effects for many months and years to come.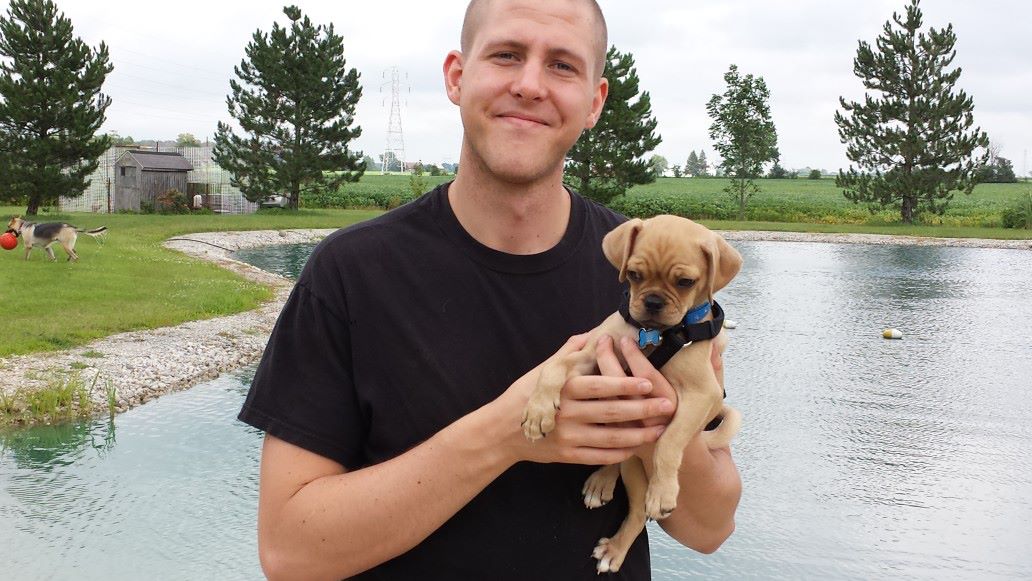 The wonderful quality about Jeremy Stone is that it has always been in his nature to put other people ahead of himself, stepping up to the task of helping a fellow in need without even a thought of himself. His selflessness is so strong, that even in the face of liver and esophogeal cancer as well as the high medical debt awaiting him that continues still to grow with each passing day, he doesn't know how to ask for help for himself, even thought he is in the midst of a fight that he can't possibly go through alone. Knowing how hard it is for poor Jeremy to accept that he need's the help and support of others, I am reaching out in an attempt to protect my inspirational pal's dignitity and ask for the support he needs and deserves. Let's all give back to Jeremy Stone, who gave so much to his community and his country.
[Jeremy Stone & The USS Providence]
HERE IS JEREMY'S STORY
Jeremy Stone was born in May 22, 1989. He will turn 27 this year.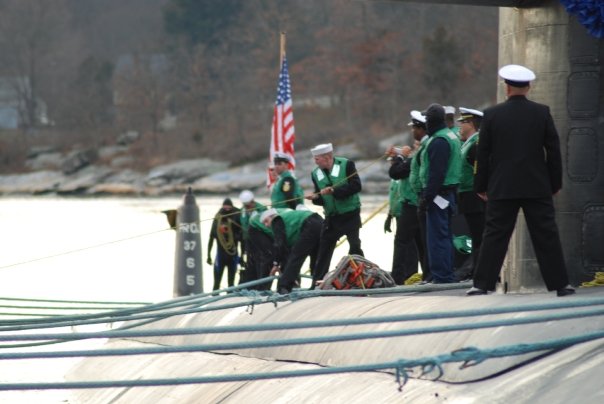 Jeremy served in the United States Navy on the USS Providence. He served in Groton, CT. He was assigned the position of storekeeper (now logistics specialist).
[This Picture Was Taken Of JEREMY STONE On November 16, 2015, While His Condition Was Still Unknown, And Lab Tests Were Being Collected & Studied]
On November 13, 2015, Jeremy was admitted to the emergency room due to prolonged pneumonia, pancreatitus, and dehydration. After three days of tests, including X-Rays, CT Scans, MRI's, an oral scope of his stomach, and a liver biopsy, the dreadful news was received. Jeremy, only 26 years old, was diagnosed with esophageal cancer and stage 4 liver cancer. Almost imediately after the diagnosis, Jeremy had to undergo a surgery which was installation of of a chemo port into his jugular vein.
Since then he has undergone a whopping 7 Chemo treatments. Each one has made him weaker, but his optimism and his continuous choice to smile instead of wallow in pity, as well as the love for his fiance and family who have stayed right beside him every minute has kept him and everyone who worries about him in good spirits. He has been inspiring everyone that a positive attitude in the face of the seemingly unbareable hardships that life throws ones way may not make the problem go away, but it makes a life-affirming statement that no matter how bad things get, a great attitude and optimism are the best outlook. That's also his way of putting his family and friends' worries to rest. That's Jeremy putting others needs above himself, even from a hospital bed and the faint breath of Death breathing down his neck.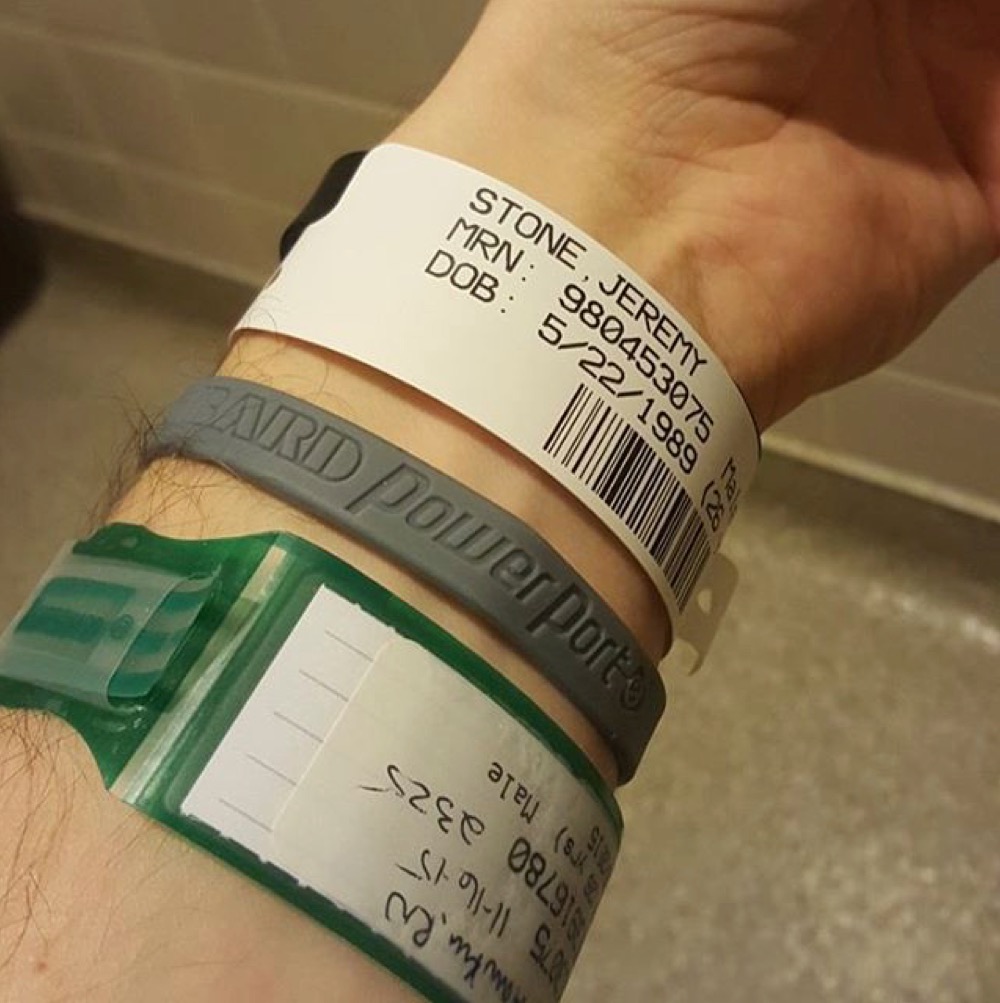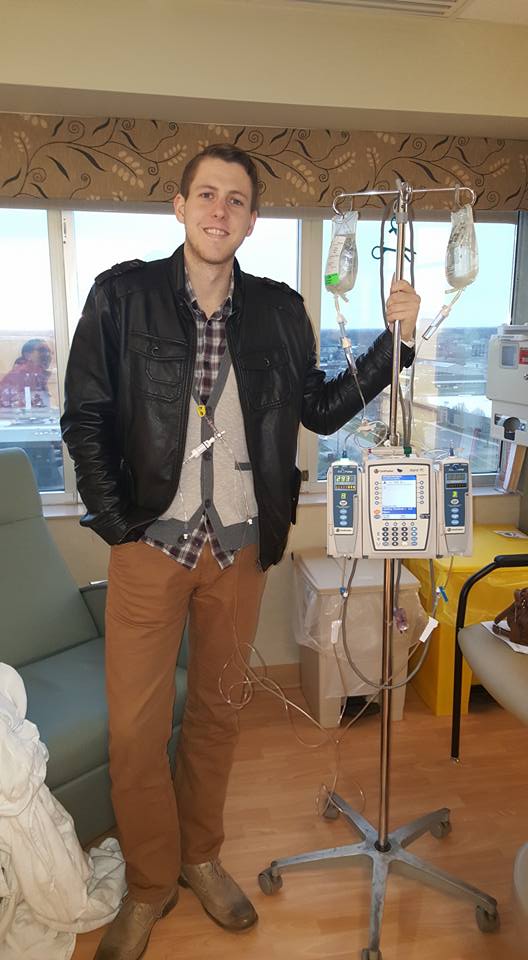 [This Picture Was Taken On December 9th, 2015. Jeremy Had Undergone His First Chemo Treatment In Late November. This Picture Was Taken On The Day Of His Second Round Of Chemo}
[DECEMBER 22, 2015: Jeremy Is Receiving His Third Round Of Chemo, But Insists On Putting Up A Brave Front And Smile, Even Though Each Treatment Makes Him Weaker And Suffer More Pain]
[JANUARY 20, 2016: This Is Of His Fifth Chemo Treatment. Some Decently Good News Was Received That Day: The Cancer On His Liver Had Reduced, And His Esophagus Was Responding Well To His Medication.  Although Good News, He Was Not Out Of Harm's Way, Yet]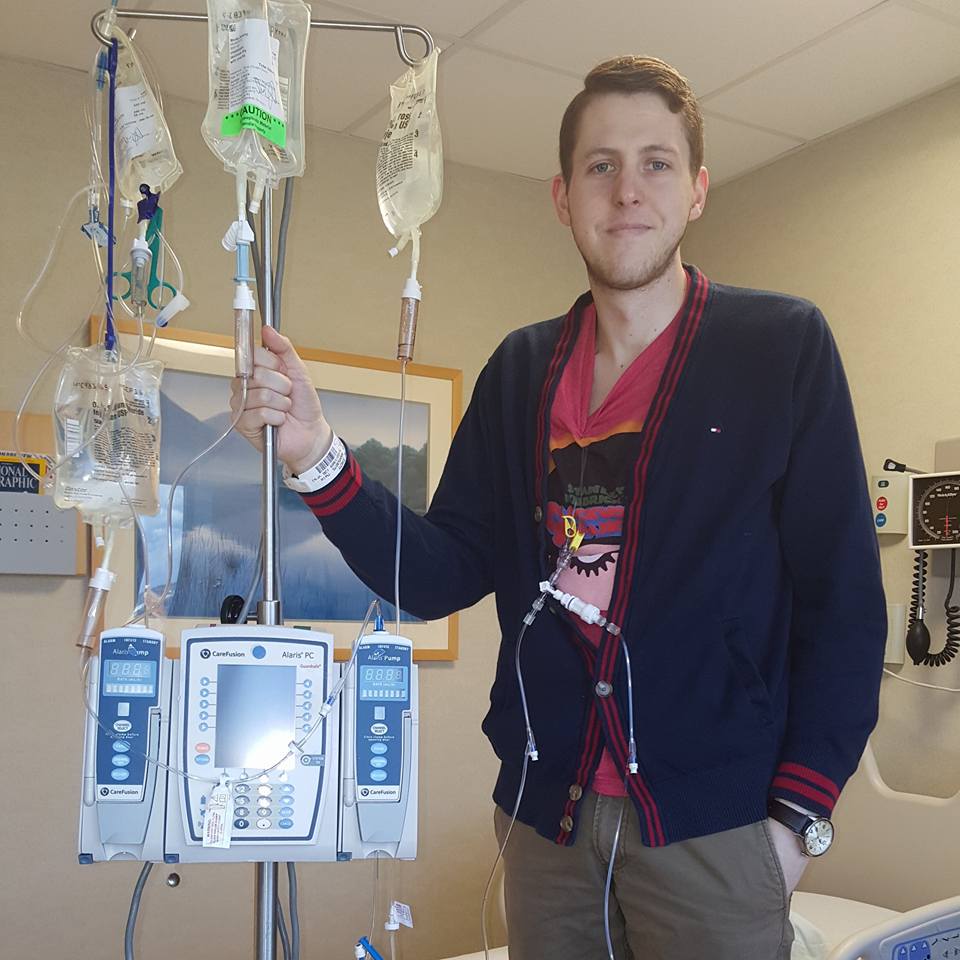 [FEBRUARY 3RD, 2016: Round 6 of Chemo. This sixth treatment was really rough on him, and he was still feeling sick from the fifth treatment when they began the 6th. He still put on a brave front for his loved ones, even though he was in agony.]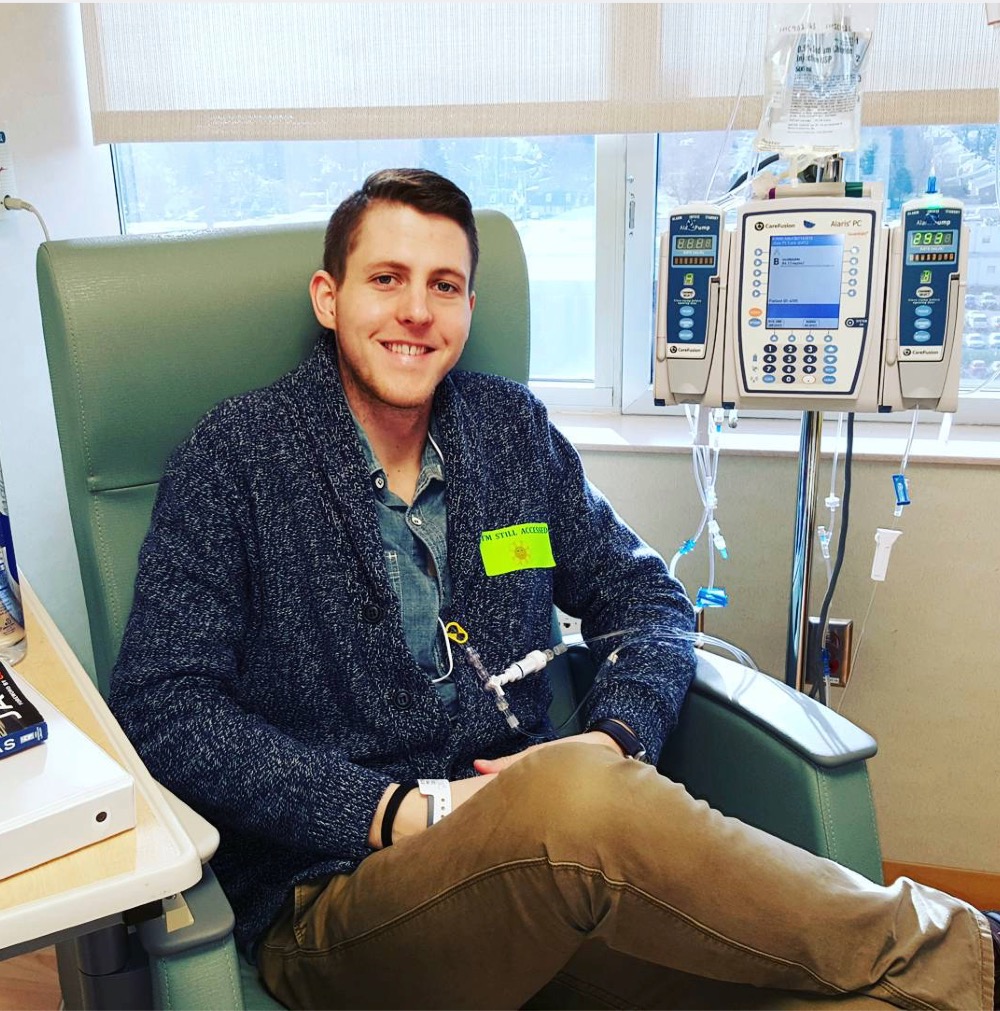 [FEBRUARY 17th, 2016: Chemo Round 7; He Knows In His Heart That It Will Be Over Some Day, Just Not Today. This Was His Latest Chemo Treatment. That Doesn't Mean Another One Is Too Far Off]
[Jeremy & His Fiance, Jenah Wandell - This Photo Was Taken On November 17th, 2015 Before The Liver Cancer and Esophageal Cancer Were Confirmed. He Had Been Severely Sick, But Doctor's Still Weren't Sure.]
In January of 2016, Jeremy suffered another blow. He lost his work-paid insurance and the cost of his new insurance quadrupled. It's cost of month-to-month is what's causing Jeremy to fall deeper and deeper into debt. Life-or-death illness and financial debt are two wicked struggles to face individually, but Jeremy Stone, the most undeserving person I can think of in this world to be going through either one of those difficulties has the unlucky curse of having to face both concurrently.
Cancer isn't biased, though, and neither is it's financial, physical, and emotional aftermath.
Jeremy has revealead that his mounting medical bills are in the tens of thousands of dollars at the moment, and he was hesitant to reveal an exact amount. For this GoFundMe account, I've chosen to make $70,000 the goal to reach. He may require more than that though, and the total he owes does climb higher each day and month.
My name is Ryan Nijakowski, and I am the one organizing this funraiser. Everything this account earns goes right to Jeremy Stone for the purpose of paying his medical debt and give him some relief in what is the most horrifying experience of his life.
Jeremy Stone is a Navy Veteran. He's only 26 years old. His fiance and his family as well as his friends are in fear while he somehow manages to remain stoic. He still has a lot of life ahead of him, but it shouldn't be a tainted life with medical bills hovering over him. I am asking for a miracle. I want the generous hearts out there to prove to my suffering friend and to myself that there is a silver lining in this troubled world. Please give what you can.
If you have any questions about anything related to Jeremy's health or the fundraiser, please feel free to leave a comment or utilize GoFundMe's contact method. I will respond with the utmost haste.
Peace & Blessings To Each And Every One of You
Join me and pray for an end to Cancer.
Support Jeremy Stone
+ Read More