1.9k
26
Helping Guatemalan Volcano Victims
$97,788
of $100,000 goal
Raised by
1,934
people in 2 months
(Version en español sigue)
Currently, there are at least 99 people reported dead, including 2 rescue workers, at least 300 reported injured, and over 3,000 people displaced by the Fuego Volcano near the city of Antigua that struck June 3rd.
In the interests of transparency, the funds from this campaign will be withdrawn from GoFundMe by Julia Sanchez, of the Canadian Council for International Cooperation, through a bank in Canada to Guatemala, via the
Cosami co-op/credit union
, a local branch of the
MiCoope national co-op/credit union federation
. MiCoope has already began a
national fundraising campaign
to ensure that funds reach the people who need it.
For those already in Guatemala, you can also transfer funds directly at any MiCoope agency through the "Collector" account 9077.
Local calls have been made to provide the following:
- Unprocessed foods, cooking items (oil, sugar, salt, etc)
- Water
- Face masks/gas masks
- Toilet paper
- Sanitary napkins
- Diapers
- Cotton balls
- Rubbing alcohol
- (Warm) clothes and shoes for men/women/children
- Blankets
- Personal hygeine products (soap, toothbrushes, toothpaste, towels, etc)
Funds are needed immediately.
This campaign is also being supported by
Red Tz'ikin
(@RedTzikin),
Prensa Comunitaria
(@PrensaComunitaria),
Solidarity Festivals
(@festivales_sol),
SOMOS
(@SOMOSgt),
and
Todos Por Guatemala - Canada/All for Guatemala - Canada
. Cosami is our
local partner
.
Online, people are using the hashtags #VolcanDeFuego #TodosPorGuate and #PrayForGuatemala
My name is Ben Powless. I'm a human rights activist based in Canada, but was visiting friends and colleagues in Guatemala when we found out about the horrific volcano and we decided we wanted to help out however we could.
En este momento hay contabilizadas por lo menos 99 personas fallecidas, incluyendo 2 bomberos y un rescatista de CONRED, por lo menos 300 heridos, y  mas de 3,000 personas desplazadas por el Volcán de Fuego, en comunidades cerca de las comunicades de Antigua y Escuintla el 3 de Junio.
Los fondos de esta campaña los transferiremos a Guatemala desde la plataforma GoFundMe hacia la cooperativa Cosami de Totonicapán para hacer estos fondos parte del aporte del Cooperativas Micoope porque queremos que todo sea transparente, en un sitio seguro y que llegue a las personas que lo necesitan.
Para hacer depósito desde cualquier parte Guatemala pueden ir a cualquier agencia MiCoope y depositar en la cuenta: COLECTOR NO. 9077 la cantidad con la que desean aportar.
Se realizaron llamados locales para proporcionar:
- Alimentos no procesados, artículos de cocina (aceite, azúcar, sal, etc.)
- Agua pura
- Máscarillas
- Papel higienico
- Servilletas sanitarias
- Pañales
- Algodón
- Alcohol
- Ropa (abrigadora) y zapatos para hombres / mujeres / niños / niñas
- Frazadas
- Productos higiénicos personales (jabón, cepillos de dientes, pasta de dientes, toallas, etc.)
Los fondos son necesarios de inmediato.
Esta campaña también cuenta con el apoyo de
Red Tz'ikin
(@RedTzikin),
Prensa Comunitaria
(@PrensaComunitaria),
Festivales Solidarios
(@festivales_sol),
SOMOS
(@SOMOSgt) y
Todos por Guatemala - Canada
. Cosami es nuestro
socio local
.
En los medios sociales se están usando los hashtags #VolcanDeFuego #TodosPorGuate y #PrayForGuatemala
Mi nombre es Ben Powless. Soy activista de derechos humanos en Canada, y estoy visitando amigos y colegas en Guatemala. En cuanto supimos de los eventos horribles que ocurrieron, decidimos hacer todo lo posible por ayudar.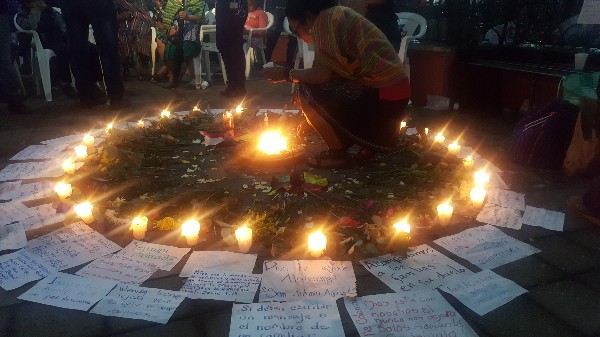 + Read More