Henri Le Frenchie Legal Fund
MY STORY
My name is Samantha, and I recently lost the love of my life, my French Bulldog, Henri.  (Instagram's @henrilefrenchie )
Henri was my soulmate, my little hero, my inspiration, my constant joy, and my baby boy.
I am raising money to prevent what happened from ever happening again to another fur baby or parent. 
A BRIEF SUMMARY
Henri (aka Henri Le Frenchie) died August 2nd, while under the care of the California Veterinary Specialists in Carlsbad, California. I was told by the vet, Dr. Polansky, that Henri died because he had apparently had a stroke and stopped breathing on his own. 
Later I decided to have an autopsy performed by an outside doctor. This doctor informed me that Henri's brain showed no evidence of any stroke and that the cause of his death was pneumothorax from an improperly placed feeding tube that punctured his lung. She said that a hole had been made in Henri's lungs, and that the air had escaped his lungs and filled his chest cavity until his lungs collapsed. She also said there was a procedure that could have rectified this, but the autopsy showed no evidence of it ever being done. She also had a time stamped radiograph showing the feeding tube inside Henri. 
Dr. Polansky had told me that no feeding tube had ever been used. 
Since then I have been told by multiple sources that Dr. Polansky allegedly has a history of making fatal mistakes and lying to the pet parents. And I've been told he allegedly makes those working below him lie as well. 
My heart is beyond shattered. I lost the most precious being in my life. Henri was the sweetest, kindest soul I have ever known. I can't bring Henri back. He is gone forever and my world will never be the same. I will miss him forever.
I don't ever want this to ever happen to another animal or pet parent again. It shouldn't have happened to Henri. And I wish someone had stood up before I ever took him to that vet.
I am going to be that person. I am going to stand up. I can't save Henri. But I can try to stop this from happening to future pets and pet parents. I can be the person I wished for, for someone else.
I am asking for your help to raise legal fees. This will be a difficult case against a powerful, multi-location company. Further, under California Law, pets are only regarded as property. I think it is wrong. To me, and I think most people who have loved a pet, pets are family. When pets are seen only as property, it encourages them to be treated as such. It allows them to be hurt without any real consequences. And I want to fight this. Everyone on Instagram encouraged Henri to Fight Like a Frenchie. And he did. So hard. He was such a survivor. But he couldn't fight against having his lung punctured. Now I have to Fight Like a Frenchie Mom.  Nothing will bring Henri back. Nothing will make what happened to him ok. But if I can stop this from happening to others, then I will always regret it if I don't try.
I have been given estimations of legal costs that are staggeringly higher than what I have set as my current goal, but I don't want to discourage people, so it is my starting point. Anything that is not used I will donate to animal charities, including those working to change the laws and have animals elevated above the legal status of "property." Henri was not property. He deserved better. All animals deserve better. 
Thank you so much for your help. Please spread the word and share my story. And please hug your fur babies tight. 
With Love,
Samantha, aka Henri's mommy
For more information and pictures of Henri, feel free to visit his Instagram account: @henrilefrenchie 
I love you, Henri. I will love you forever.
Thank you for making me the luckiest mommy in the whole world. You will forever be my baby boy.
The final two photos above are a few of my last photos ever taken with Henri. Henri purring in my arms, his wonderful hug, and his precious little face. These photos were taken at the California Veterinary Specialists, where soon after Henri would die.
CASE UPDATE:
Below is the official filed complaint against California Veterinary Specialists (owned by the VCA) and Dr. Benjamin Polansky.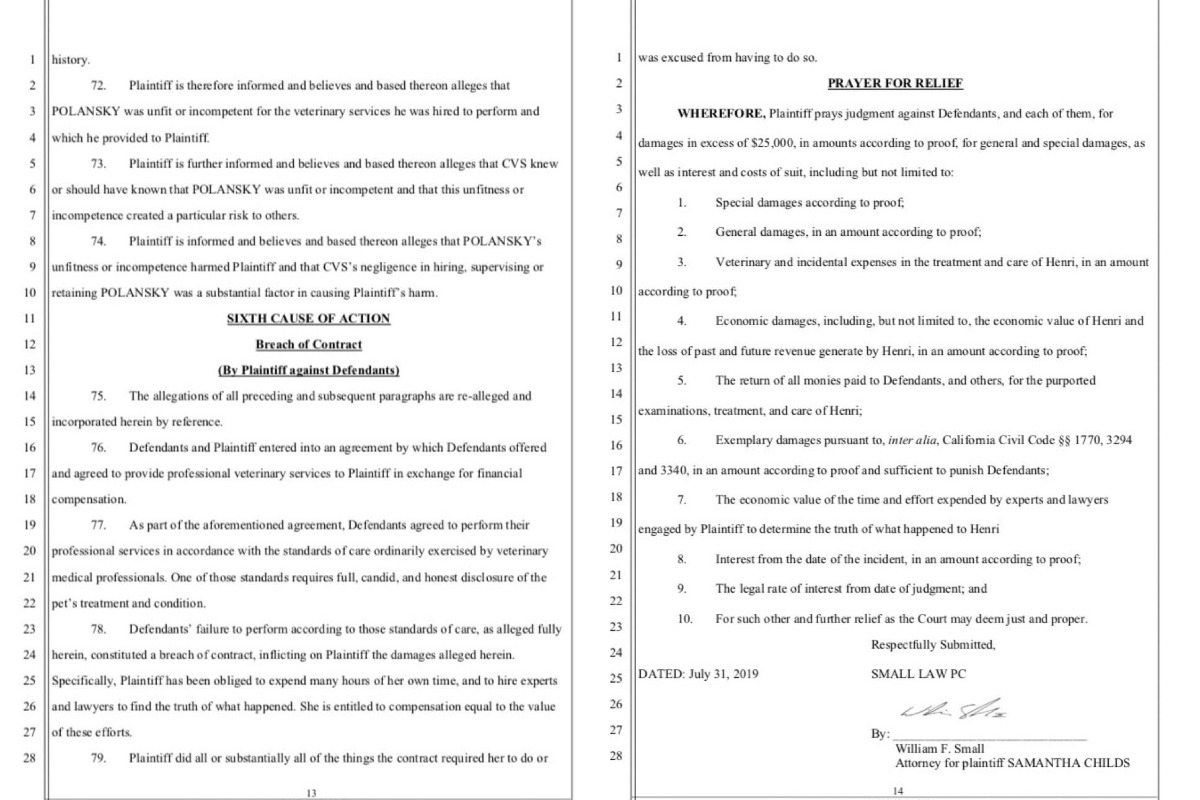 I would never have gotten this far without all of your help. Thank you so much. 
Love,
Samantha
aka Henri's mommy