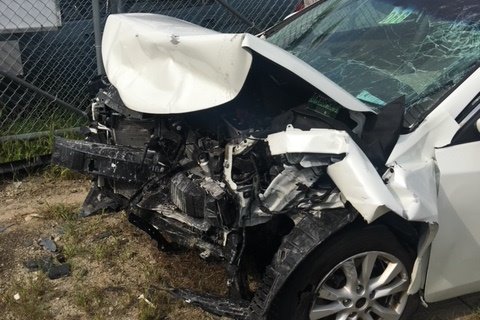 https://www.wpri.com/news/local-news/west-bay/woman-charged-with-dui-after-head-on-crash-injures-3/1384811208
On Monday, August 20th, my boyfriend Robert Vitale was hit head on by an uninsured drunk driver who was driving in his lane.
Robert was rushed to the hospital with many substantial injuries. He suffered many large gashes to his legs and head, a concussion, and a broken pelvis. He had surgery on Thursday, the 23rd to repair his pelvis with many plates and screws.
He now faces a long road to recovery ahead. He was instructed not to bare any weight on his left leg for a minimum of 3 months. He works as a letter carrier for the United States Postal Service, so with the type of injury he sustained it will be months before he will be able to resume working in the same capacity.
With all of these unexpected expenses he will face in the coming months, along with being out of work for an extended period of time, money will be tight. Robert is one of the most hardworking and selfless people I have ever met, and would never ordinarily ask or accept money from anyone if he didn't really need it.
If you would like to donate to help Robert, any amount would help and be greatly appreciated!
Thank You!

Organizer and beneficiary
Stephanie Griswold 
Organizer
North Attleborough, MA