I want to thank everyone from the bottom of my heart for reaching out, sharing, and donating so much in such little time to try and help Phoenix get the care he needs.


This morning as I went downstairs to get ready to leave for work, the ever lingering smell of the puppy Phoenix is still hanging around as we haven't had our carpet shampooed yet post puppy yet. It is the first day I've truly missed my little buddy and our morning routine.
When you already have a dog you are really close to, it's hard to bring in another one and share the same love for them. Phoenix got that from me despite him just being my foster. It was incredibly hard taking care of him in his state in the morning as you try to get to work on time, but we persevered, and pushed through knowing he was a sweet dog and was still figuring out his way in the world that he could barely see in as it was.
Phoenix started really finding his way. His potty training started to take, he started behaving with the neighborhood dogs. We were really excited for his new mom to be able to get such a rounded dog, as we thought he might be a huge project both medically, and in behavior. His behavior became his defining characteristic in the best way possible. Fearless Phoenix. Jefe (Boss). He took control of all situations. He learned how to dog along with his foster brother Marlo. Our morning routine started getting on point where he was up and ready to run outside and go to the bathroom as soon as I got downstairs. He knew this was followed with a bit of playtime before breakfast. . . How could I not?
Even on Monday July 18th, Phoenix ended up having me getting to work later than I wanted to be. I was going over his hospital visit and info with his new mom before starting my day. It was when we got the first real update I knew we had to start this campaign.
Phoenix is one of the biggest challenges we all ever took on. As his fosters, this was our first foster dog. We already have our boy Marlo and wanted to see how he would do having a friend around for a bit. They played relentlessly. Marlo liked Phoenix, but we weren't quite sure about having another Male dog around.
A friend inquired about adopting Phoenix and we put everything into the works to start the process. There was just one problem. We were in Baltimore and she was in Boston. Over the next month she started figuring out her life plan which ended up coincidentally bring her back into the area in Maryland. Fate brought Phoenix and his mom together. The adoption group would let her adopt him and spend the summer with her in Boston...and his Foster parents could come and visit too!!
Last night Phoenix stayed in the ICU to get treatment and see how he would respond. He made it through the night and when he was checked on during first rounds this morning everything seemed to be ok.
Shortly after this Phoenix stopped breathing. They tried to resuscitate him but to no avail. We've lost our baby boy.

Phoenix was a beautiful dog and a pleasure to be around at almost all times. Even through his nipping and potty training and running away with your shoe as you're trying to get hi ready for a walk...to then running away with the leash in his mouth while you're trying to take him on a walk (He didn't like going on walks much, just outside on the porch, and running in the field with Marlo)...... Phoenix was just a ball of love. It's all he wanted. I'm only happy to know he's no longer in pain.

I love you Phoenix. You'll always be safe.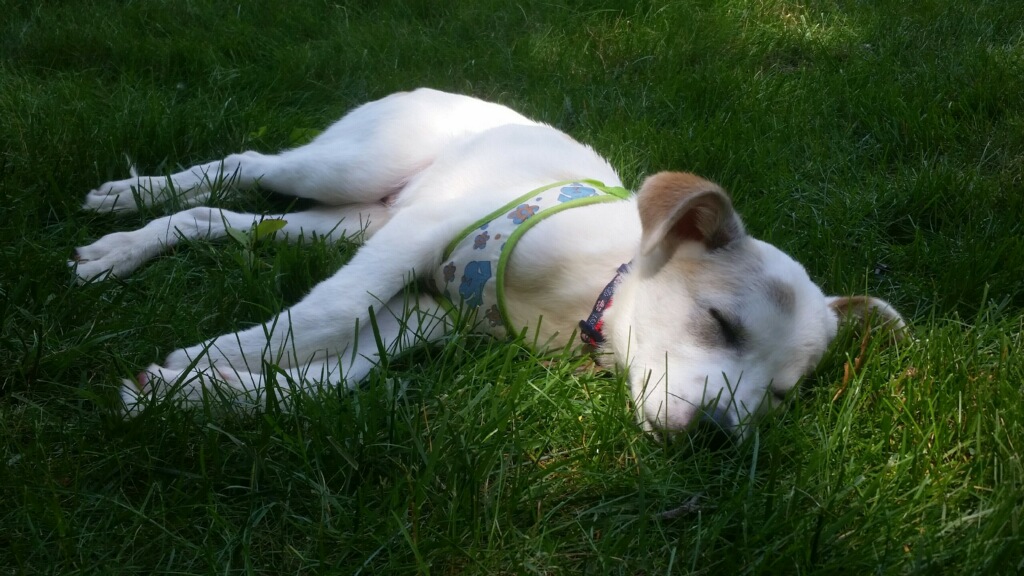 I'm sharing this story with you in hopes of helping a friend of mine. Phoenix is about a 6 month old Canaan/Saluki mix and in his short time here, he's had a rough life.
He was partially blind and may have had a congenital brain disease that makes him a bit wonky. Phoenix was born in Kuwait where someone bound in him a bag, and threw him into a dumpster. 
 A member of a foster group known as Wings of Love Kuwait helped retrieve Phoenix from the dumpster and get him cleaned up. We don't know much about what happened to him before he was found in that dumpster. Soon after he was off to America to live in his new foster home. 
Phoenix made it to America and into his foster home with his foster brother Marlo. Marlo started teaching Phoenix how to be a dog since he didn't have much guidance at this point (He was also from Kuwait and has been here for 2 years). They became good friends and Phoenix eventually found his forever home with his new Mom!
Unfortunately, within a few days Phoenix began to show some symptoms that were alarming and his new Mom rushed him to the Vet on the morning of July 17th.
Phoenix is having problems related to a possbile conginetal disease in his brain stem and brain swelling causing his blindness
. He was only partially blind and as of today he is now totally blind. 
We think these defects could have possibly caused abuse from his previous owner (Prior to being left in a dumpster to die). 
This little guy has been through so much so far, and now he is being kept comfortable in a puppy hospital waiting to see what can be done next, to help improve his condition.
Phoenix needs an MRI to help diagnose and treat his brain swelling issues. Everything right now can only be speculative since they dont' have this imaging to fully diagnose his issuse and help to treat him. They can only guess right now.  
We need these funds as soon as possible as this is a lot for one person to handle alone. 
I'm hoping the community of dog lovers and rescuers can come to Phoenix's aid. He needs our help. Please donate whatever you can to help Phoenix have his MRI and accompanying test. 
The MRI will help to fully diagnose exactly what is causign his brain swelling
, and the best way to relieve him of this pain as well as to help with his hospital stay and additional test post MRI. 
Phoenix needs to have this scan done as soon as we can to help further alleviate him of his brain swelling and pain so thank you in Advance for any help you can provide!
Every dollar helps us move closer to getting Phoenix everything he needs to keep living his new life!


Organizer and beneficiary