In My House Live Stream for Lebanese Red Cross
In My House Live Stream Fundraiser for the
Lebanese Red Cross
The 20th Session of In My House is comprised of two parts. Both parts will be streamed on
DJ Bassam
  and
Jadaliyya
 's Facebook Live.
Saturday, August 15th, 1pm EST (8pm Beirut)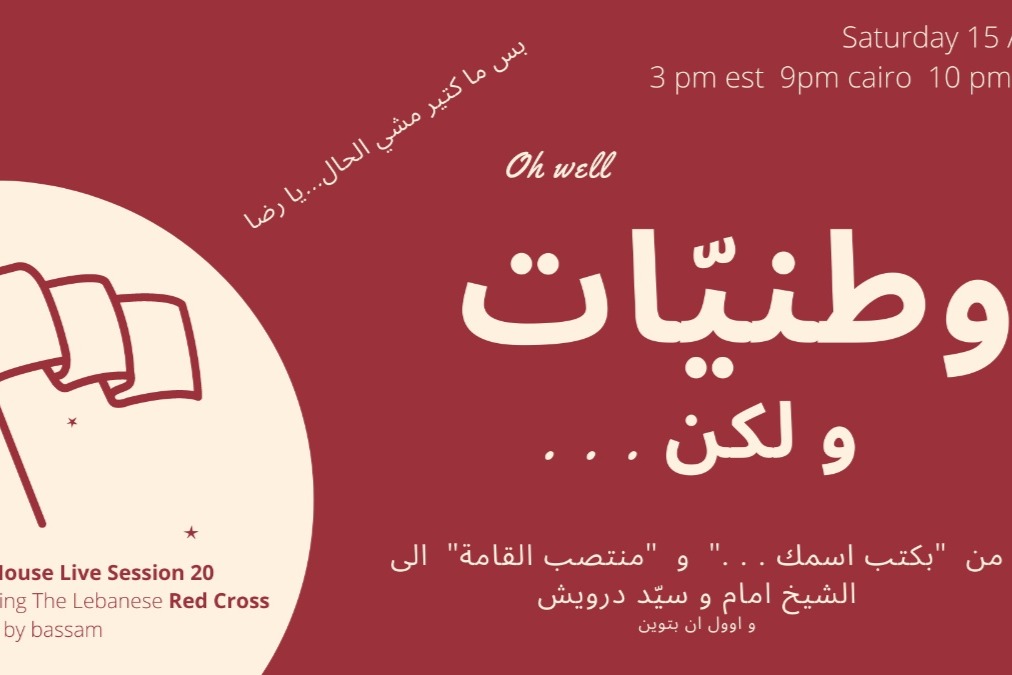 Please note that because the Lebanese Red Cross does not have an established relationship with gofundme.com, several steps will be taken to ensure that donations are placed in the hands of the LRC. First, donations made to this page will be closed as of 15 November 2020. At which point all donations will be wired to the bank account held by the Arab Studies Institute. Funds will then be 
immediately
deposited to the Lebanese Red Cross. To clarify, absolutely no funds will be held by the Arab Studies Institute. The sole reason behind the money being transferred to the account at all is because gofundme does not allow for donations to be made directly to the Lebanese Red Cross as it is not a US registered 501c3. For questions regarding how donations will be managed, please email us
here
 .
Since the 4th of August and until the 16th of August, the LRC has provided the above-mentioned services for free to 28,000 individuals affected by the blast, in addition to providing the usual ambulance, blood and primary health services across all areas of Lebanon.
LRC has always provided independent, neutral and impartial humanitarian aid throughout its 75-year history. This means that throughout the response to this crisis, as always, LRC will always seek to provide help to the most vulnerable according to the needs and disregarding any other factor such as, but not limited to, race, gender, religion or political beliefs.
On Tuesday, 4 August 2020, an explosion at the port of Beirut killed dozens and wounded thousands. The explosion destroyed billions of dollars in infrastructure and imports. In the midst of an economic crisis and global pandemic, the explosion has devastated the lives of many who were already struggling. 
During the COVID-19 outbreak, vulnerable communities around the globe need support more than ever. In an effort to fundraise for said communities, DJ Bassam Haddad has launched, "In My House ." This project includes the live-streamed house sessions by DJ Bassam. As the music moves its listeners to dance in their home-quarantine, we hope that it will also move listeners to donate what they can to support those suffering from the impact of this pandemic. For each session played, the DJ Bassam will donate $200 to the organization being promoted for that session. This week's Livestream, "International Beast: Non-Stop High Energy Global Rhythms," will benefit the
Lebanese Red Cross
. 
Watch this weeks livestreams at facebook.com/bhaddad2 or facebook.com/jadaliyya
To learn more about this and every live stream session, visit: 
https://www.inmyhouse.live/
Organizer
Bassam Haddad
Organizer
Alexandria, VA