Help Nicole Haddock Turner Fight Cancer
Today I am here to be an advocate for my aunt: Nicole Haddock Turner. A little over two years ago Nicole was diagnosed with Stage 4 Colorectal Cancer. This would, as we know it, change her life forever.
For those of you who know Nicole, know what an amazing mother, sister, daughter, spouse and friend she is. Nicole has always been fun, fit, outgoing, compassionate, kind... I could go on forever, but it is clear to those around her that her greatest joy is being a mother.
When her youngest daughter was only 2 years old she started her "soccer mom" career; she went on to coach Mackenzie and her team until she was 12 years old. Then it was assistant coach, soccer mom, running practices, organizing tournaments; she was always involved and gave 110% of herself every time.
When she was diagnosed with cancer she knew she would not let this slow her down! Even though her daughter moved on to volleyball she still continued on with her "soccer mom" status. There for every game or practice; organizing the team trip to Pheonix and took on the position of team manager. Her positive outlook on life would not be torn down by the relentless cancer residing in her body. Through her struggles though, this positive outlook on life has been challenged time and time again. Today I would like to share her story:
"Over two years ago I started experiencing unusual pain and discomfort, so like any normal human I made a doctors appointment.  That brought me to several different tests including x-rays and MRI's.  Being that I was 43 at the time a stool test was never given as an option…"those tests don't start until you turn 50". 
Over the next three months there was nothing found so I went to my local Medi-center for a second opinion.  The first thing she did after hearing my symptoms and story was tell me to go for a stool test.  From this there was a colonoscopy scheduled for 6 weeks down the road.
October 25, 2018; the day my life changed forever. I went under to receive my colonoscopy and woke up to a whole new world. I was informed that they could not even complete the test as they found a mass so large there was no way to get a scope through. I was instantly admitted to Royal Alexandra Hospital. 
They told me that day that I had Stage 4 Colorectal Cancer…Stage 4 because there was also a 9mm metastasis on my lung.  My surgeon told me that the cancer was treatable with radiation, surgery to remove the tumor and then another surgery to remove the small metastasis on my Lung. 
Before I could start any of this I had to get an Ileostomy surgery with a promise of reversal at the other end of my journey.
I was started on 30 rounds of radiation as well as oral chemotherapy to try and shrink the tumor and prevent any spread.  In March 2019 I was admitted for the 'Big Surgery' which included the removal of the tumor, along with my uterus and ovaries (as a precaution).  That blessed me with menopause that felt like hitting a brick wall. But of course that wasn't the worst of it. I was told the surgery went well, that he got it all and 6 days later I was released to go home. My luck proved to be ongoing and I was back in the emergency room within two weeks.
Turns out I had an abscess form where the tumor was and this led to an 18 day hospital stay.  In order to diagnose this abscess they had to give me a CT scan which showed an additional metastasis on my liver. I immediately underwent surgery to have that metastasis removed and a drain put in for the abscess.  I spent these 18 days in bed hooked up to tubes to try and nourish my body while also trying to heal from the now two surgeries my body had undergone. This caused me to lose almost 35 lbs! I was not the person I knew in the mirror anymore.
Once I was healed enough I started chemotherapy in June 2019 which included an IVAD port incision in my chest for future treatments because of a "take-home" bottle of drugs attached to me for 46 hours.
I had an appointment with the thoracic surgeon to see if I was suitable for surgery to remove the last metastasis on my lung.  I passed all the tests but a subsequent CT scan showed that the one 9mm spot had been left too long and was now around 15 spots… which meant no surgery and chemotherapy for the rest of my life.
 Shortly after this bad news I had a follow up appointment with my surgeon where I was told that the Ostemy was permanent due to the complications from the original surgery (abscess).  I did keep trying, in hopes for the reversal however it never changed and the ostemy bag is now a permanent piece of me.  Anyone who knows me, knows the care I always took to stay in shape and this might sound awful but I was so angry to have this new permanent accessory, if I'm being honest I still hate it two years later.
I have been receiving regular chemotherapy to this day and for the first few months I found it quite easy to deal with.  I was/am still a gym regular (when they aren't closed for Covid of course), and refused to live my life in a bubble! Then the side effects caught up with me. 
Each time it happened I felt a little less positive about anything.  BUT, I maintained a positive outlook anyway; it's all in how you perceive it right?  Those words, while still in my heart, have been getting harder and harder to believe. 
Three treatments ago they changed up the kind of chemo I take and the side effects are debilitating… I have been in bed since I got home yesterday and have lost count of how many times I have vomited, even though I have yet to eat more than 4 saltine crackers.
Six weeks ago I was referred by a dear friend to see a naturopath for high dose vitamins and minerals that boost my immune system and give me more energy to fight.  I also met a man who used a three-month high dose program of Phoenix Tears THC and CBD oils.  I don't know what it will do in the long run, but I do know that it has renewed my sense of hope."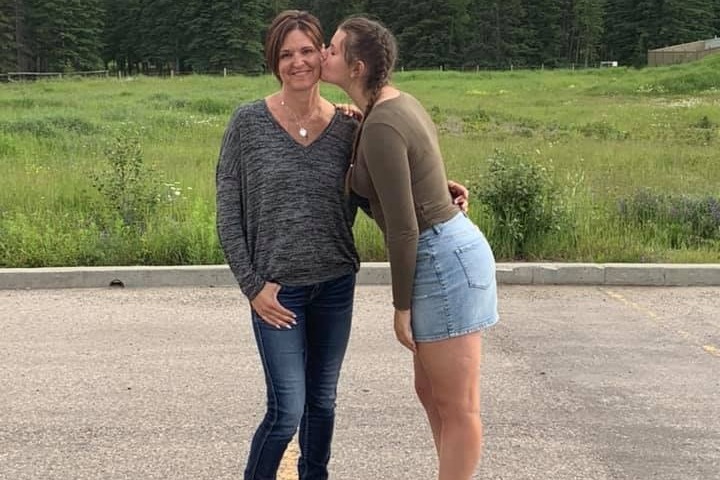 I am asking if you can afford to help in anyway at all, please do. These additional treatments are extremely costly which is an additional stress Nicole does not need right now. With your support I hope we can get her focusing on getting better and not worry about how much the next treatment may cost.
Thank you for taking the time to read my aunts story and we truly appreciate anything you have to offer!

Fundraising team (4)
Jessica Carmichael 
Organizer
Raised $1,400 from 14 donations
St. Albert, AB
Carole Carmichael 
Team member
Raised $500 from 7 donations
#1 fundraising platform

More people start fundraisers on GoFundMe than on any other platform. Learn more

GoFundMe Guarantee

In the rare case something isn't right, we will work with you to determine if misuse occurred. Learn more

Expert advice, 24/7

Contact us with your questions and we'll answer, day or night. Learn more