Francisco's Memorial Fund
Hi friend or family member of Francisco "Cisco" Diaz,
Francisco died on the morning of August 24th, 2018 in San Francisco California. He was 34 years old.
I have begun to collect donations to help pay for Cisco's memorial service.   Money is tight and I know Francisco wouldn't want to burden anybody with costly expenses.  I figured if everyone could help, we could lighten the load for his mom, brothers and my family in their time of grief. 
Left over money, if we reach our goal, will be donated to 
https://www.sfccc.org/baart-community-health-care
in order to help those struggling in San Francisco.  Francisco was well aware of his addiction issues and we believe this organization would be a great way to honor him.
Did you know the compassionate, insanely talented and intelligent man Francisco was? Born November 15th 1983 in San Luis Obispo California, Cisco was raised by his mother, Charmaine Noble, and is survived by his two brothers, Jaime and Zachary Diaz; along with his Grandmother Margie Noble-Englund and numerous aunts, uncles and 11 cousins who adored him. 
Despite only attending a year of traditional high school and never graduating, at the age of 23 Francisco enrolled at Cuesta College where he began taking remedial courses, including the most basic pre-college math. By the end of the following year Francisco had received an "A" in Calculus 1, and knew at that point he wanted to be a civil engineer. Over the next 6 plus years he dedicated his life to school, often taking 12-15 units per semester. But, these were no longer 12-15 units of remedial courses, but instead courses such as physics, linear analysis, statistics and dynamics. In 2009 Cisco was accepted into Cal Poly's Civil Engineering program where he graduated with honors less than 3 years later with a BS in Civil Engineering.
Cisco had a mother who dedicated her life to him and whom he loved more than anyone in the world. He also had a large and loving extended family lead by his Grandmother Margie Noble-Englund.  Without having a stable and consistent positive male role model, Francisco had a challenging upbringing and at an early age was looked at as a father figure by his two younger brothers. He was tasked with having to find his own way in life and did not always make the best choices. However, people knew that he had a genuineness and authenticity that guided him in life. 
He will be remembered for his superior intelligence, carefree attitude, ability to hyper focus, quick temper, and unrelenting care for those he loved.
That was the man Francisco was. That is the man the world lost. Our hearts are broken and Francisco will never be forgotten and will forever remain in our hearts. Please donate whatever you can. We appreciate any size donation as every little bit helps.
Love to all,
The Diaz, Noble and Englund Families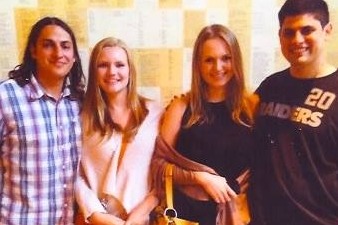 Organizer