Maggie's Story
By Katie Costello (Maggie's Mom)
On December 11th, 2012, I gave birth to my sweet little Maggie. From the start she was calm, content and a great sleeper. I was so lucky and happy to be a mom. The first 3 months of her life were quite typical- 2 month needles, smiling, tummy time, batting at toys and following me with her eyes every minute.
One night, a typical night like one we had so many times before, her dad came home from work and put her to bed while I had supper and a shower. Maggie woke up in the middle of the night, which was strange for her to do. When I got her from her crib, I knew right away something was wrong. I called 911 and an ambulance came and we went to the ER.
Before I knew it, we were on air ambulance to the major children's hospital in Vancouver (Maggie was born in Comox, BC) and then came X rays, CTs, MRIs, intubations and more. Maggie was seizing uncontrollably and was unconscious. As they worked on her I was whisked away by police and doctors. I wasn't sure why police were there. I was so confused and terrified that something was wrong with Maggie.
Maggie had multiple skull fractures, multiple rib fractures, a broken foot and a broken clavicle. Her brain was bleeding and her intracranial pressure was extremely high. She had 2 hemorrhagic strokes. She was admitted under "nonaccidental injury and traumatic brain injury". She was 3 months old.
Maggie's father (my now ex-partner from that very date onward) had nearly beaten Maggie to death in her bedroom when I was in the shower, then laid her down in her crib to sleep so he wouldn't "be caught" . He confessed in full, and after months of court proceedings, he was sentenced to 5 years of federal prison, which he is serving the last year of now, in northern BC, and will end up only serving 3/5 of his sentence, as is the norm, because of "overcrowding and such".
There isn't enough time or paper to begin to even try to explain how all of this felt. The horror, the shock, the fear, the anger, it is beyond comprehension or description. I decided instantly that I was now a single mother and all I could do was think of Maggie.
The bleeding and pressure did subside, and surgery was not needed. A central vein IV was inserted because of all the meds she was getting, and a NG tube. I was told it may be 3-4 weeks in PICU before we would go up to the neurology floor.
Maggie was safe now, safe from a horrible threat I didn't even know existed, with only me at her side. After less than 2 weeks, we moved up to neurology. The nurses called her Miracle Maggie, as she was so strong. They weaned the meds keeping her sedated and she started to become alert and awake. The NG tube came out. Again we were told it would be weeks on neurology. We were there for a week.
The staff was so impressed with how determined and strong Maggie was. She started bottle feeding and moving her limbs. It was obvious that Maggie's vision had not returned, and that made sense seeing as how the strokes were in her occipital lobe.
As she recovered in hospital for 3 weeks, and then in a hotel with me and my mother while we had follow up appts for another 3, I was granted full sole custody and guardianship of Maggie and all my ex-partner's parental ties were severed. He was not allowed 25 feet near Maggie or me.
We packed up and moved back to NL, where I am from and my family was, Maggie was just shy of 5 months. She was still blind and still having seizures. Over the last 4 years we have become well accustomed to the Janeway, pediatric rehab, neurology, neuropsychology, ophthalmology, physiotherapy, orthopedic surgeon, occupational therapy, cerebral palsy clinic, speech language pathology, the ER, CNIB, and many more. It was unclear how much damage was done to her brain and what the long term outcome would be. Maggie was now 6 months old and still non visual and still having seizures.
Maggie truly is a miracle. Every day I am so grateful that she pulled through this horrendous attack, something no one, especially an infant, should ever endure. She remained the happy content girl she always was. I didn't know what was to come, but I knew the reality of the brain damage meant developmental delays and the strokes meant vision loss. All I knew was, whatever came to be, it didn't matter because she was alive.
I struggled for a long time with the fact that this was just so unfair. So unfair that she was going to have so many physical struggles and health problems because of what he did. It gets easier every day, and I have let it go slowly that this wasn't the path her life was supposed to be on, in the sense that she was born healthy. It is never fair for a child to struggle, born with the issues or not. So I couldn't let that fact keep me down. This was our life now, and we had to live it, happy and together us girls.
Maggie is now 4 years old. She has been diagnosed with Cerebral Palsy, Cortical Visual Impairment, Epilepsy, and Neurocognitive Disorder from a Traumatic Brain Injury. She goes to PT weekly, OT biweekly, speech weekly and swim therapy weekly. She is in daycare now that I am back to work. She is non-stop, crawling, climbing, laughing, playing and happy. It took months of work for her to gain the milestones that she has, and that is fine. We have our own milestone timeline now, as many parents of children with special needs may relate to. 
I did not think that I would be a single mother of a child with special needs. But such is life- the life that we share now together. It is with great pride that I write this, pride in the strength and love I see in her every day. I had to declare bankruptcy the end of the year we moved home from BC to NL. Despite working full time as a registered nurse, which I continue to do, the financial hardsips of moving from coast to coast, weeks in hotels in BC, and Maggie's adaptive equipment, simply was too much to bare.
Our life is not what I imagined, but I wouldn't change a thing about my little darling girl. She has overcome so much and continues to amaze me every day. I learn from her so much and I cannot wait to see what her future will hold, though it may be a different future than expected it will be one of joy and happiness!
We are happy and I love our life, but we simply are outgrowing the basement apartment we live in, but also cannot afford to buy/build an accessible house. A house that has no stairs and has wide doorways, a ramp at the entrances and wide hallways so she can use her walker safely at home. Safe and sturdy rails on the walls, bathtub and toilet, padded floors for the crawling, and large enough rooms for the walker use. Safety is such a priority for Maggie, as well as space to learn and grow, as for any child. 
My relative, David, approached me about writing this and using this site for help, which I humbly agreed to do. Maggie deserves the world, and she has surpassed all of my and her doctors and therapists expectations, and I want her to have the best in this world. She deserves it, for all she has been through, and for all the struggles she will continue to have as she grows and matures, she deserves a space of her own, that I can adapt as needed. She is such a happy girl, and that is what truly matters, but at this point in time, we are running out of space and safe living. I continue to work full time, but financially, as a single parent and of a child with multiple special needs, I am not at the level of buying a house.
Our goal is to raise $75 000 as a down payment for a new house and to modify it as needed for Maggie's special needs. Thank you! Your help will make all the difference for Maggie and her future!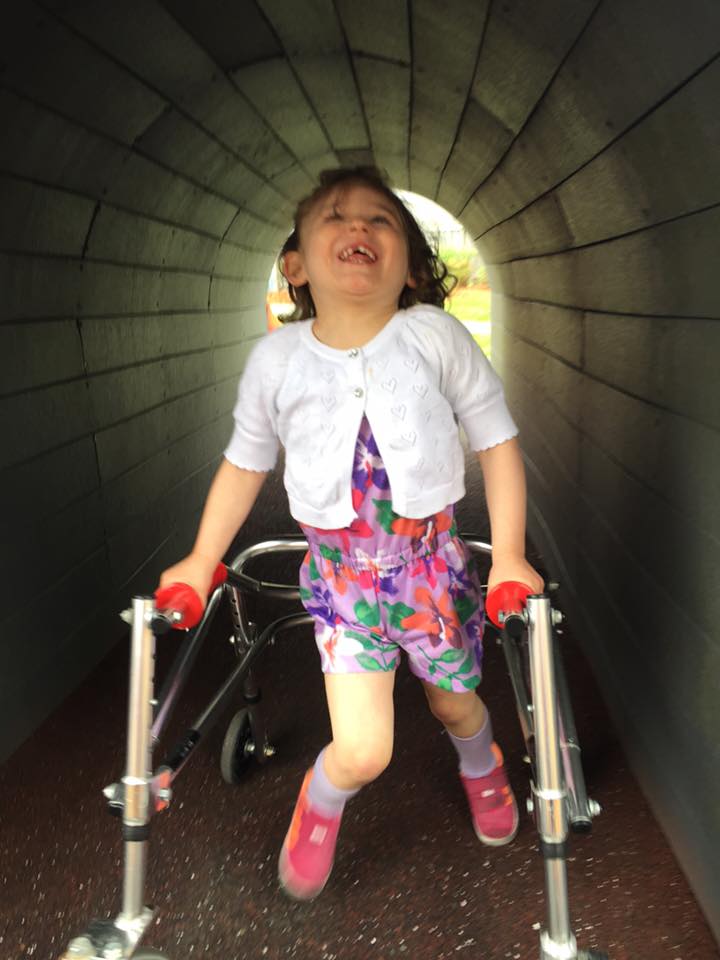 Donations ()

Organizer and beneficiary
#1 fundraising platform

People have raised more money on GoFundMe than anywhere else. Learn more

GoFundMe Guarantee

In the rare case that something isn't right, we will refund your donation. Learn more

Expert advice, 24/7

Contact us with your questions and we'll answer, day or night. Learn more