A-Z Fundraising ideas
Raising money for charity is one of the most worthwhile things a person can do. But everyone needs a little bit of inspiration sometimes for fundraising ideas that work. So, we have collected some creative suggestions to help your charity fundraising. If you're looking for ideas ranging from the wacky to the spectacular, read on.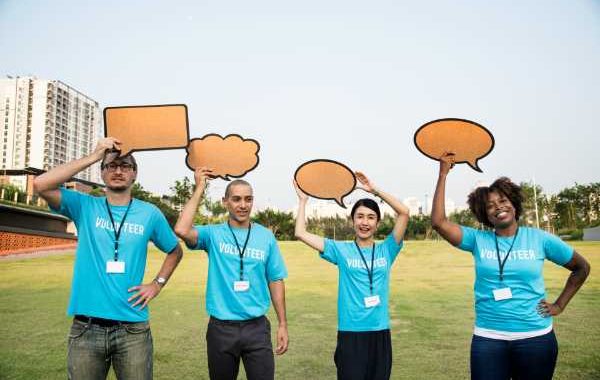 A
Auction skills

: Everyone's got something to offer, and they can offer it while raising money for charity with a skills auction. Get a group of talented friends together, set up a time and place and make sure your community knows they can come and bid. You don't have to be a virtuoso to take part: skills auctioned off in the past include marketing help, flat pack building, and cleaning.
B
Bake sale:

Bake sales are a classic for a reason. Whether you put one on at work, school, or as an event in the local community, they're a fantastic way to fundraise for the best causes. You can even add a bake off element to get a bit of competition going.

Barbecue

: The only thing better than a delicious summer barbecue is a delicious summer barbecue that is raising money for charity. Whack on the barbie and invite people round to yours, with a quick donation. With a British summer, it's best to plan for all eventualities with the weather. Make sure there's a back up area for people to go to if it rains, and some meat free products for vegetarians.

Bike ride

: No one forgets how to ride a bike, so there's no excuse for ignoring a

cycling challenge

. These are wonderful because of their versatility. You can opt for a virtual challenge, and ask for sponsorship to ride a long distance on your Peloton or Wattbike, or go for one of the big biking events such as

Ride London

. Or, if you want to get out on your bike but without a formal event, you can take up a challenge such as cycling from

Lands End to John O'Groats

.

Brave the shave:

This is one of the simplest but most effective fundraisers for individuals. The concept of '

brave the shave

' was popularised by Macmillan Cancer Support but works so well people use it to raise money for all sorts of things. People have raised hundreds of millions for charities simply by grabbing their clippers and  shaving off all their hair. The best part is you can also donate the hair you shave off to charity the

Little Princess Trust

, which makes wigs for kids with cancer.
C
Coffee morning:

The official coffee morning is run by Macmillan and raises millions every year, but that doesn't mean you can't put on a DIY coffee morning for a good cause. Simply pick a time and place, get your friends and family together, get the teas on, and share the link! Make sure you think about the best games to maximise donations, and make it a morning to remember.
D
Dry January: Maybe you're looking for a reason to lay off the booze after Christmas and raise money for a good cause. Dry January is the perfect opportunity to do both. You can go sober in January to raise money for a range of charities, but also it helps raise awareness of the climate impact boozing has.
E
Edinburgh Marathon:

The

Edinburgh Marathon

sees thousands raised for charity every year. It's been running since 1982 and is a fast, flat marathon – perfect for setting those PBs and raising money for a good cause!
F
Football for charity

: The beautiful game goes hand in hand with charity fundraising, and it's easy to get involved. You can organise five-a-side games if you can't find 22 people willing to play. One way to organise is through a club, or with workmates or school friends. Don't be afraid to get creative: some

football fundraising ideas

involve playing Harry Potter themed matches and 24 hour games.
G
Golf day:

Contact your local golf clubs to see if they offer any discounts for charity rounds and make your next tee time for a good cause.
H
Host a cocktail party

: Got a friend who loves to show off their skills behind the bar? Put them to work and host a cocktail party to fundraise for your charity. Make sure you share the link with guests before, after, and during the event. If you're feeling particularly extra, you can print off some QR codes and hand them out with the drinks. As always, drink responsibly. Make sure there are non-alcoholic options available for those who don't drink or in case younger guests attend.
I
International food night:

Why not get together with a group of pals, colleagues, family and host an international food night to raise some funds? You could have a world of food on one night or arrange a rota for different themed nights once or twice monthly.
J
Jump out of a plane

: Feeling adventurous? One way you can raise cash is by skydiving – for charity! Provide some brief advice on where fundraisers should start if they want to set up a charity skydive. Simply book a place, set up a fundraising page, and get ready for the adrenaline rush of a lifetime.
K
Karaoke night: Maybe you're born to perform and dying to let that out – well, host a karaoke night. You don't need any special kit – just pick your song and play it (and sing it) as loudly as you like. It's a brilliant excuse to get people together and a way to raise money for a good cause.
L
London Marathon:

The

London Marathon

is a must for any running enthusiasts – but the amazing atmosphere and spirit is sure to help carry even novice distance runners over the finish line. It's also an excellent way to raise money and an impressive cause people will surely want to donate to. 
M
Movember:

Moustaches go hand in hand with a focus on men's health thanks to

Movember

, where thousands of people get sponsored to proudly grow facial hair all in aid of charity. You can set up a fundraiser in under five minutes on GoFundMe, giving you more time to focus on the important stuff – like styling your moustache.

Movie marathon

: Everyone loves a big night in – so go all out with a themed movie marathon. You could try watching every single Harry Potter film in 24 hours, go for a sci-fi theme, or plan a day where you watch every single film made by one actor. Whatever you decide, fire up the popcorn machine and make sure you take a donation for entry fee. You'll be at your fundraising target before you can say 'hasta la vista, baby'.
N
Night run

:

A night run

is a fantastic way to challenge yourself and embark on a fresh running challenge, whether you're an experienced jogger or just starting out. Night runs are organised runs that take place – you guessed it – at night. Why not get a team together to start training? 
O
Office Olympics:

Organised fun in your office is a great way to utilise having a group of people ready made in one place for your fundraiser. Why not get together and organise

an office olympics?

It doesn't have to be purely sports-based, there are plenty of inclusive and even desk friendly competitions you can put together so everyone can get involved.
P
Pancake day:

If flipping pancakes is your thing, why not put this to good use and fundraise on pancake day? You could do a sponsored pancake flipping – get people together and get frying for a good cause.

Poker night:

If you're looking for a bit of excitement, a poker night in aid of charity is always a popular one. It's easy to host at home and can be done responsibly. 
Q
Quiz for charity:

If you want to test your community's knowledge of trivia to the limit, think about running a charity quiz and asking those taking part for a small donation in return for an evening of entertainment. Host your quiz IRL or, if you're OK with flashbacks to lockdown, internet quizzes can be a great way to get as many people as possible involved without having to book a venue. May the best quizzer win!
R
Race for Life

:

The Race for Life

in aid of Cancer Research has hundreds of events up and down the country, catering for every age and ability level. There are 5ks, 10ks and the Pretty Muddy event so plenty to choose from. It's a great event to sign up for with family, friends or work colleagues – get a group together to train with. 
S
Sleep out for the night:

Spending the night on the streets can be a great way to fundraise for your favourite cause. While it's a tried and tested method, it is important to keep safe. The homelessness charity

Centrepoint

have a great resource explaining how to do this legally, and safely. Their top tips: think about the weather and finding a site to sleep out.
Sponsored walk:

If you're looking for a great way to exercise that's lower impact, think about a sponsored walk. There are many formal charity walks to get involved with, such as for

Breast Cancer Now

. If you prefer to march to the beat of your own drum, you can plot your own route like fundraiser Joe who walked 100km from

London to Brighton

to raise money for Young Minds.
Swimathon:

Looking for a

swim challenge

? Whether you decide to raise money by jumping in the sea, or swimming laps in your local pool, it's a great way to raise funds. Fundraisers can organise an event at any time – all you need to do is decide to take the plunge.
T
Three peaks:

Looking to really test your limits – and see some beautiful views on the way? Look no further. There are two different challenges you can get involved with here, the National Three Peaks Challenge or the Yorkshire Three Peaks. Whatever you choose, make sure you train well and take friends with you. Good luck!
U
Uniform-free day

: A uniform-free day is such an easy way to raise funds for a good cause. Workplaces, offices, schools (or anywhere that would usually wear a uniform) pay a donation to don their own clothes for a day. 
V
Video gaming marathon

: Ready, set, game! Twitch has led to a flood of gamers putting their time and skills to the test with marathons all in the name of a good cause. Gaming marathons can be a great way to raise money, and you can use livestreaming to get the word out. That's what Cameron did with a 12 hour

gaming marathon in memory of his friend Anthony who died when he was only 19

.
W
Walkathon

: Sponsored exercise is always a good shout when raising money for charity, and a walkathon is an easy way to do so. Either choose a distance to complete over one day or set a goal for the month and get your walking shoes on. It's a brilliant way to see some of the countryside, for example – but also one you and your colleagues could complete over a period of time on lunch breaks. 

World Book Day

: Dressing up as a book character – always a favourite! Why not organise it in a workplace for some definite laughs and donations to charity.
X
Xmas

: Why not take the spirit of Christmas and turn it into the spirit of giving. We've got plenty of ideas on

Chrismas-related fundraising

in our blog.  
Y
Yoga

: The benefits of yoga are well documented, so what about hosting a group yoga session to raise some money? It could be a one-off or something a couple of times a month, either in person or on zoom. In summer, why not utilise any green spaces near you and do it outdoors.
Z
Zipwire

: One for the adrenaline junkies – or anyone looking to challenge themselves to something new. Sign up to a zipwire and ask for sponsorship to complete it.