Bike Challenges and Virtual Cycling Challenges for Charity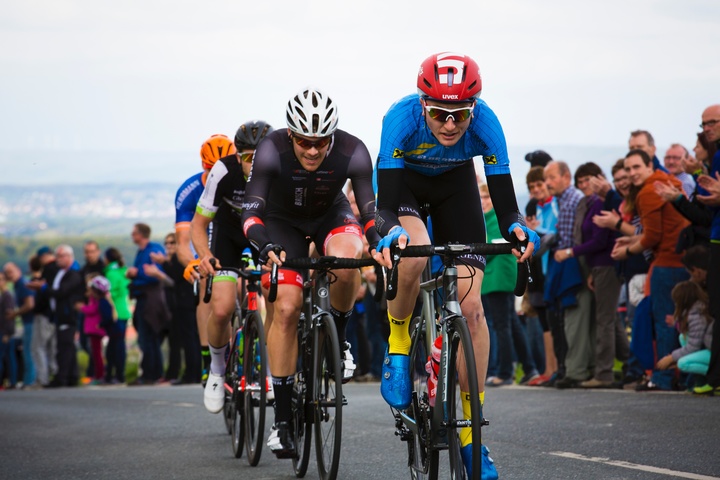 You might have heard of pedal for a medal, but what about pedal for a cause?

Bike ride fundraisers and cycling challenges are popular ways of raising money for a special cause. With British cyclists reaching for their helmets daily, bike challenges are an accessible way for communities to rally together, have fun and raise awareness and funds for charity.
Whether you are a rookie rider, big-league biker or a carefree commuter, there is a cycle challenge suitable for everyone. Read on for our ultimate guide to planning a successful cycling challenge for charity in 2021 - and some tips on virtual cycling challenges in 2021.


A breakdown of cycling challenges for charity
Cycling can be a physical challenge, but it can be an emotional challenge, too, especially if you are raising money for a cause that is close to your heart.
The good news is that you have complete control over the type of challenge you choose to cycle. You can race at your own pace; you have the freedom to choose your route and can decide whether you clock up miles solo or with a team.
Bike challenges are also an excellent way to connect with your community. The sense of camaraderie and energetic environment cannot be replicated and it's no wonder that they are a huge success amongst fundraisers and donors.
Sound like a challenge for you?
Here are five of our top tips for planning successful virtual cycling challenges in 2021 with big impacts.
Rally support
While cycling might be considered a solo sport, you don't need to face your bike challenge alone. The exciting thing about cycling is that everyone can get involved, regardless of age or ability. Target local cycling groups, enlist the help of friends and family and seek support from your local community.
Go virtual
With COVID putting a halt to many in-person events worldwide, virtual events and challenges have skyrocketed in popularity. Virtual cycling challenges offer up a unique set of fundraising opportunities. Hosting the challenge online gives you global reach, offers flexibility, and participants can take part, rain or shine. All you need is a bike, internet connection and a fundraising site like GoFundMe.
Safety always
Regardless of your cycling ability or experience, taking on a bike challenge can be a physical and mental challenge. Both preparation and safety are crucial to the success of a healthy and happy cycling challenge. Ensure all participants have the appropriate gear, have properly serviced their bikes, and map out a safe route.
Get creative
If the average Lycra-clad race sounds too dull, remember that there are no rules when it comes to getting creative with your charity cycling challenge. Encourage cyclists to document their journey, plan a route around specific landmarks or introduce a fancy dress code. Some of the best charity challenges are those where participants get creative and have fun. To get your creative juices flowing, you'll find many fundraising ideas and campaign inspiration on our blog.
Enjoy the journey
As with any fundraising campaign, the process can be a rollercoaster. Some weeks you'll see significant progress, and others might be frustratingly slow. It can be easy to get caught up in stats and figures. Make sure to take time out from the numbers to pause and recognise the pedal power your fundraiser will have for your cause.
The best UK virtual cycling challenges
Ready to hit the road, but feeling a little stuck for ideas or wondering where to start?
Allow us to spark some inspiration with our pick of the best virtual cycling challenges in the UK:
Formerly known as Prudential Ride London, Ride London is an annual festival of cycling held in London. The challenge covers 100-miles starting at Queen Elizabeth Olympic Park, through the Surrey Hills and ending in The Mall in Central London.Participants are treated to some of the most beautiful sights the city has to offer, all while supporting a vital cause. Cyclists of all levels are welcome and alternative routes are available, depending on ability.
Get out of the city and soak up some sea air in the London to Brighton cycle ride. Unfortunately London to Brighton has already taken place in 2021, but they are currently accepting applicants for next year. The ride will kick off at 6.20am on September 11, 2022. Participants will need to apply to a charity to secure one of their guaranteed places in the event or you can buy a place for £55.
This epic cycle challenge covers the length of the UK. Starting in Lands End in Cornwall and ending in John O'Groats in Scotland, participants will cover 874 miles. You can complete the ride as a solo cyclist or as a group. Many people take on the challenge for a private challenge but if you want to go the extra mile, why not raise funds for charity along the way?
Start your bike challenge today
Ready to have fun, get fit and generate some serious pedal power for charity?
Promoting your next charity cycling challenge couldn't be easier or quicker with GoFundMe. Our platform gives you complete control over your fundraising event and can help you maintain momentum and get the most out of your miles throughout your bike challenge. Share progress updates, upload photos of your journey and announce the challenge winner-all on our easy to use dashboard. And that's not all! Our app allows you to track your fundraiser on the go, and if you need help, our experts are available.