It all started with a wild mustang.
One day in September, several years ago, Caitlin Cimini rescued her first animal on a whim — a wild mustang she named Halona. She had learned that the mare was destined for slaughter, so without a plan in mind, Caitlin bought the mustang from the federal government's Bureau of Land Management for $125. It was a decision that changed her life forever.
Caitlin had always lived along the Jersey Shore, but when she suddenly found herself with a 2,000-pound animal to care for, she knew she needed to give up the ocean for the country. She scoured the state for a property she could afford with her salary as a Child Protective Services worker.
75 properties later, Caitlin found herself at a farm near the Delaware border looking at another horse in need of a forever home. He had been saved from slaughter by the farm owner, but she couldn't keep him. When the owner learned Caitlin was still in need of a property, she made Caitlin a generous offer on the very land where they stood.
And just like that, Rancho Relaxo (jokingly named after a spa in The Simpsons) was born.

"You know you live in the country when your neighbors give you three chickens for a housewarming present," says Caitlin, laughing. "Those hens were the loves of my life." Then one day, all three went missing, and she was devastated. Caitlin was sure they had been eaten by a wild animal.
A week later, one of the hens suddenly returned. "I was so happy I literally fell on the ground. That's when I realized my mission was clear. I started taking in more and more unwanted animals."
Caitlin fostered puppies and kittens from kill shelters, rescued potbellied piglets advertised as food for exotic animals, and connected with local rescue organizations to learn how she could help with their new arrivals. When she couldn't take in an animal herself, she found someone who could.
Four years later, Caitlin is now one of the first people called in her area when an abused or neglected animal needs help.

Despite her severe animal allergies and asthma, a love for animals was always in Caitlin's DNA. She says her life felt incomplete without animals, and even as a 5-year-old she would power through puffy eyes and a constricted throat just to cuddle with a puppy.
As soon as Caitlin was old enough, she began volunteering at shelters. In high school, she secretly converted her closet to an animal hospital for countless hamsters and birds — much to the chagrin of her mother.
"I volunteered for probably 15 different rescues and have been around horses all my life. I ended up getting jobs and continued saving animals. I never stopped. The animal rescue thing has always been in me, but I never realized it."
Since 2013, Caitlin has rescued over 300 animals of all shapes and sizes.
Now, she's
raising money to expand
so she can help more animals in need.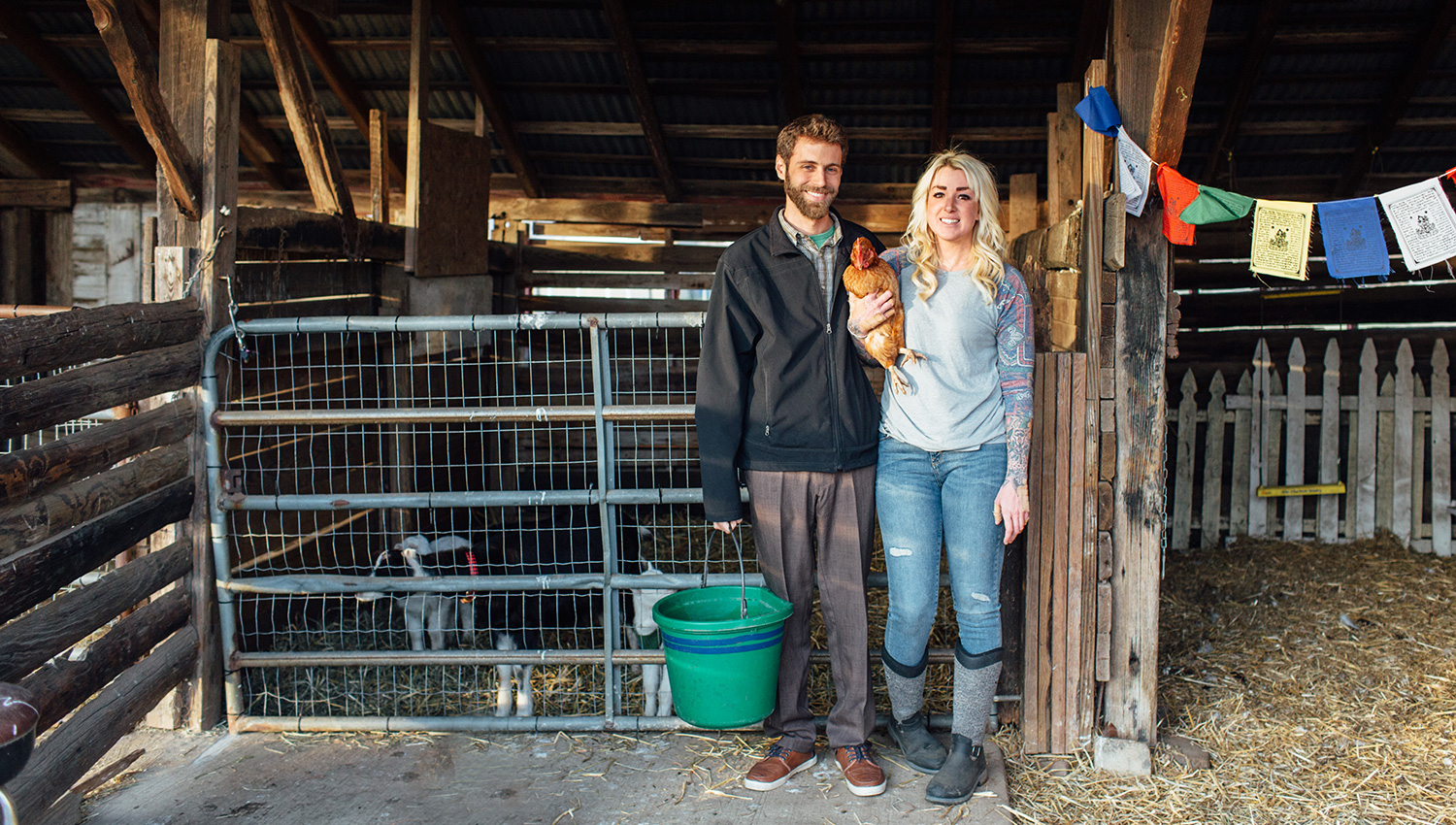 For the first two years, Caitlin ran Rancho Relaxo alone and on her own dime — getting by on ramen. Len joined her in 2014. Now several years later, they get some financial support from the animal lover community, but they still run the rescue without hired help — on top of their full-time jobs.
"We pay the farm bills and the mortgage ourselves. Len has a PhD in astrophysics and works full-time outside Philly — then he comes home and mucks out stalls," says Caitlin. "We eat dinner at 8pm and say goodnight. But we refuse to take a salary from the Rancho Relaxo nonprofit. There's still so much left to be done."
Over the years, Rancho Relaxo's
social media
following grew from 300 to well over 80,000. Animal lovers tune in for Caitlin's arresting portraits of her rescued flock (she was once a wedding photographer) and adorable videos of the goats playing on swings and trampolines.
In sharing these moments with the world, Caitlin hopes to show others that animals are sentient, feeling creatures that deserve our respect.

In March 2016, an opportunity arose to expand Rancho Relaxo's educational mission. A property across the street went on the market — 16 acres of land with an old but sturdy barn — but they'd have to act fast. Caitlin knew it was the perfect location for an adoption facility and education center, but they couldn't afford its $50,000 price tag.
That's when Caitlin started Rancho Relaxo's
first GoFundMe
: "I was a little nervous about starting a GoFundMe for an animal rescue — I wasn't sure how people would respond. I followed the steps to set up my campaign and wrote the story of how Rancho Relaxo came to be."
She shared the campaign with her friends and Rancho Relaxo's followers, and in just 28 days, they raised almost $40,000.
"It was so amazing and humbling," says Caitlin. "It really restored my faith in humanity."
Caitlin and Len bought the new property in July, but they quickly discovered just how many money-traps an old property could hold.
To refit the barn, redo fencing, rewire electric, and drill a well, it would cost upwards of $100,000 — much more than their bank loan allowed.
They could have given up then, but their mission to expand and educate kept them going.
Now, Caitlin has a new GoFundMe to support Rancho Relaxo's expansion into the 16-acre property and a new plot of land that will house a caretaker: Caitlin's mom.
While they fundraise, Caitlin continues to care for new animals every week. Recently, she started a monthly fundraiser called $2 Tuesday to give back to rescues in her area who aren't as well-connected on social media — even though it's money Rancho Relaxo could use itself.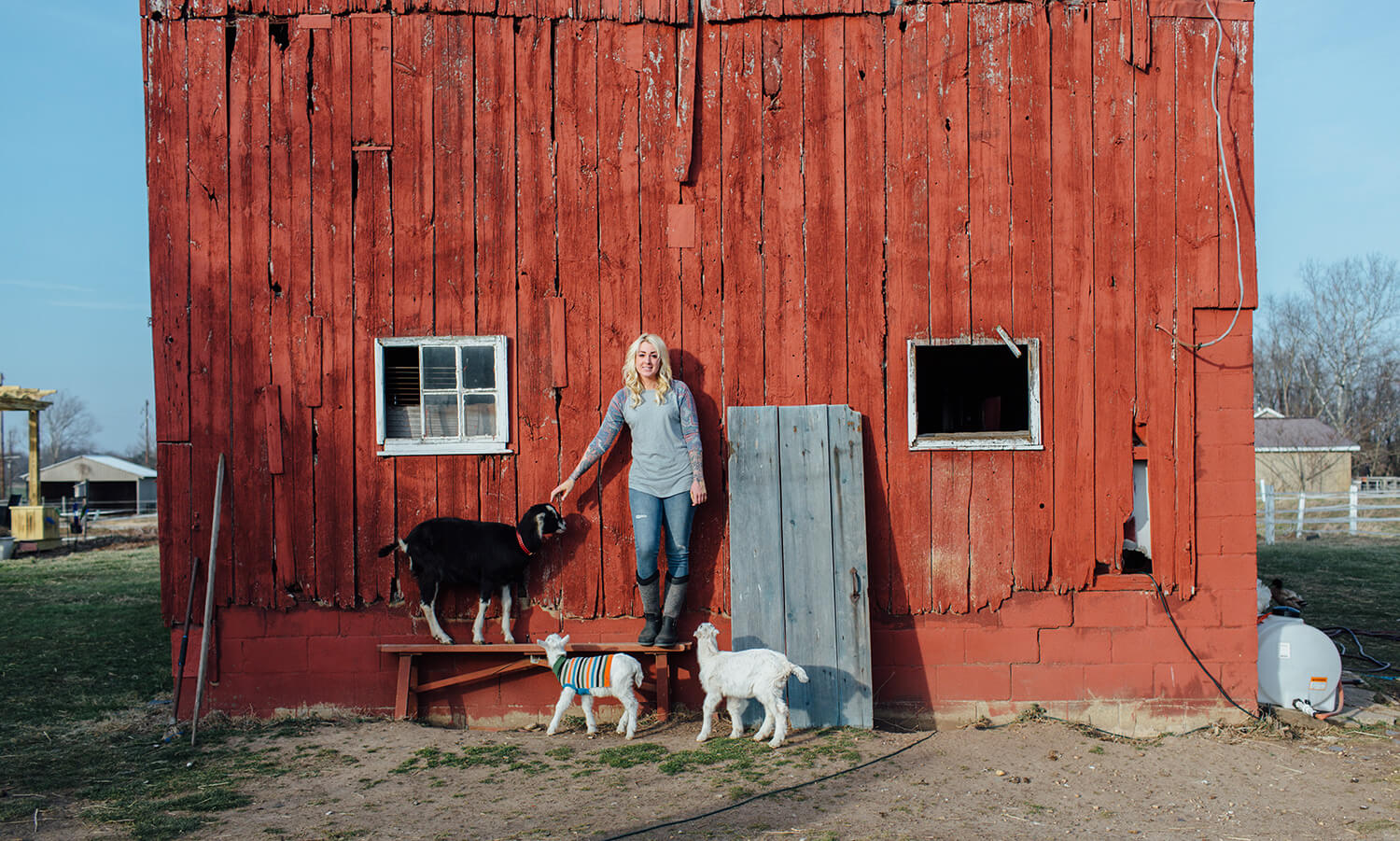 With spring in full swing, Caitlin receives triple the number of calls to rescue orphaned baby animals. She's also asked to take in abandoned Easter "gifts" like baby chickens and goats that suddenly turn into unwieldy adults. Times like these strengthen Caitlin's belief in her educational mission.
"I want people to appreciate and respect what goes into raising animals. I want them to understand that these are thinking, feeling beings. They deserve everything our dogs deserve."