WALKING TALL HOMELESS MINISTRIES
$31,688
of $100,000 goal
Raised by
667
people in 25 months
Edit - September 2017
As a licensed cosmetologist, I was inspired to start giving free haircuts to the homeless because I kept getting tagged in a video online and felt that God was telling me that this was my calling. All of my life, my parents raised me to give back to those less fortunate. There was a blind man that lived right down the road from us and we would often take him dinner before we would eat dinner ourselves. So, I started Walking Tall to get out there and give haircuts, as well as give out clothes, food, and toiletries. Later on, we were able to start offering showers through our RV!
My favorite haircut experiences are when I get to go to the veterans hospitals to help some of my favorite people. Veterans make up a huge part of the homeless community and it is very sad. I really enjoy making a difference in their lives. The best part of this experience is knowing that you are making a difference in someone's life - to see their face light up when they are feeling fresh with a new shower and a brand new haircut! Ready to tackle the world in a whole new way.
A year and a half ago, I started this GoFundMe to help overcome the biggest challenge we run into with our ministry - raising funds. Not everyone believes in the cause and getting the word out is so important! I can't believe how far we have come now - we've been to 17 states so far and I hope to expand that globally!
I also have a dream to make the RV into a mobile salon, which would cost at least $10,000.00... to renovate it and have it look like a salon when people come aboard would help make people feel special!
My second dream would be to own a headquarters and not have to rent. Currently our new headquarters will serve as a soup kitchen, food pantry, laundering services for those who can't afford to go to laundromat, a place to give free haircuts, hand out clothes and supplies and direct people to jobs. God-willing, I'd eventually love to have multiple locations offering shelter, haircuts, showers, toiletries, Bibles, food pantries and soup kitchens. Just to be able to go plant seeds of giving back to all the places we haven't been yet. The possibilities are endless! I won't give up until everyone knows about Walking Tall and how to make a difference with us! (If we're talking about dreams... I would also absolutely love to be on Ellen! :-) )
May 2016 - 

Hey there! I'm a South Carolina license cosmetologist who's out to make a difference. I go town to town in Gods name and bring volunteers and other stylists to provide free haircuts for the homeless! We give clothes, food, and toiletries as well. Help me make this possible and donate if you can. Look for us in your town!
We now offer showers to the homeless through our new to us RV! Look at God go!
I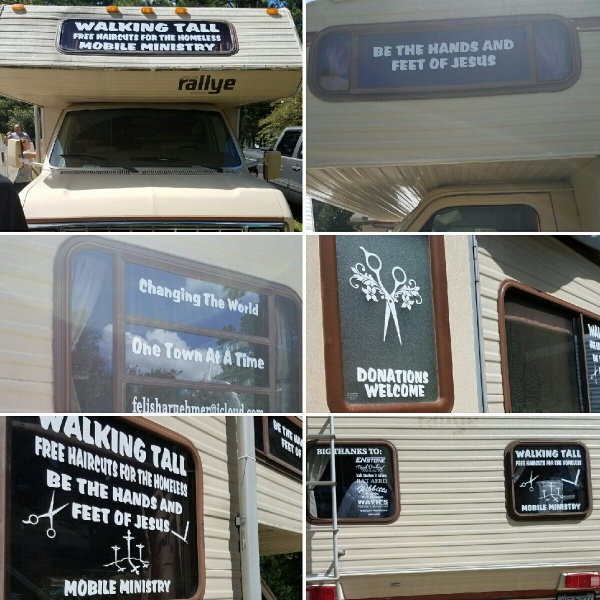 + Read More