1.3k
118
The Acro-Cats Mom's Cancer Fund
$76,910
of $75,000 goal
Raised by
1,467
people in 15 months
Samantha Martin, the creator and Chief Executive Human behind the  
Amazing Acro-Cats
‌, has worked for years to promote life-saving animal training techniques. Traveling across the country, she encourages and supports feline fostering, rescue and adoption. Since 2009, Samantha has rescued and found homes for 216 cats, and proceeds from her shows have helped local agencies in countless towns visited by the troupe. But, in a cruel twist of fate, it's now Samantha who needs help. Please read her statement below:

"In January, I was diagnosed with Stage III colorectal cancer. It is serious, but treatable. I am scared, but determined to beat it. I have too much to do, and too many cats to save, to give up now.  To complicate things even further, I broke my right foot while on tour in February. Now I have to wait until after I've completed the cancer treatment before they can operate on the foot.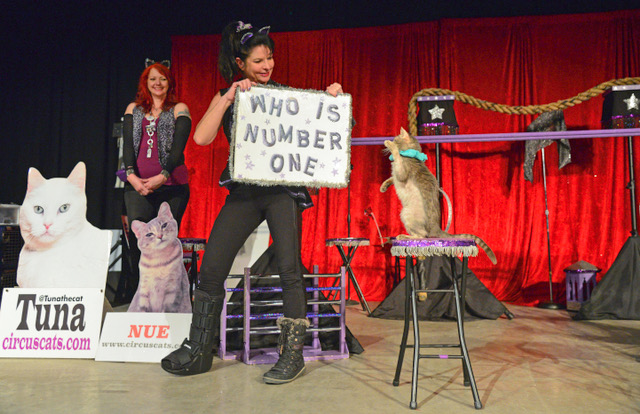 The treatment plan calls for 6 weeks of radiation and chemo, followed by 6 weeks to let the treatment work in my body. Then I will have two  surgical procedures, (not counting my foot,) to remove the tumor and follow up. While insurance will cover most of the medical expenses, without income, my major concern is for the animals that look to me for care.

I will be unable to work for at least six months, and without touring, I will have no income. I'm reaching out for your help to provide a supplemental source of funds to pay for food, shelter, vet bills and other operating expenses during my recovery.  I need to raise an initial $50,000 to handle the cattery, vet bills, my living expenses, and other necessary costs. I know it's a lot to ask, but it will really help cover expenses during the time I'll be physically unable to work. 

I don't mind sharing that I'm afraid of what's coming, but I get by each day knowing how many friends and supporters are out there for me. Please keep me and the cats in your thoughts as I go through this. We need all the help we can get.   Thank you and I love you all."
Please donate, share, and spread the word in any way you can.  Any donation is greatly appreciated!
You can also send donations directly to Rock Cats Rescue Po box 376 brooks, ga. 30205.
We also have an 
Amazon Wish List
  for those who prefer to donate items in lieu of cash.  

+ Read More