BRAVERY; On Wings Like Eagles
$6,936
of $950,000 goal
Raised by
65
people in 41 months
If you want to read more about us and "Bravery; On Wings Like Eagles" visit our website at : http://www.braverymovie.com


THE NEW 3D EXTENDED VERSION OF 'BRAVERY'   IS HERE! ENJOY! (requires 3D active glasses)

THE PROJECT

If you are true Christian, if you are conservative, even if you are an agnostic who simply believes in the right of people to worship,think and speak freely as they please in a free society, please take a moment to invest in our motion picture, "Bravery; On Wings Like Eagles" which takes on that issue more directly than any film or novel since George Orwell's "1984".
This is not just 'A' movie, but a new genre with more movies to follow and brings a major studio into TN that other Christian filmakers will benefit from. This new genre of 3D stereoscopic Christian motion pictures is created to reach people that do not normally go to Christian movies and will help combat Hollywoods anti-Christian messages in the theaters. 

SYNOPSIS

Bravery, On Wings Like Eagles, takes place 50 years from now, in a totalitarian state where being a christian is a crime punishable by death. In this futuristic story, mass televised high-tech beheadings are commonplace..... and our heroes have 72 hours to disable a new technology about to go into operation. It's a technology in which every man, woman and child on earth can be identified via their activity in their homes, and those appearing to be engaged in Christian prayer and other illegal activity will be arrested and sentenced to death. In other words, our heroes have 72 hours to stop a technology which will insure the swift extermination of the millions of remaining Christians in hiding, putting an end to the faith forever. Our heroes also plan to turn that invasive new technology on the leaders in Washington and immediately expose to the world the kind of people exterminating the Christians. By using science fiction, the realities which are almost already here today, realities which may seem vague to most people in the United States, will become crystal clear in the form of an easily understandable warning, much like 1984 was to readers in the year 1948, when it was written.

There are so many purposes and intentions to the Bravery movie it's really difficult to innumerate them all. It is written to inspire and empower Christians to raise their voices. It is designed to appeal to teenagers and people in their 20's with its stereoscopic 3D science fiction special effects while giving them a lot of Christian information they cannot get anywhere else - to educate them. Perhaps even to shock them into realizing what is happening in the world today, and where our country could find itself by the time they are older. The story points to technology being developed right now which is extremely intrusive and hopefully inspires people to shout it down when it reaches the marketplace, like 1984 did regarding common surveillance cameras. And it's a no-nonsense warning to government officials which reminds them in no uncertain terms that what they do to the people they govern can in-turn be done to them by the people they govern.

Bravery, on a basic level, is also designed on a purely pop culture basis to make Christianity hip again, the way it was in times past in America, then no one questioned a christian's word or honesty because being a christian was enough. We would love to hear that millions of young men and women have decided to go to church because of it. It teaches and inspires people to fight for their religion of peace, and to shout down the wrongs of the world without sacrificing grace.

And I suppose most of all, Bravery is designed to be the first motion picture to fight the anti-christian Hollywood message on its own terms for the first time ever - as a stereoscopic 3D science fiction motion picture. And our promotional trailer and website proves we can do it, too. This is not just a daydream. We really can get the job done and get it done well. With everyone's help, we believe we can be the first true, effective salvo against Hollywood ever launched by the Christian community, and inspire other filmmakers by our example at the same time. Frankly, in our opinion, Bravery is not simply a good idea which can be done, but that like true bravery itself, Bravery the movie is an absolute necessity, and long overdue.


WHY SCIENCE FICTION?

1. It is a well-known dramatic rule of thumb that it is simply more effective to tackle controversial subjects with science fiction than with contemporary dramas. From 1984, which projected the fears of government intrusion into the imagination of the world with exaggeration for effect, to the original Star Trek which put highly controversial morality tales before an audience otherwise not ready to deal with the controversies, are classic examples of this. The huge hit, 1968's Planet of the Apes, took a scenario of advanced apes portrayed by actors in makeup, essentially a set-up for the unwanted laugh, and created a huge hit classic with a brilliant script by Rod Serling which basically became a commentary on the human condition from the first frame to the last - and everyone cheered the achievement. In other words, science fiction, when done on a mature level, works as a brilliant envelope in which to deliver your message.


2. This film will meet Hollywood, for the first time as a Christian motion picture, on its own terms. Imaginative, heavy with special effects, our motion pictures certain to be the panacea for Christians frustrated by atheism and eye candy being delivered to the youth. We plan to reverse that trend, and we can do it, too.

3. Science and the Bible are not at odds, but you would think so from our pop culture. Almost every poll shows that 50% of the citizens of the U.S. and England reject evolution, and most embrace God-creation as literal. True believers are not the fringe minority that our media would have you believe. We're going to change the rules of that game, as well, and free Christians today to speak as they please by painting the truth in a scenario set in tomorrow.

WHY 3D STEREOSCOPIC?

We need to take our powerful Christian messages to the youth. We need to reach a wider audience. 3D is great for that, and looks pretty darn nifty, too.

Between them, our two producers have many years in media, movies, TV and motion picture distribution. You likely know many of the people, TV shows and movies they have worked on or helped distribute.

Please give NOW. Whether we reach our goal slightly less or much more, any workable dollar amount will be used to create a Christian motion picture according to the terms described above. Please tell all your friends ASAP. This project needs to hit the ground running.
If you want to read more about "Bravery; On Wings Like Eagles" visit our website at : http://www.braverymovie.com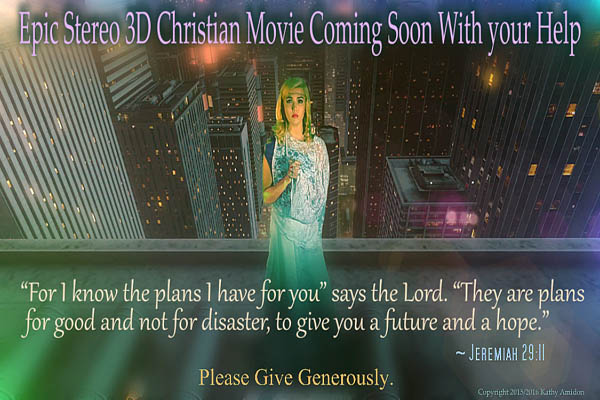 Thank you and God bless.
Kathy Amidon- Producer
+ Read More